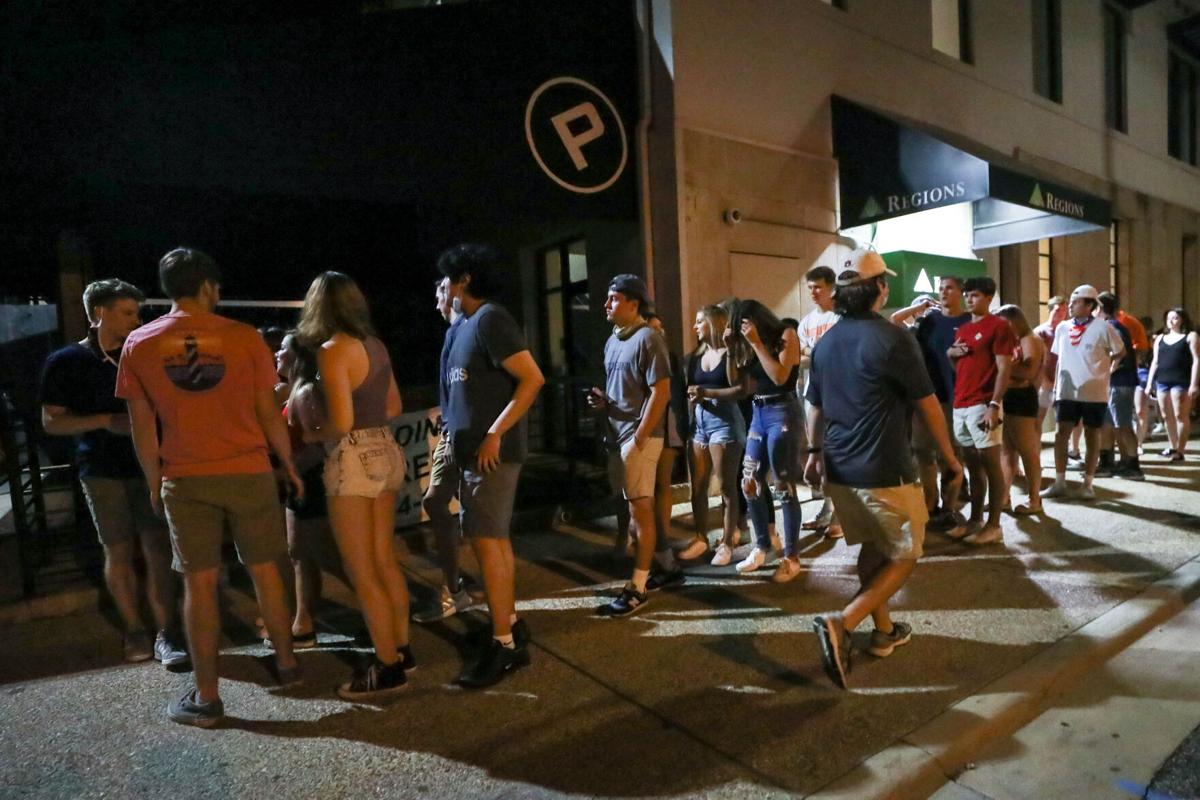 Auburn police can stop bars from selling alcohol if they do not comply with the state's social distancing mandates, as of 5 p.m. Friday, the city declared Thursday.
The city also moved to suspend walk-up bar services.
The Auburn City Council approved a State of Local Emergency to allow city police to issue a $500 citation and suspend alcohol sales at any city bar that is too crowded to accommodate social distancing, or has customers who won't do so.
"This is something we have already been enforcing," Auburn Police Chief Cedric Anderson told the council. "...We're focused on keeping people six feet apart. I think most people understand what they should be doing, but it's just going to take us being down there to remind them."
Anderson said he has detailed six officers to patrol downtown bars and restaurants, looking for crowds outside bars, overcrowding inside bars and businesses that flout the sanitation rules they have to follow to remain open under the state's "Safer at Home" order.
Indoor alcohol consumption is restricted to customers seated at a table, counter or bar. Walk-up bar services are suspended at indoor bars by the resolution, which will "allow alcoholic beverages to be served to seated customers. Further, the serving of alcoholic beverages to any person who is not seated at a table/counter/bar is hereby prohibited." 
Resuming sales
A closed bar can resume alcohol sales as soon as it returns to proper capacity and customers are social distancing properly, Anderson added.
State Alcohol Beverage Control investigators have been working with his officers and are expected to spot-check bars over the weekend, Anderson said.
The order is in effect until Sept. 16. City officials will evaluate local health conditions, both in the city and on the Auburn University campus, before deciding whether to extend the order.
Ivey extends order
Gov. Kay Ivey has extended her facemask order, telling the media Thursday that it's working and may be needed until a vaccine is available to fight COVID-19.
Ivey announced the order will continue through Oct. 2.
"I understand you don't want to wear a mask; I don't either," Ivey said during her late-morning press conference. "...But we are seeing significant drops (in COVID-19 infections) that are no doubt due to the mask order."
Ivey was firm, however, when asked if she's considering further restricting or closing businesses to better contain the virus.
"The last thing I want to do is close businesses...people need to make a livelihood and they need to be healthy to have a livelihood," Ivey said.
State Health Officer Scott Harris agreed with Ivey that the mask order is helping to lower the number of COVID-19 cases. However, he did issue a warning.
'Trepidation'
Harris admitted to having "trepidation" about the approaching Labor Day weekend. He urged people to stick with masks and social distancing, as well as to limit interaction with other families.
He said he's concerned about another spike of new cases around the state like the one after the July 4 holiday weekend earlier this summer.
Get Election 2020 & Politics updates in your inbox!
Keep up on the latest in national and local politics as Election 2020 comes into focus.