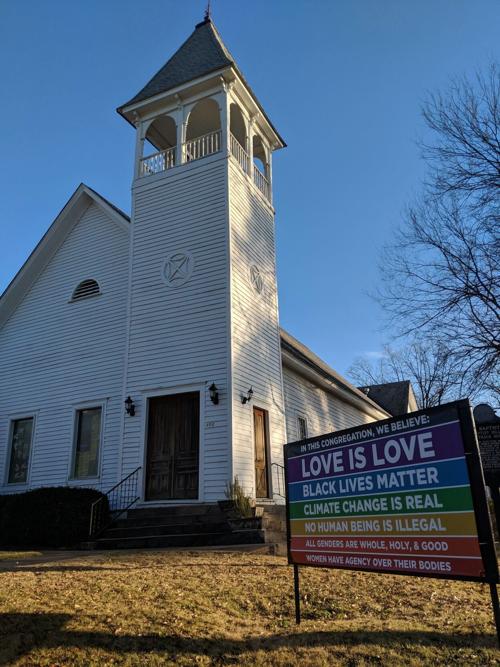 A social justice banner that included the phrases "Love is love," "Black lives matter" and "Climate change is real" was stolen from the Auburn Unitarian Universalist Fellowship late Saturday afternoon.
Located near downtown Auburn on Thatch Avenue, the sign's disappearance was initially thought to be a temporary removal for cleaning, but after contacting the congregation and finding cut zip ties where the sign once stood, lead minister Rev. Chris Rothbauer knew it was gone.
"I think some folks didn't want to believe that it could've been stolen but eventually it became pretty apparent that it was indeed stolen," Rothbauer said in a phone interview Thursday afternoon. "There's some shock and there's definitely some anger, especially coming so closely to what happened in D.C. on Wednesday."
The original sign stated, "In this congregation, we believe: Love is love; Black lives matter; climate change is real; no human being is illegal; all genders are whole, holy & good; and women have agency over their bodies."
The sign is a visible witness to the congregation's values, Rothbauer says, adding it was an opportunity for the congregation to tell the Auburn area that "we stand for love, we stand for dignity, we stand for choice at a time when some of these values are not uncontroversial."
In the days following the theft, the congregation did not plan to fundraise for the sign's replacement. Community members saddened by its disappearance, however, did.
"We thought, why not? Let's make this Auburn's sign instead of just ours," Rothbauer said. "We've heard from community members who aren't even a part of our congregation who drive by the banner and it's just so important to them because it reminds them that there is a faith community in Auburn that loves them just the way they are."
The congregation plans to order an identical sign, which will be dedicated and erected after new security measures are put in place, he says.
Rothbauer added he is not surprised. ""It wasn't necessarily a surprise, but yet it was still a shock. I think going so long with it staying up – some of us hoped deep down that we would never be the victim of something like this."
Congregations across the country have experienced vandalism or defacing of signs like Auburn Unitarian Universalist Fellowship's "especially in the last four or five years when the political climate has been so polarized," Rothbauer said.
"Though I am angry with what has happened, I want whoever stole our sign to know that we love them, too," Rothbauer said in a press release. "If I met them, I would let them know that I honor and respect their worth and dignity and will work to build a community where they are loved and supported as well."
Auburn Unitarian Universalist Fellowship was founded in 1961 as a liberal religious congregation in Lee County. Unitarian Universalism is an offshoot of Protestant Christianity, but Rothbauer says their members come from different religious background identities and life experiences, united by their desire to build a world where all people are valued for who they are.
"We're grateful for the Auburn community for their outpouring of support to us since we made it public what's happened," Rothbauer said. "I think I speak for the entire congregation when I say that we hope to always be a witness to these values in the community, and we hope to always be a place where folks can find a place that will love and accept them just as they are."