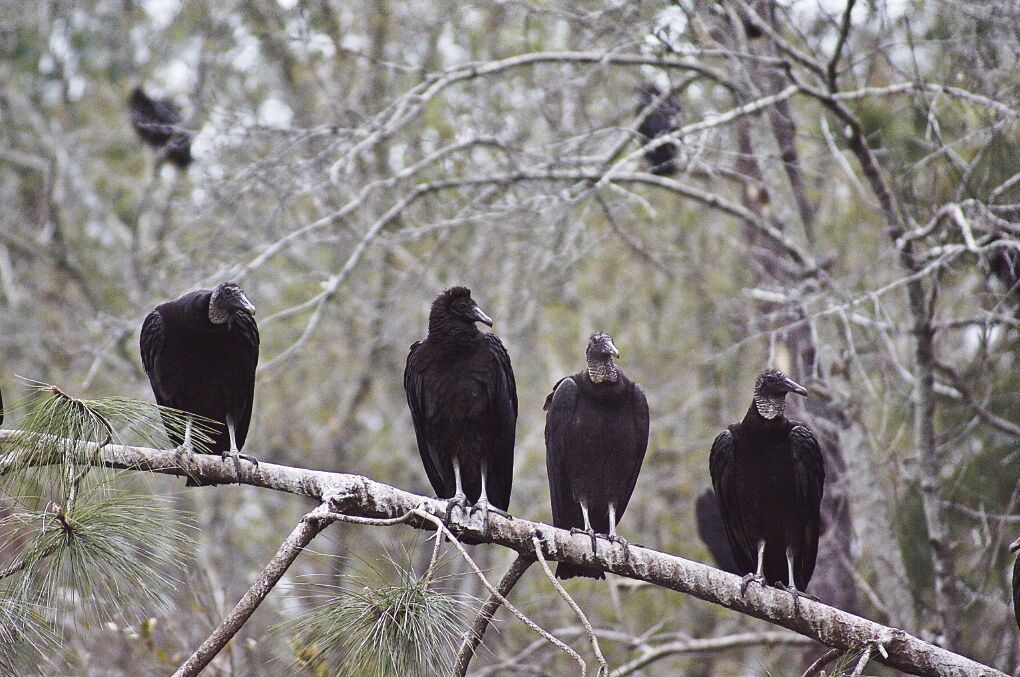 Some members of the community are concerned about a new ordinance revision being discussed by the Opelika city council that, if passed, would legally allow firearms to be discharged in order to deal with turkey vultures and other nuisance animals within city limits.
The ordinance revision, which was introduced by the city council on a first reading at its Tuesday night meeting, comes after a committee of vultures took up residence behind the Calhoun Tennis Center by Opelika Middle School and has "adversely affected the educational setting," according to City Attorney Guy Gunter.
"Obviously a large flock of vultures in close proximity to Opelika Middle School creates a safety hazard and public nuisance," Gunter said, and added that vultures can spread disease through their droppings, cause damage to buildings, frighten children and be noisy.
Opelika resident Tracy Witte said she drives by the area all the time and had mixed feelings about the city's plans to deal with them.
"We see the vultures flying around all the time, and I like seeing them. I think vultures are cool and an important part of the ecosystem so I was upset at the idea of them being hurt," Witte said. "My main question would be what damage are they causing? Are people just describing them as a nuisance because there are a lot of them, or are they actually doing things that are problematic? I don't think vultures are dangerous to people."
Despite the nuisance turkey vultures may pose, Raptor Specialist Bryant Tarr with the Southeastern Raptor Center said turkey vultures are "absolutely no threat to people."
"It's really just a matter of aesthetics. Maybe people don't like the look of a whole bunch of vultures hanging around – I do," Tarr said. "But they're no threat. Maybe an inconvenience, maybe something unsightly, like a poop problem."
After Opelika City Schools Superintendent Mark Neighbors spoke with biologists with the United States Department of Agriculture, they recommended shooting a few vultures and hanging their corpses upside down, according to a memo from Gunter.
"According to the USDA experts, the most effective method of battling flocks of turkey vultures is to hang effigies of the birds upside down," the memo from Gunter reads. "Wildlife biologists do not recommend shooting large numbers of the vultures. Only a few vultures will be shot and their carcasses will be strung high in trees to frighten the flock away from its roosting spot."
Despite the strategy the city plans to take, Tarr said he was unaware of the effectiveness hanging carcasses would have in persuading the vultures to leave.
"You often see, I guess I'd call it folklore, if you shoot a coyote and hang it on a fence then the coyotes won't come and that sort of thing, but I'm not sure how much of that is tradition and how much is reality," Tarr said. "To my way of thinking, hanging up dead stuff is not a good way to get rid of vultures. … The odor of hanging carcasses might actually attract turkey vultures, but whether they'd go away because they see it's another turkey vulture or not, I have no idea."
Tarr said turkey vultures congregate in the first place not only to look for food, but also because they are a social species and even fly together unlike other, more solitary birds of prey.
Because vultures are federally protected by the Migratory Bird Treaty Act, Gunter said a federal permit is required to legally take them, and the eradication of vultures is only allowed if they have been identified as a "true nuisance to the community" – a point confirmed by Tarr.
"All raptors are protected by the Migratory Bird Treaty Act, as are all birds. It's just as illegal to shoot a raptor as it is to shoot a robin," Tarr said. "There are exceptions, and one of the exceptions sometimes is when migratory birds create a nuisance. It happens for agriculture, it could be birds gathering on power lines that are causing power outages and so forth. Permits are sometimes issued by the U.S. Wildlife Service or the Department of Agriculture to eliminate, harass, move or relocate and do whatever is necessary to end the problem."
The ordinance revision would allow those who are able to get the appropriate licenses, permits and accreditations to shoot nuisance birds and animals within the city limits while under supervision of the Opelika Police Department. Additionally, those granted a permit must comply with all federal, state and municipal rules and regulations while killing nuisance animals.
In other words, the revised ordinance "does not provide carte blanche authority for people to shoot and kill vultures," Gunter said.
Tarr said it would be more likely that mitigation specialists with the federal government would be employed to take care of the vultures, and it is doubtful that just any citizen would get permission to shoot the birds, though he added that there are other, nonviolent methods of encouraging vultures to relocate.
"In general, when a wildlife problem is occurring, harassment or hazing is one of the first things attempted, so shooting off fireworks or loud flashbangs or pops and nonlethal noise deterrents often work, but sometimes the birds get used to it," Tarr said. "Oftentimes nonlethal scenarios are applied first, and then a permit is applied to actually physically remove birds either by capture or killing."
Compared to other raptors, Tarr said vultures are intelligent, and the ones he has worked with in captivity have problem-solving abilities and often love to interact with puzzles and toys.
"They're clever, they're interesting and they're curious, and I guess that can get them into trouble sometimes," Tarr said. "I would just also encourage people to realize that raptors are a vital part of the environment and they do us a great service. Vultures are nature's clean-up crew, and we're lucky to have them around. They're big, beautiful birds, and I hope people can appreciate them."
While specialists may be employed to deal with the turkey vultures by Opelika Middle School, Witte said she was also concerned about the language of the ordinance revision and what it could open the doors to when dealing with other animals deemed nuisances by members of the community who might not be protected by federal law like those under the Migratory Bird Treaty Act.
"I don't love the idea of one of my neighbors being able to decide that any animal is a nuisance and then apply for a permit and start shooting at them," Witte said. "What are some unintended consequences of this, and how broad is the law and how much oversight will we have and is the police department the right place to be making these determinations?"