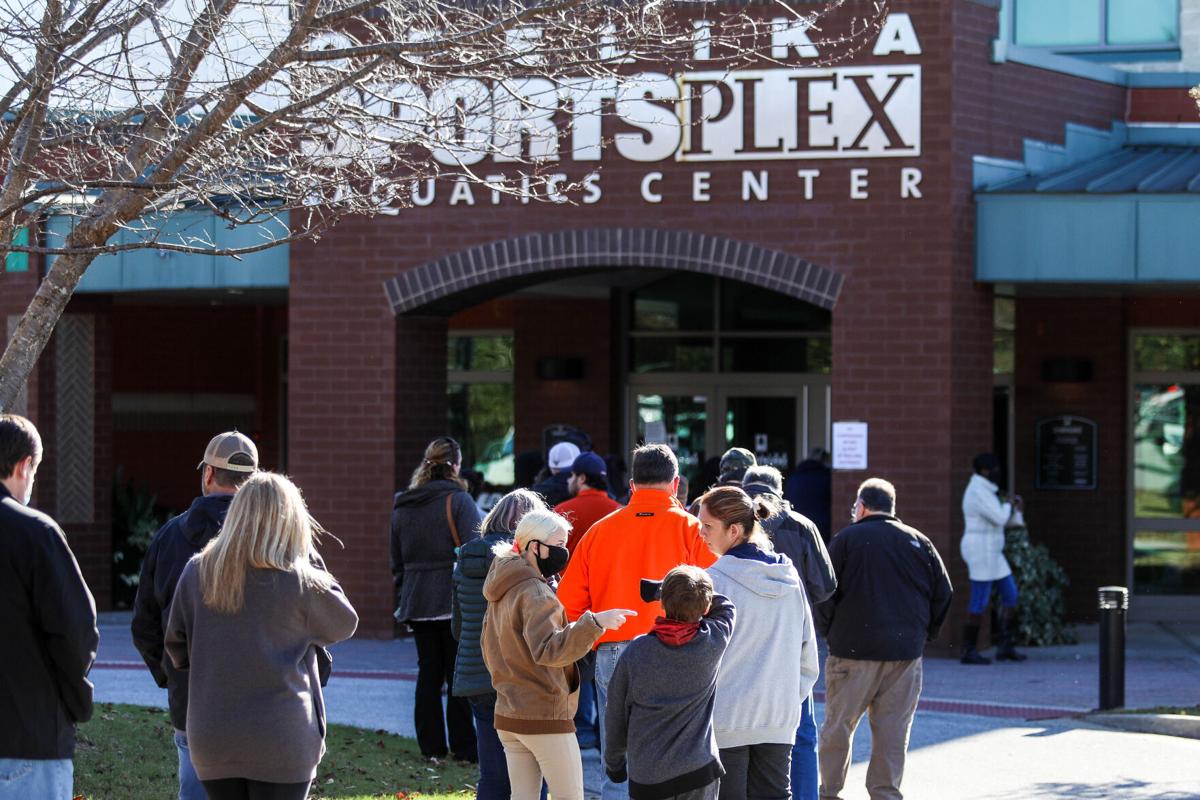 Lee County's polling stations weren't quite as busy as predicted Tuesday, but they were busy nonetheless.
Out of 123,710 total registered Lee County voters, 71,155 ballots were cast, a turnout of 57.52%. County Probate Judge Bill English, who oversaw Tuesday's balloting, thought that number would wind up between 60-70%.
Final, unofficial voting numbers were provided by Election Manager Robert Garris Wednesday morning.
In Lee County, 28,116 voters, or 61.67%, cast a straight Republican Party ticket. In comparison, 17,474 voters, 38.33%, cast a straight Democratic Party ticket. Alabama voters may split their ticket in the general election.
Unofficial results are as follows:
President Donald Trump received 59.20% of the vote to former Vice President's 38.88% in final, unofficial Lee County results, with independent Jo Jorgensen receiving 1.43% of the vote. Lee County saw less than .50% of voters cast a write-in vote.
Tommy Tuberville received 57.87% of the vote to incumbent Sen. Doug Jones' 41.98% for the United State Senate seat.
For the 3rd District United States Representative seat, incumbent Mike Rogers received 62.74% of the vote to Adia Winfrey's 37.15%.
Six Republican judges ran unopposed for statewide judicial seats.
Greg Shaw and Brad Mendheim for Associate Justice of the Alabama Supreme Court. Shaw and Mendheim received 97.24% and 97.38% of the vote, respectively.
Republicans Bill Thompson and Matt Fridy received 97.43% and 97.47% of the vote respectively to the Alabama Court of Civil Appeals.
Republicans Mary Windom and Beth Kellum received 97.60% and 97.65% to the Alabama Court of Criminal Appeals.
Incumbent Twinkle Cavanaugh will serve as president of the Alabama Public Service Commission after receiving 60.02% of the vote to Laura Casey's 39.84% in Lee County.
Doug Cannon and Gary Long were elected onto the five-member Lee County Commission.
Cannon received 58.78% of the vote to Lindsey Bickerstaff's 41.10% in the 1st District seat. For the 3rd District seat, Long received 69.54% of the vote to Sonny Stringer's 30.28%.
Oline Walton Price ran unopposed for Lee County Commissioner, receiving 97.88% of the vote.
Mark Tomlin ran unopposed for Lee County Board of Education's 1st District seat, receiving 98.41% of the vote.
Six proposed statewide amendments were approved by voters, including Amendment 1 that grants the right to vote to "only" those U.S. citizens who meet certain requirements and Amendment 4 which allows the 2022 Alabama Legislature to draft a rearranged version of the state constitution to remove racist and repeated language.
The election results are unofficial and presented by Alabama Secretary of State John H. Merrill and Lee County Probate Judge Bill English. According to the Alabama Secretary of State website, the accuracy of the election results is the responsibility of the probate judge in their county's reporting.
Get Government & Politics updates in your inbox!
Stay up-to-date on the latest in local and national government and political topics with our newsletter.