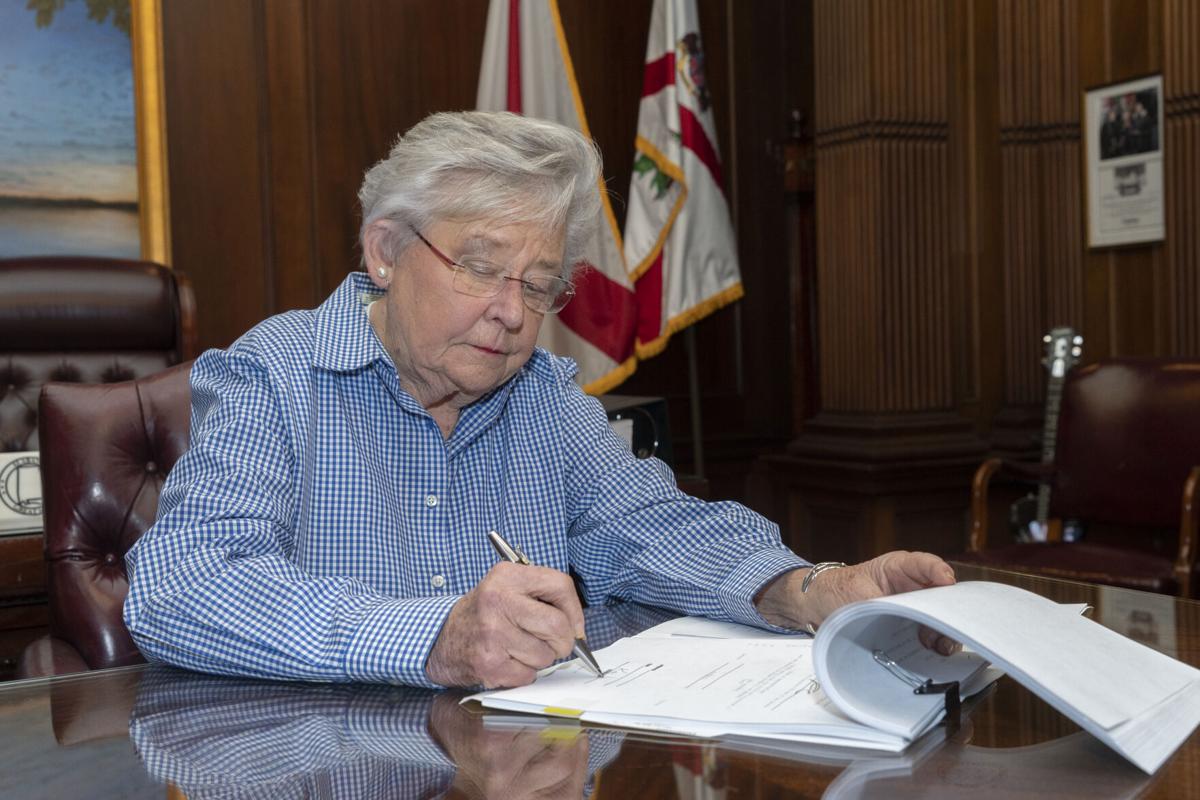 Alabama Gov. Kay Ivey signed into law Friday morning a liability shield for businesses, the medical community, churches and more from COVID-19-related lawsuits.
SB30 is among the first bills this year sent to Ivey's desk, who referred to the bill as a "top priority" for the state during the ongoing coronavirus pandemic.
"With the support of the Alabama Legislature, I'm excited to make good on a promise & sign these three priority bills," Ivey tweeted Friday morning. "I'm proud of our legislators for taking care of the people's business, despite the obvious challenges of this session."
The bill passed the Alabama Senate by a vote of 28 to 1 on Feb. 4 and passed the House on Thursday with a vote of 86 to 4 with 10 abstentions.
SB30 provides civil immunity for Alabama businesses, health care providers, educational entities, churches, governmental entities, and cultural institutions — and the individuals associated with such — from lawsuits alleging that they helped spread COVID-19 to their workers or customers.
The legislation only allows lawsuits against businesses and other entities that "made the damages, injury, or death by acting with wanton, reckless, willful or intentional misconduct," the bill reads.
Sponsored by Sen. Arthur Orr of Mobile and carried in the House by Rep. David Faulkner of Mountain Brook, the proposed legislation is welcomed by local business leaders who say they are appreciative of the aid to Alabama businesses.
"The Auburn Chamber supports legislation that provides protection for our business members and their employees," said Anna Hovey, vice president of business development and incoming chamber president, in a statement prior to the bill's passage. "We are monitoring SB30 as it moves through the process, and we are hopeful for the potential protection it will bring to small businesses and organizations should it be voted into law.
"Additionally, I have spoken with Rep. Joe Lovvorn [of Auburn] and confirmed with him this bill is good for small businesses, especially as the business community continues to navigate through COVID-19."
Legislators say the bill would provide business owners protection from the risk and expense of lawsuits and encourage businesses to remain open. SB30 was proposed due to "the social harms of a closed economy" and the resulting unemployment, Orr said during Tuesday's judiciary committee review.
"Anything that helps protect our businesses and helps support them to do what they do is important," said Robin Bridges, Auburn-Opelika Tourism vice president.
States across the nation approved similar bills, including Georgia and Tennessee. Montana, North Dakota and other states are working to adopt them this year.
The businesses must continue to comply with public health guidance and safety protocols as mandated by Gov. Kay Ivey.
The bill will not directly affect state or local funding, Senate Judiciary Committee Chairperson Sen. Tom Whatley of Auburn noted on Feb. 1. House Judiciary Committee Rep. Jim Hill of Odenville provided identical analysis on Feb. 5.
"While the impact of COVID-19 has been felt across the country and around the world, we remain committed to helping Alabamians and Alabama businesses get back on their feet and our state moving forward," Ivey said in a press release Monday morning.