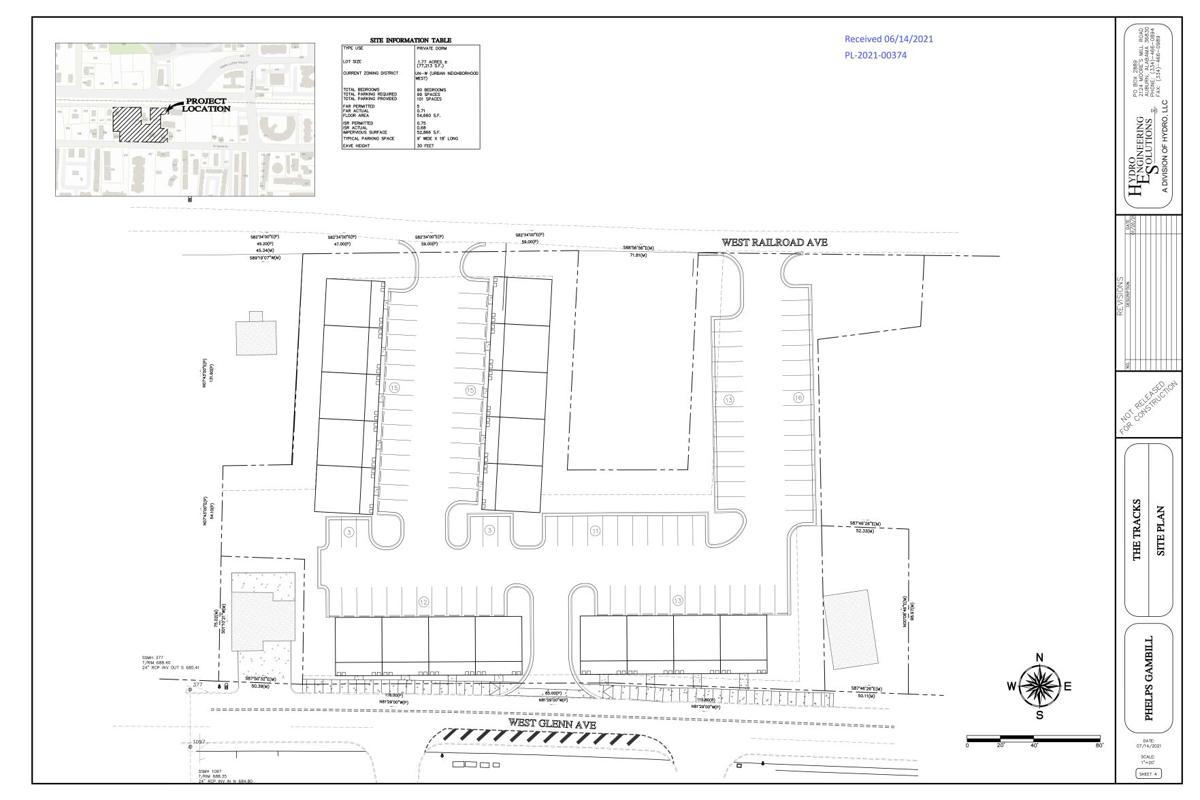 A request to waive the 15-foot ground story height minimum for The Tracks, a planned project on property at West Glenn Avenue, was denied after a 4-4 Auburn Planning Commission vote Thursday night.
The minimum ground story height requirement is one of several recently codified downtown development design standards adopted by the Auburn City Council in May.
Commissioner Nonet Reese recused herself from the vote and discussion, and Chairman Phil Chansler and commissioners Mack LaZenby, Marcus Marshall and Wendy Birmingham voted against waiver approval.
"In that area, there just isn't any commercial besides The Union that was just built that has a 15-foot ground floor," said the applicant, Phelps Gambill, of Conner Brothers Construction.
Commissioner Mack LaZenby rejected that argument later during Commission discussion, saying the area will look that way in the future.
"I could not in clear conscience from what we've done in the past vote to approve the waiver," LaZenby said. "I'm sorry for the work you've put in, but we're dealing in the real world."
The subject property is located on the north side of West Glenn Avenue in between North Donahue Drive and Hemlock Drive at 604 West Glenn Ave. The subject property is approximately 1.8 acres and there is one existing single-family residence on the property right now.
"I really do think there's a justification because this being a townhome product," said Parker Lewis, of Hydro-Engineering Solutions, of the property's designation as a private dormitory in the Zoning Ordinance. "There is a justification I think that it could be looked at in that same sort of waiver from these design standards as if it was a townhome 'fee simple.'"
Fee simple means the homeowner owns the property, unlike owners of condominiums with other owners living above or below them.
Table 5-6 of the Zoning Ordinance states that the minimum ground story height in the Urban Neighborhood West zoning district, where The Tracks development is planned, be 15 feet. Staff recommended denial because of the minimum story height requirements established as part of the recently updated Downtown Design Standards.
"I know this is a tough spot," Lewis said. "This is right out of the chute, and we're here for a waiver. I completely get it. … It's just that the ownership is going to be a condo, as opposed to fee simple."
"Our Zoning Ordinance will classify this as a private dormitory, and I think we still want to see that consistency of 15 feet as the properties develop," principal planner Logan Kipp said. "The Downtown Design Review Committee (DDRC) expressed a desire to have larger ground story types as property redevelops along the way."
The larger picture, commissioner Jana Jager says, will be dealing with future waiver requests and how the new downtown design standards impact other developments and redevelopments.
"I think it's unfortunate that a smaller developer will suffer more than a larger developer...," commissioner Jana Jager said. "I've spent a lot of time thinking about it, and I don't want to go against the rules, but I do think that they are entitled to this waiver."
"I think we need to take another really hard look at some of the design standards for the urban neighborhoods," Jager said.