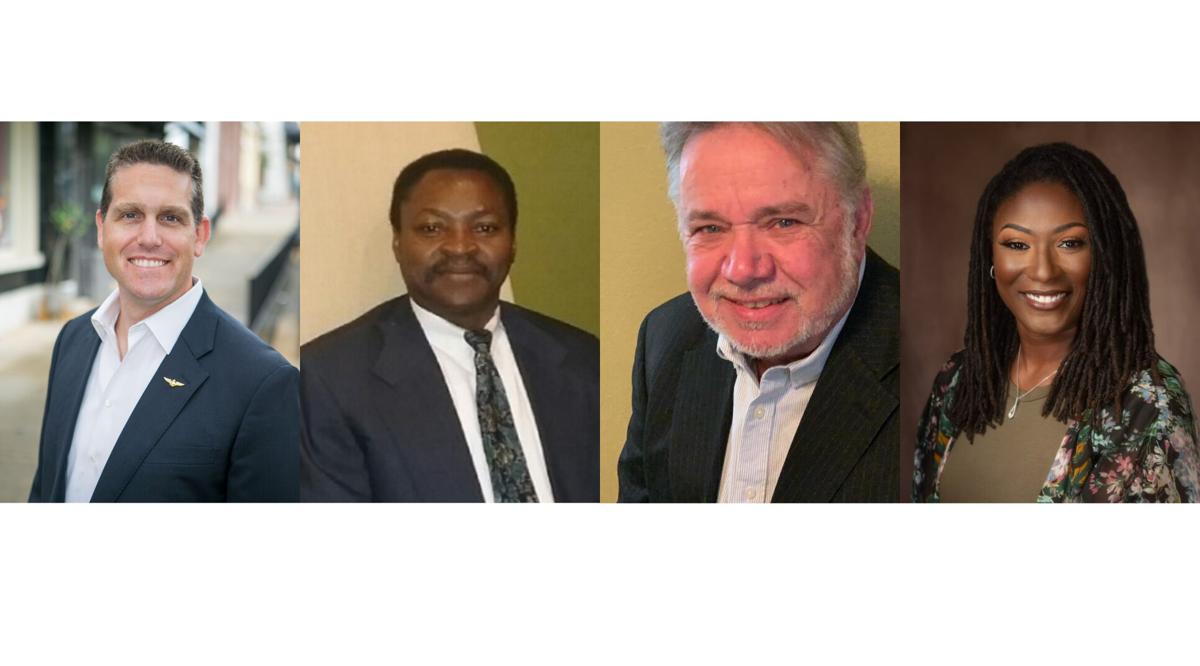 Four candidates have announced their nominations for the Opelika Ward 3 City Council Seat: Tim Aja, Winford L. Ashmore, Terry Hanners and Sherri Reese.
The seat was held by Dr. Robert Lofton for about a year of a four-year term, but he resigned in late October after being diagnosed with ALS, also known as Lou Gehrig's disease.
The City of Opelika special election for the Ward 3 position will be Tuesday, Jan. 11. The polling location will be at Denson Drive Rec Center from 7 a.m. to 7 p.m.
Meet the four candidates:
Tim Aja
Aja, 41, owns an investment advisory firm called Aja Financial Services, is a commanding officer in the Navy Reserve, and is a member and ambassador of the Opelika Chamber of Commerce.
Aja graduated from Salisbury University with a major in finance and earned a master's degree in finance from Auburn University.
He served 14 years of active duty, flew SH 60 Seahawk helicopters and was deployed several times including to the Persian Gulf, Afghanistan and Djibouti.
In 2008 the Navy brought Aja and his wife Michy to Opelika for Aja to teach ROTC at Auburn University.
They fell in love with the area and decided to make Opelika their full-time home.
"I've loved what we've experienced as far as the growth downtown and the growth in the city," Aja said. "I think it's been done really well. We've had great businesses and industries moving in, and I want to ensure that our city remains on the path that it's been on."
Aja said there are four main things he'd focus on if elected to the Ward 3 position: Continuing the growth; enhancing and improving the use of Floral Park; making basic financial education available to everyone; and renovating the Indian Pines Golf Course.
Aja said he met Dr. Lofton before the last election and decided not to run against him because they were aligned in a lot of their beliefs and ideas.
Winford L. Ashmore
Ashmore, 56, grew up in Opelika, lived in Opelika public housing and graduated from Opelika High School.
He attended college at Troy University and earned a bachelor's degree in office systems/vocational business education and mathematics, a master's in mathematics education and educational leadership/administration, and an educational specialist degree in mathematics education and leadership administration.
Ashmore taught for over 25 years at schools in five different states including Alabama, Georgia, Louisiana, Mississippi and Texas. He decided to come back to Opelika in 2015.
"This is home," he said. "This will always be home for me no matter what."
Over the years, Ashmore said he has been on different planning committees and has been a part of volunteer work throughout his life.
"When I look at the City of Opelika in general, I just think some needed changes are a necessity for our city to move forward," he said.
Ashmore said if he's elected he would focus on coming up with activities for youth, serving the elderly, especially those who lack access to daily necessities, and ensuring safety for the city.
"The major point is that I'm going to be a listening ear for the constituents, and we will do whatever it takes to help move Opelika forward," Ashmore said.
Terry Hanners
Hanners, 64, has lived in Opelika for 18 years and has owned the air conditioning and heating service company, Air Comfort Services, for 28 years.
He is a graduate from the University of West Georgia with an HVAC degree and is a Navy veteran who achieved the rank of 3rd Class Petty Officer.
From 1975 to 1979, he worked on the flight deck of an aircraft carrier, then worked for the Naval Criminal Investigative Service.
Hanners is married to Denise Hanners, has seven children, is a member of the NRA, is a member of the Chamber of Commerce and serves on the Church of the Highlands team that ministers to children in local neighborhoods.
If Hanners said if he is elected he wants to be a voice for the people of Ward 3, provide first responders with what they need to do their jobs safely and efficiently, increase funding to schools and keep costs as low as possible, especially on building projects.
Hanners said he also wants to preserve the historic district and to help keep the neighborhood quiet, peaceful and safe.
"At my age, I have more time to commit to the city council and to serve," Hanners said. "I want people in my ward and all citizens of Opelika to be a part of my decision-making while I'm on the council."
Hanners believes that his 28 years in business has given him the experience needed to make wise decisions for where and when tax money is spent.
Sherri Reese
Reese, 48, grew up in Opelika, graduated from Opelika High School and now has a 17-year-old son who is a senior at OHS.
She attended college while she was in the Army and graduated from Trident University in California with a degree in general management, then got her master's degree in human resources management from Webster University in Missouri.
Reese spent 24 years in the Army and served as a drill sergeant, a recruiter and an Inspector General staff member before being commissioned as an officer and retiring as a captain.
Her military experience has prepared her and qualified her to run for this position to serve the City of Opelika, she said.
Since retiring, Reese serves a volunteer on the Lee-Russell Transportation Board and as a track and field coach at OHS.
"I love this city. It's my hometown, and I love the direction that we're going in," Reese said. "I'm not a politician; I'm just a girl that sees a need in a city that she loves."
Reese said if she is elected, she said would focus on the concerns that she's heard while going door to door, which include improving Floral Park, adding more sidewalks and continuing the growth of the city.
"I want to be the voice for all people," she said. "I have no hidden agenda in doing this. I'm doing this because I love my city and I want to be a part of our continued growth and development."