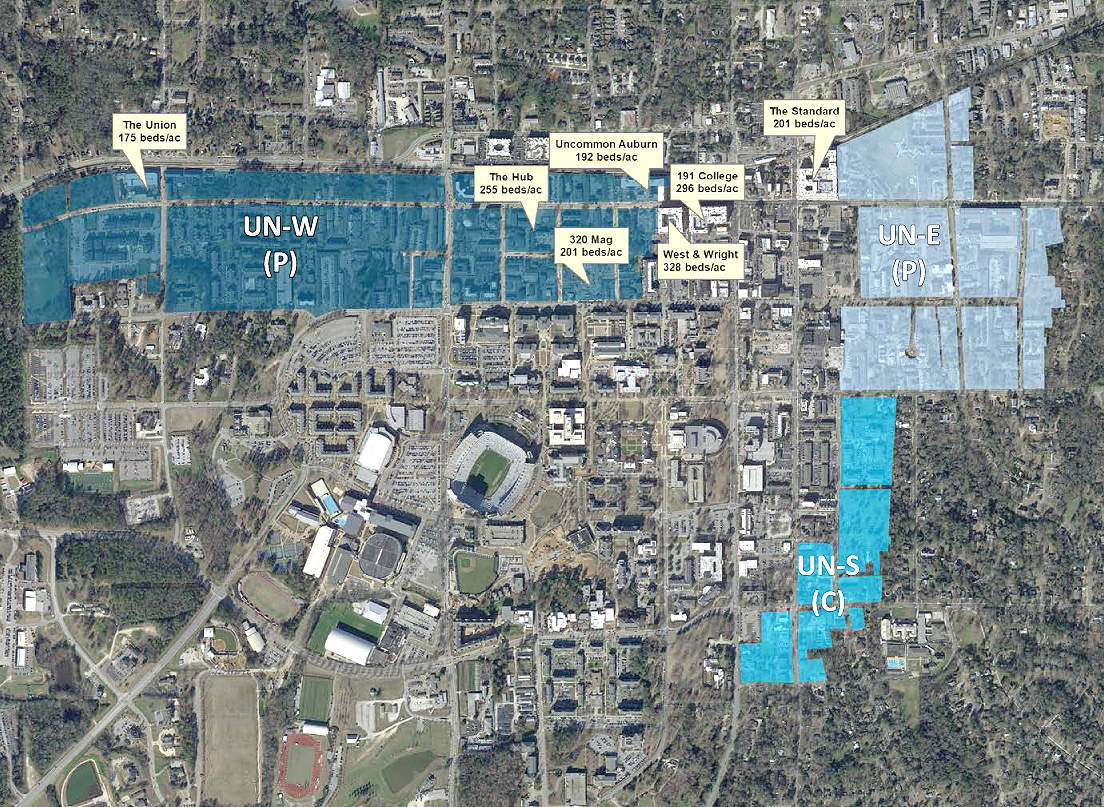 The recent rush of large student apartment projects in Auburn could slow down after Thursday votes by the city's planning commission.
The commission voted to send two measures to the city council. One would cut future student dormitories on the west side of downtown from a maximum of 255 beds per acre down to 170 beds; the other would end permitting for smaller student developments – academic detached dwelling units (ADDUs) – popping up in neighborhoods around the city over the last few years.
Urban Neighborhood-West
The commission voted 8-1 to cut the number of beds allowed in the city's Urban Neighborhood-West zone downtown, which sits north and west of the Auburn University campus, to 170 per acre.
Commissioner Nonet Reese suggested cutting the number further, down to the 85 beds per acre allowed in the city's east and south Urban Neighborhood designations. She was concerned that a limit of 170 would not sufficiently inhibit building such large private dormitories in the future.
City Planning Director Forrest Cotten said that was doable, but he cautioned that there is no way to know what number of beds per acre is the right one to curb such future developments.
"My question is, how big of a hammer do you want to use?" Cotten said. " … We (city planning staff) felt like 170 was a sweet spot" that would curb, but not cease, future student projects altogether.
Reese was the sole "No" vote against the UN-W change.
ADDU
The ADDU vote was much closer. Several commission members, including Reese and Jana Jager, spoke in favor of keeping such developments on a conditional, case-by-case basis. They argued that the ADDU designation has already been adjusted and modified several times.
Commission member Mack Lazenby rejected those arguments, saying the homeowners he's heard from are opposed to more student housing in their neighborhoods.
"I'm inclined to go with staff recommendation," said Lazenby, who was joined in voting for the proposal by Phillip Chansler, Wayne McCord, Robert Rittenhouse and Wendy Birmingham. Reese, Jager, Marcus Marshall and Robyn Bridges all voted against it.
City Council
Both measures go to the city council for approval. The council may amend, reject or vote for them, according to Cotten.
Mayor Ron Anders appointed a city task force soon after his election to look at the explosive growth of private student housing downtown and in surrounding neighborhoods. Residents have in recent years complained about increased traffic, students partying in their neighborhoods and more due to said growth.
City planning staff also noted in its recommendations to the commission that the student apartments – which have small bedrooms, bathrooms and common areas packed into small floor plans for each unit – would have limited appeal as multi-family dwellings should they ever need to be repurposed due to lack of demand from students.
Get Government & Politics updates in your inbox!
Stay up-to-date on the latest in local and national government and political topics with our newsletter.