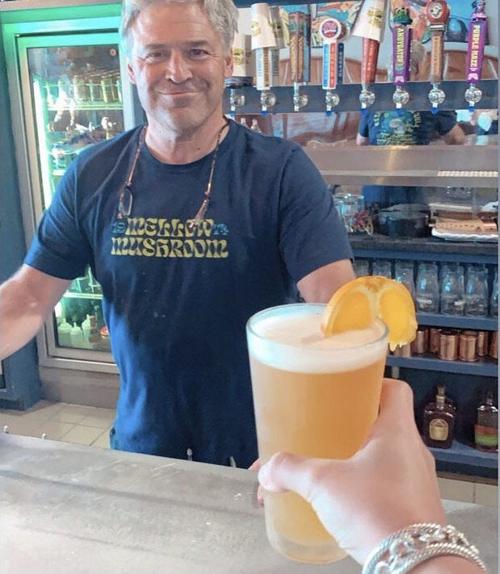 Auburn's business community and long-time residents of the city say they've lost a larger-than-life friend and a cornerstone figure in Downtown Auburn after the death of entrepreneur Greg Bradshaw. Business owners said Bradshaw revitalized the downtown area in the 1990's and was a consistent friendly face to College Street visitors.
Bradshaw died unexpectedly Monday. He was 56.
"He was the kindest person I've ever met. He would do anything for anybody at the drop of a dime," said Adam Nemeroff, who worked closely with Bradshaw. "If he had $20 in his pocket and you needed it, he tried to give you $22."
As the owner of the Auburn locations of Mellow Mushroom and Tacorita, Bradshaw had a sizable footprint in Auburn commerce. He also opened local favorite bar Bodega in 1997 in the old Bank of Auburn building across from Toomer's Drugs, which he operated until closing in 2009.
Bradshaw was born in Decatur, Ga., and attended Presbyterian College on a football scholarship, then transferred and graduated from St. Johns College. He taught at Woodward Academy in Atlanta and Brentwood School in Sandersville, Ga., before arriving in Auburn in 1996 with an interest in expanding Atlanta-based pizza franchise Mellow Mushroom. It's this, business owners say, that was a spark that reimagined the future of downtown.
Nemeroff, manager of Mellow Mushroom, met the businessman through their shared interest of rugby and remained a close friend for the past 25 years.
Nemeroff described Bradshaw as a bit of a tour guide, often showing newcomers to Auburn around. He also said Bradshaw was a visionary, introducing Auburn to the concept of the sidewalk restaurant patio now present among several eateries downtown.
Bradshaw was said to brighten the atmosphere of any room he entered, with Downtown Auburn Coordinator Jessica Kohn remembering him preparing breakfast tacos from Tacorita at 6 a.m. to bring to Downtown Auburn Merchants Association meetings at 8 a.m. She said he was "unforgettable" and passionate about downtown.
He often made people laugh and built a wealth of connections around the city and beyond. Bizilia's Café owner Mark Arrington said he recalls chatting with Bradshaw about six weeks after Arrington purchased the restaurant about seven years ago, with the late entrepreneur jokingly asking if Arrington was "ready to sell yet." Bradshaw was a face of encouragement to all business owners new and old alike, according to those like Big Blue Bagel owner and founder John Deason.
"We'll probably have a sandwich named after him here pretty soon," Deason said.
Many knew Bradshaw for his generosity, often purchasing coffee and baked goods for patrons at Coffee Cat, Chloe Covin of Livewell Juice Company said. Covin said folks often referred to Bradshaw as "the unofficial mayor of Downtown Auburn."
Kohn said her daughters have always looked for "Mr. Greg" as he would purchase popsicles for children. Arrington recalled his habit of buying appetizers and pizzas for families he chatted with.
Ward 3 Councilperson Beth Witten and Mayor Ron Anders recognized Bradshaw at Tuesday's City Council meeting, with Anders calling him a "bigger-than-life person" in the downtown area. Before Bradshaw opened the pizza joint and motivated others to launch stand-out businesses in Auburn, Anders said the McDonald's on Magnolia Avenue was one of the only highlight restaurants downtown from the late 1970s to the 1990s.
"He really took a calculated risk to open (Mellow Mushroom) in downtown Auburn, but boy, he made it go and it's become a pillar of our community," Anders said. "I'll never forget him painting the building yellow-ish gold and people thinking, 'What kind of business is going in there?'"
Bradshaw is survived by his parents Bobby and Betty Jean Bradshaw and brother Robby Bradshaw along with a number of aunts, uncles and many cousins.
While Bradshaw may be gone, his friends and neighbors on College Street say his positive impact will remain but that they've lost a cornerstone figure of modern Auburn. Nemeroff said people from New England to Colorado are looking to attend his memorial service.
"I'm looking at Greg's Facebook page and there's 400 people that commented and booked the church for the service (Thursday)," Nemeroff said. "(The church is) probably not going to be big enough."