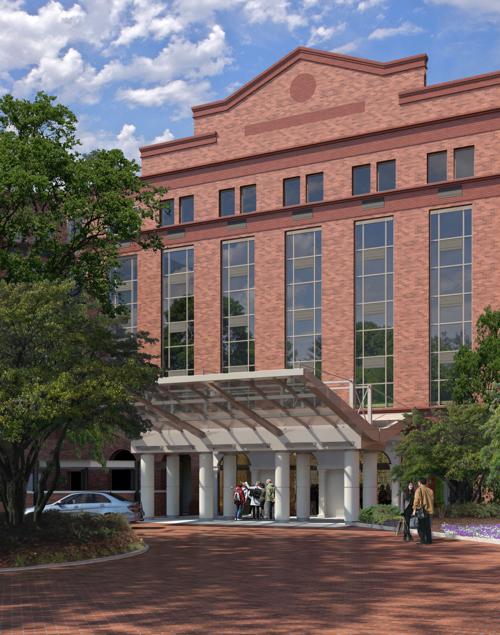 Construction is underway on improvements to the entrance of the Hotel at Auburn University and Dixon Conference Center on College Street, including a new porte cochere.
The structure will be primarily glass, allowing natural light to reach under the canopy and throughout the lobby. There will be space for four cars under the porte cochere, creating covered space for guests to arrive and unload protected from the elements, said Hans van der Reijden, managing director of the hotel.
"We're, right now, the only hotel we can think of between Atlanta and Birmingham that actually does not have one," van der Reijden said. "Being able to unpack your car and have our bellmen welcome you and usher you into the hotel without getting wet — it's the next level of service that we'll provide that has become a necessity."
Fans and heaters will help regulate temperatures under the structure, and a valet service, which has previously been available during events, will be available for guests. The service, along with the canopy, are all responses to customer feedback given in surveys.
"When we start to see a trend in feedback as to what our customers' expectations are, we simply need to adapt and change, or, at the end of the day, you're going to lose customers," van der Reijden said.
Though portions of walkways and the drop-off loop are fenced off, all guest entrances to the hotel are open during construction. Construction on the $1.2 million project is expected to finish by the beginning of June, van der Reijden said.
ADA parking will remain in the front of the hotel on the right side next to baggage drop off, and bell hops are still available to assist guests, according to a release from the hotel.
"Providing this next level of what we call a warm welcome to our customers as they drive up to the hotel, it will change the image of the hotel from when you first pull up," van der Reijden said. "I think it's a welcome additional and change to the hotel that is definitely the next level up."