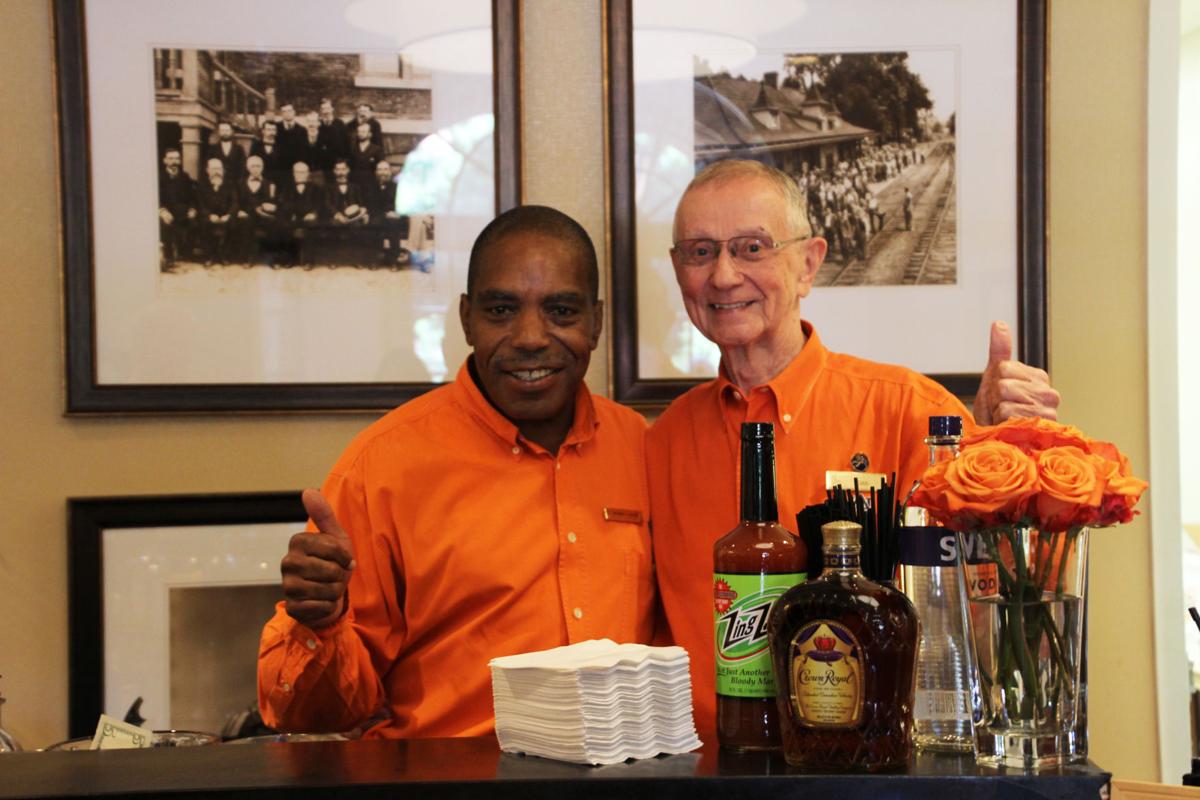 There's just something about a game day Bloody Mary... especially when it's served with a side of Auburn history.
Walk through the doors of The Hotel at Auburn University on any game day in Auburn, and you are immediately greeted with a pair of smiling faces – often clad in orange suits – offering a Southern Football Saturday ritual: a Bloody Mary.
Dan Stoker and Richard LaGrand have seen many faces since they both began working at the hotel nearly 30 years ago. But one thing has never changed – their love for serving game day Bloody Marys to throngs of fans.
The duo is the force behind the now legendary Game Day Bloody Mary Bar at the hotel, a tradition that began over a decade ago and has been going strong ever since.
Stoker is no stranger to the service industry. In 1955, the U.S. Army veteran moved back to Auburn, where his family owned and operated Stoker's Drive-In and, eventually, Stoker's Seafood, two staples of the area during their time. The family was also the original owners of the War Eagle Supper Club, an Auburn tradition and landmark for decades.
He began his career with The Hotel at Auburn University in 1988 as a banquet server, and has spent the last 29 years serving guests of the hotel in various positions.
LaGrand lived in Chicago until he was 15, when his family moved to Shiloh, Alabama. He was a two-year letterman in Beauregard football and was named the permanent team captain in 1973. That same year, he was named MVP of the Beauregard baseball team and received an All-State honorable mention.
 He also spent time working in the service industry at the Hungry Hunter restaurant, but when the Hotel at Auburn University opened in 1988, he set his sights on the new establishment.
He applied for a position with the hotel eight times. On the ninth time, he walked right into the break room, told a woman in HR (who was eating a sandwich at the time) that he wanted a job, and she in turn told a manager to hire this persistent person, because, in her words, "He's been worrying me to death, and I think he'll work."
"Game day just isn't game day without Dan and Richard," says Wallis Smith, a season package holder at the hotel and long-time patron of the Bloody Mary bar. "They are wonderful."
Get local news delivered to your inbox!
Subscribe to our Daily Headlines newsletter.