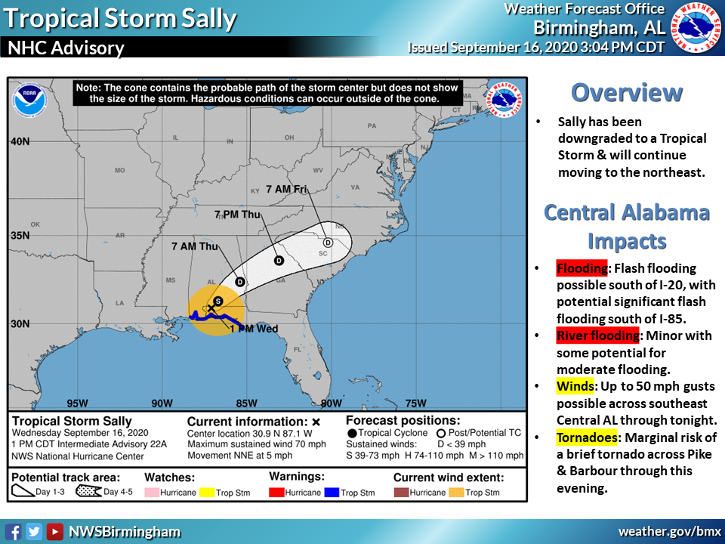 WEDNESDAY, SEPT. 16, 2020
Alabama Power update on 160,000 outages; Lee County outages reported
At 9 p.m., approximately 160,000 Alabama Power customers are without service statewide.  Of that number, 24,000 outages exist in central Alabama.  The following is a breakdown of those outage locations:
Montgomery County – 13,600 customers
Elmore County – 2,700 customers
Lowndes County 1,700 customers
Butler County – 1,400 customers
Lee County – 1,400 customers
Autauga County – 900 customers
Dallas County – 400 customers
Wilcox County – 200 customers
Bullock County – 150 customers
Alabama Power crews have responded to power outages throughout the day, however, heavy rains and gusty winds have created unsafe conditions and slowed restoration efforts. 
A few additional points for tonight:
Power restoration efforts are ongoing where it is safe to do so
Reports of damage include numerous fallen trees and limbs which have resulted in broken poles and downed wire
Additional line crews and personnel will arrive in central Alabama tomorrow to assist with power restoration efforts
Macon, Russell counties under flood WARNING
The National Weather Service issued a flash flood WARNING for Macon and southwest Russell counties until 2:45 a.m. Thursday.
Radar estimates show 3-6 inches of rain already fallen and an additional 2-5 inches are possible.
"Flash flooding is likely to begin shortly. Some significant flash flooding possible!" the service warned shortly after 8:30 p.m. Wednesday.
Heavy rain continues to fall at a steady pace in Lee County as well, with frequent gusty breezes.
The highest wind gust reported as of 8:30 p.m. Wednesday reached 36 mph, recorded at 6:41 p.m.
A flood advisory issued shortly after 8:30 p.m. Wednesday also included Lee County. 
The following was posted on social media:
The National Weather Service in Birmingham has issued a
* Urban and Small Stream Flood Advisory for...
Lee County in east central Alabama...
Russell County in southeastern Alabama...
* At 837 PM CDT, Doppler radar indicated heavy rain due to
thunderstorms. This will cause urban and small stream flooding.
Between 2 and 4 inches of rain have fallen.
Some locations that will experience flooding include...
Auburn, Phenix City, Opelika, Notasulga, Hurtsboro, Smiths, Smiths
Station, Waverly, Griffen Mill, Uchee, Beauregard, Russell County
Sports Complex, Bleecker, Seale, Ladonia, Beans Mill, Auburn
University, Beulah, Loachapoka and Marvyn.
Additional rainfall of 2 to 4 inches is expected over the area. This
additional rain will result in at least minor flooding and could
eventually result in flash flooding.
Lee schools go online-only Thursday
The Lee County School System announced the following Wednesday on its social media sites:
"Due to inclement weather, Lee County Schools will not have in-person instruction Thursday, September 17th.
"All instruction will be conducted virtually or through our blended format.
"All students shall remain at home, and employees may work from home Thursday, September 17th"
Tornado threat downgraded
East-central Alabama remains under a flash flood watch with heavy rains falling on Lee County and expected to continue into the night.
The National Weather Service, however, has removed Lee County and the surrounding area from a tornado watch, moving the watch zone to only a small portion of southeast Alabama.
Alabama Power Company released the following information mid-afternoon Wednesday:
As now Tropical Storm Sally continues to push through central Alabama, approximately 175,000 Alabama Power customers are without service statewide with the vast majority of those outages in the Mobile area.
Specific to central Alabama, approximately 3,000 customers are without power.  Those central Alabama outages exist primarily in the following areas:
Butler County – 1,100 customers
Elmore County – 600 customers
Montgomery County – 500 customers
Wilcox County – 490 customers
Autauga County – 170 customers
Lowndes County – 150 customers
Alabama Power crews are responding to outages as it is safe to do so.  Reports of damage include downed wire as a result of broken trees and limbs.
Important storm safety reminders:
 Stay away, and keep children and pets away, from downed lines. Do not drive over lines or under low-hanging lines. Always assume power lines are energized.
Avoid areas with fallen trees or limbs where downed lines may be hidden.
DO NOT attempt to remove tree limbs or anything else caught in power lines. To report an issue, call Alabama Power at 1-800-888-2726 or contact local law enforcement.
DO NOT attempt to make repairs to Alabama Power equipment. Call 1-800-888-2726 and wait for our trained work crews to get there so they can perform the potentially dangerous work.
Stay away from areas where repair crews are working. If driving near work crews, obey road signs and proceed cautiously.
Please maintain adequate distance as we make repairs and restore power.  At the very least, please maintain a safe distance of at least six feet from our crews and field representatives to help prevent the spread of COVID-19.
Rain developed into a steady downpour Wednesday afternoon in east-central Alabama, and Lee County Emergency Management Agency Director Rita Smith had a simple message for non-essential drivers:
Road conditions for the remainder of Wednesday, throughout the night and into Thursday morning are expected to reflect the flash flood dangers much of the local area is facing with the remnants of Hurricane Sally churning through after making landfall at 4:45 a.m. close to Gulf Shores.
The storm picked up its pace slightly, a good sign for the rain-producer to move through quicker, but flood conditions will remain a serious threat until at least mid-day Thursday, emergency and weather officials stated, as stormy weather continues into Wednesday night.
The Lee County area still expects 4-8 inches of rain with as much as 10 inches in some locations, with a wind advisory also still in effect warning of occasional gusts possibly reaching 45 mph.
Smith said travel conditions will be dangerous until at least Thursday morning and warned against all non-essential travel in the meantime.
"Let's get home," she said. "Otherwise, it puts our first-responders at risk when people just go driving around. Please get home and stay safe."
Emergency shelter sites on standby
Lee County Emergency Management Agency released information today in the event of needed emergency shelter should tornadic activity be reported.
These sites will ONLY be open in the event a tornado watch is issued:
Greater Peace Baptist Church, 650 Jeter Ave., Opelika
Smiths Station Ruritan Club, 2000 Lee Road 430, Smiths Station
Greene Hall, 1130 Wire Road, Auburn
Ralph Brown Draughan Library
Sally begins slow, heavy-rain march into Alabama
A flash flood watch and wind advisory for the Lee County area went into effect this morning and remains in effect until 1 p.m. Thursday, with 4-8 inches of rain expected.
Weather officials are concerned about the slow movement of Hurricane Sally, which made landfall in the Gulf Shores area this morning.
The slow movement over the gulf means Sally picked up more moisture that will be dumped as the storm moves inland, creating likely flash flood conditions as it moves north and east, along the Interstate 85 corridor and toward Lee County.
The National Weather Service on Tuesday also issued a wind advisory for the area, warning of possible wind gusts up to 45 mph.
Wind gusts in Auburn already were being measured at more than 20 mph shortly after 8:30 a.m. Wednesday, with a steady breeze and rain bands moving into the area.
This morning from the AP wire:
Hurricane Sally lumbered ashore in Alabama with 105 mph winds Wednesday, shoving a surge of seawater onto the coast and bringing torrential rain that forecasters warned will cause dangerous flooding from the Florida Panhandle to Mississippi and well inland in the days ahead.
Moving at an agonizingly slow 3 mph, the storm made landfall at 4:45 a.m. near Gulf Shores after raking the Gulf Coast with hurricane-force winds and rain from Pensacola Beach, Florida, westward to Dauphin Island, Alabama, for hours.
Emergency officials in Alabama and Florida reported flash floods that pushed water into people's home. More than 2 feet of rain was recorded near Naval Air Station Pensacola, and forecasters said some coastal spots could get nearly 3 feet.
"It's not common that you start measuring rainfall in feet," said National Weather Service forecaster David Eversole in Mobile, Alabama. "Sally's moving so slowly, so it just keeps pounding and pounding and pounding the area with tropical rain and just powerful winds. It's just a nightmare."
Tallapoosa and Macon county schools announced altered schedules because of the anticipated inclement weather.
Tallapoosa County schools are in session today, but closed Thursday and Friday.
Macon County schools are providing online sessions only the remainder of the week, with no in-person classes today through Friday.
Wind advisory added to flood watch
Lee and surrounding counties remain under a flash flood watch Wednesday through Thursday evening as Hurricane Sally slowly churns toward the area, making landfall Tuesday night.
The slow pace of steady downpour of rain poses a greater threat of flooding, officials warned.
The National Weather Service on Tuesday afternoon also added a wind advisory for the area, warning of winds of 25 mph with gusts 35-45 mph possible on a line from Demopolis to Auburn.
"Gusty winds could blow around unsecured objects. Weaker trees and tree limbs could be blown down and a few power outages may result," the National Weather Service reported. "A wind advisory means that wind gusts of 35 mph or more are expected.
"Winds this strong can make driving difficult, especially for high-profile vehicles. Use extra caution. Secure all loose outdoor objects."
The following statement was posted Tuesday afternoon on Facebook by the National Weather Service office in Birmingham:
"Hurricane Sally...some thoughts and updates: This forecast has been difficult to say the least.
"Sally has slowed it's progression towards land. This could be for many reasons, one of which is weakening steering winds. These are winds that guide the storm and push it forward.
"When hurricanes move over water that is warm, they tend to strengthen because that warm water is part of their fuel. While a hurricane is moving, the storm is continuously moving into fresh warm water, so it has a fresh supply of this fuel.
"When a hurricane slows down, the water underneath it begins to cool. Add to that, cold water from deeper in the ocean is brought up to the surface (in a process called upwelling) and now the hurricane has cold water to fuel the storm. Hurricanes do not thrive in cold water, and thus begin to weaken.
"The forecast track is another challenge. The highest rain chances are to the south and east of the hurricane center. The current forecast issued by the National Hurricane Center for Central Alabama brings the center of Sally between Birmingham and Montgomery.
"Areas south and east of this track will see the highest rainfall accumulations, and areas north and west will see fewer totals. If the track shifts northward, the area of higher rainfall totals will move northward with the track.
"Updates to the forecast track will likely result in changes to the rainfall totals.
Hopefully this explains some of the forecast challenges as Sally begins to move inland over the next 24 hours.
"Even though the hurricane slowed down, it does NOT mean that Alabama is in the clear. Central Alabama is still expecting a flooding threat with several inches of rain likely, and everyone should stay ALERT of this storm and the latest forecasts.
"The counties (including Lee, Macon, Tallapoosa and Chambers) in the current Flash Flood Watch are expected to see several inches of rainfall, and flooding is DEFINITELY a possibility."
LifeSouth seeks blood donations
The following press statement was released Tuesday from LifeSouth:
"The potential impact of Hurricane Sally could be severe, and blood donors are asked to donate now to help prepare for the effect of the storm on Alabama's blood supply. LifeSouth has experienced a significant number of blood drive cancelations and asks donors to come into a donor center before the storm.
"It is important to build the blood supplies at hospitals across the state with local inventories already low due to summer shortages. All blood types are needed, especially type O and platelet donors.  
"Donating in advance supplies the hospitals and assures blood will be available to help those injured during or after the storm.
"Donors must be 17 or older, or 16 with parental permission, weigh a minimum of 110 pounds and be in good health. A photo ID is also needed. Call LifeSouth's toll-free number, 1-888-795-2707 or visit www.lifesouth.org to find the closest blood center or blood drive near you.
"LifeSouth is a non-profit community blood center serving hospitals in Florida, Georgia and Alabama."
Flash flooding and the possibility of tornadoes continue in the forecast for east-central Alabama, as slow-moving Hurricane Sally is expected to remain a strong storm system when it arrives locally sometime Thursday and into Friday.
Emergency management agencies from local, state and federal levels are scurrying with preparations and warnings to local populace to get prepared now before the storm hits full force. Strong breezes and chances of rain arrived Tuesday in Lee County.
"Hurricane Sally is NOT to be taken for granted," Gov. Kay Ivey said during a 10 a.m. Tuesday press conference, warning that there is a potential for record flooding in Alabama after Sally makes landfall, expected sometime Tuesday night.
The National Weather Service reported that 8-10 inches of rain could move into the Montgomery area, "and as we move into Friday, Sally is going to progress up I-85," a spokesman said.
Forecasts for the Lee County area call for 4-8 inches of rain, with a flash flood watch in effect from Wednesday morning into Thursday morning.
More details will be added to this running story throughout the weather event.
Heavy rains, with as much as 6-12 inches falling Wednesday through Thursday in a zone between Interstate 85 north to Interstate 20, are in the area forecast as Hurricane Sally approaches the Gulf Coast and is expected to slowly march northeast after making landfall sometime Tuesday.
The projected path includes Tallapoosa, Macon, Lee and Chambers counties, all of which are included in a flash flood watch issued Monday by the National Weather Service and expected to remain in effect from 1 a.m. Wednesday through 7 p.m. Thursday.
State and local emergency entities, including utility companies, hurried Monday with preparations, such as action taken by Gov. Kay Ivey to close Alabama's beaches.
"As the recently upgraded Hurricane Sally continues heading closer to the Gulf Coast, we must give individuals time to prepare for the anticipated impacts of this storm," she said in a statement issued Monday afternoon. "Through a supplemental state of emergency declaration, I am closing all Alabama beaches."
The closures became effective at 3 p.m. Monday, as coastal areas are in danger of flooding from storm surge as well as heavy rains.
"Alabamians are no stranger to tropical weather and the significant damage these storms can do," Ivey said. "Locals will need to prepare their homes, businesses and personal property for imminent storm surge, heavy rain and flash flooding."
Weather officials warned that "a Flash Flood Watch means that conditions may develop that lead to flash flooding. Flash flooding is a very dangerous situation. You should monitor later forecasts and be prepared to take action should Flash Flood Warnings be issued."
Alabama Power Company recently returned crews from assisting in the aftermath of previous storms in Louisiana and Texas, and now it is staging crews in Alabama preparation for Hurricane Sally.
"Alabama Power is closely watching the weather and moving resources closer to the coast so they are in position as a precaution and in preparation," spokesman Mike Jordan said. "Our customers should stay weather-aware and make sure they have their storm plans in place."
Anyone needing assistance or to report a power outage with Alabama Power may do so by calling 1-800-888-2726.
Get local news delivered to your inbox!
Subscribe to our Daily Headlines newsletter.