Brenda Hugley, formerly a resident of Beauregard, stood in her apartment in Opelika's Courtyard Apartments on Tuesday with a smile on her face and a 'Home is where the heart is' sign directly across from her.
Hugley is one of several Lee County residents whose last month has been a whirlwind since March 3 when tornadoes hit the area. The Hugleys — Brenda, her husband Ronnie and 5-year-old Ladana — have been aided in the process by the East Alabama Medical Center, which is housing 15 families at Courtyard and Oakwood Park at no cost to them.
The quiet scene at Hugley's apartment Tuesday was a far cry from what she and her family experienced that stormy Sunday afternoon.
"When it started, our phones went off," said Hugley, a relative of EAMC employee Michelle Pitts. "After I went to the closet, my husband told me about five minutes later, 'Hey, it's here.' He dived in the closet with us. By that time, that's when we heard all the loud noise and the glass breaking."
Once the storm passed, the three surveyed the damage left behind. A tree fell through the Hugleys' kitchen and the back bedroom. Hugley and her husband's vehicles were torn up as was the car shed they kept everything in. Ladana's playground outside was nowhere to be found.
The family stayed in hotels and received help from friends for two weeks until EAMC reached out about an apartment. The Hugleys brought what clothes they could salvage but needed little else, as the apartment was fully furnished and its cabinets and refrigerator were fully stocked.
"We didn't have to do nothing but walk in," Hugley said. "It's just a blessing. It's a blessing that we had people come and take us in their arms just like we were their own. We walked inside this apartment with everything."
The Hugleys as well as the other families can keep the apartment's items once they leave. It's just a piece of EAMC's various efforts to help those around the area pick up the pieces in the aftermath.
"It's something that we do — we help others. This is the first time it's really affected us right here, right at home," EAMC vice president of human resources Susan Johnston said. "It has been probably one of the greatest blessings of my career to be able to take care of our own. It's a healing feeling to be able to help our employees and their family members."
'It sounded like a jet plane'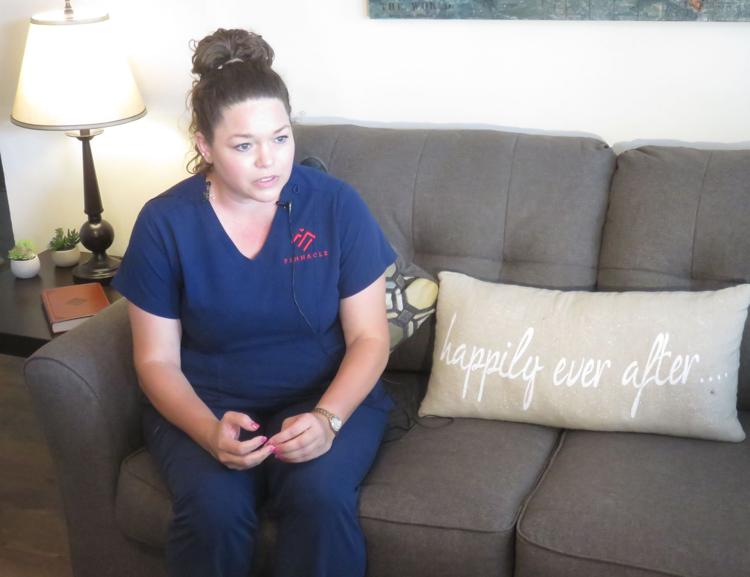 EAMC has helped cover housing for employees and non-employees affected by the storm. Among the others who they have assisted is Melinda Pope, a medical assistant in the hospital's cardiology department.
Pope was in her mobile home in Beauregard when the first tornado passed by. Although the weather was severe and the power went out at that point, the situation turned dire during the second tornado.
"It went from daylight to dark, and then it sounded like a jet plane was just coming by. I was screaming to my son (Jacob Shepard) that it's here and that we needed to get to a closet," Pope said. "I opened my front door — I don't know why, I guess to look to see if you could see the funnel or where it was. When I opened the front door the wind blew in and then back out, and it took my feet.
"I'm just hanging onto the door and screaming for help. I couldn't hold on anymore, and right as I was about to let go my son grabbed my arm and was like, 'I have you, Mom.'"
Pope and Shepard closed the front door, headed to the closet and waited out the storm. The tornado left Pope's mobile home shifted on its blocks and missing part of its roof. All of the ceilings were cracked and falling in.
Despite the damage, Pope attempted to stay in the home.
"It was unsafe. You would worry. I would plug things in, and it would spark because everything had shifted," Pope said. "You go to bed at night, and you're wondering, 'Oh my God, am I going to burn up at night? Is there going to be a house fire?'"
EAMC reached out to Pope about an apartment, but Pope initially declined. After two days and guidance from her sister Michaela Blackmon and brother Otto Craft, Pope called EAMC back.
"They had a key like the next day," Pope said.
EAMC's efforts have helped ease some of the burden on a trying road back to normalcy for all affected.
Hugley has to go back and forth to Beauregard due to her kidney stones, which offers a constant reminder of what her family experienced. Pope said driving past the debris on her way to work has left her in tears, at which point she reassures her twin boys it's all OK.
Hugley and Pope are among numerous Lee County residents still contemplating their long-term plans. With so many questions left unanswered about the future, EAMC has provided a respite during an incredibly trying time.
"When you don't have to go from hotel to hotel, you can actually come into your own home, lock your own doors and walk away from it and it's there when you come back," Hugley said. "Home is where the heart is."
Get local news delivered to your inbox!
Subscribe to our Daily Headlines newsletter.