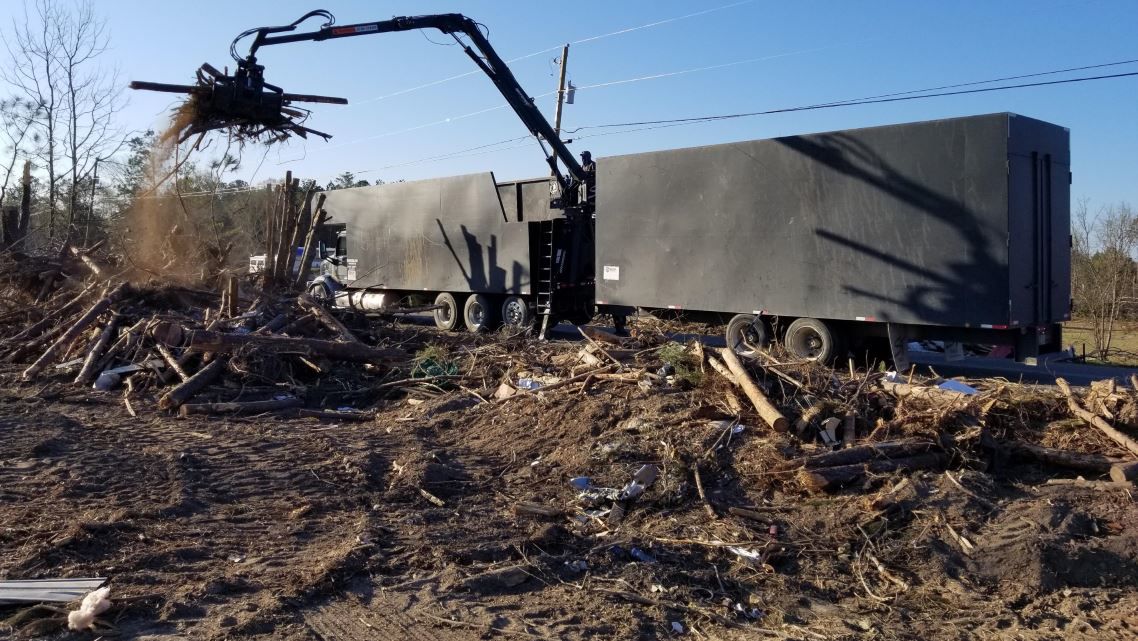 With the combined efforts of KDF Enterprises, LLC and Tetra Tech, the Lee County Highway Department has extracted more than half of the vegetative, construction-demolition debris from the March 3 tornadoes.
"We've broke 100,000 cubic yards of vegetative debris," said Justin Hardee, county engineer. "I believe that estimate indicates we may be up to 175,000, so I would certainly say we are more than halfway in the debris removal."
Before requesting the assistance of outside contractors, the highway and environmental services departments were damaging their equipment, unsuitable for transporting disaster debris, and transferring 20 cubic yards each load as opposed to 100 cubic yards of debris hauled by the contractors, Hardee said.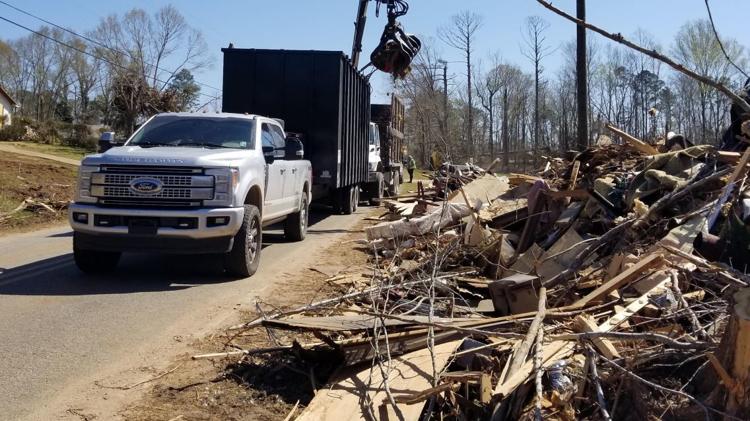 "Tetra Tech is the group performing the monitoring, and they are a separate entity, watching and making sure all of the debris removal is coming from the rights-of-way," Hardee said. "They are making sure what's going in the truck should go in the truck and what can be picked up as qualified through FEMA guidelines."
Hardee said 23 to 25 trucks have been deployed to remove the debris. A monitor accompanies each truck to ensure the correct debris is cut down for safety and all of the debris is removed from the vehicle before extracting more rubbish.
"Out at our chert pit, where the debris is coming, they have monitors in a tower that watch those trucks come in, and they judge the loads of the trucks to see if it's full or half-loaded," Hardee said. "They make sure when the truck leaves it's empty, so they are not hauling the same debris around saying, 'Hey, look what I've been doing.'"
Five monitors are stationed at the Lee Road 151 chert pit, and there is a single monitor at another landfill checking construction and demolition loads of debris, according to Hardee.
"We are watching the monitors and the contractors as well," Hardee said. "We work very well with them, and I feel like we communicate well with them. A debris removal truck was loading debris, it fell from its grapple and it took out a service line to a home. We contacted the contractor, and he was already aware of it by the monitoring company that saw it happen."
All of this monitored information will be documented by FEMA. With strict reverence of FEMA's regulations and guidelines, the county will be eligible for the maximum amount of federal reimbursement, Hardee said.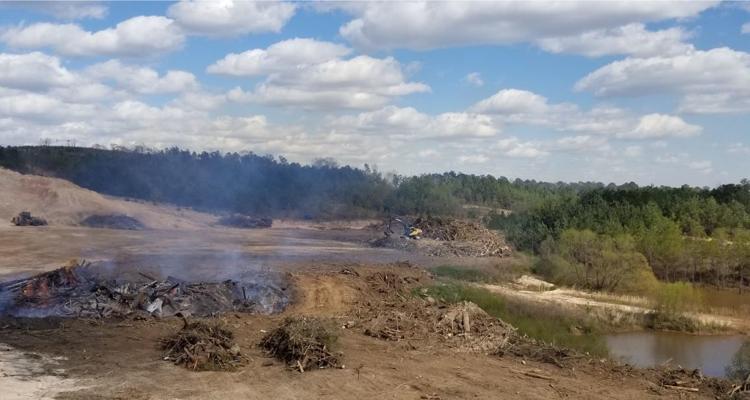 "We're very fortunate to have a chert pit like this," Hardee said. "The contractor has been impressed with Lee County's capabilities. The debris is coming in faster than we can burn it. When you start talking about 100,000 cubic yards, you can't burn it that fast."
The highway department adheres to the Alabama Department of Environmental Management guidelines, such as a 3:30 p.m. deadline to stop piling debris into the pit until morning to keep the fire in a manageable state.
"We start feeding it again the next morning," Hardee said. "By doing this with our crews, we are able to save a lot of the disaster dollars. We're paying our folks to do it. They are operating our equipment. It's saving the taxpayer, not only in Lee County but the federal government, hundreds of thousands of dollars."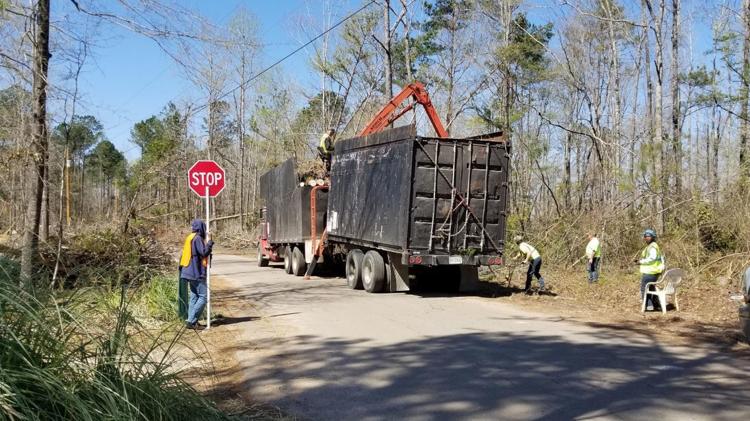 District 2 Commissioner Johnny Lawrence vocalized his concern for uncollected debris after the contractors and monitors have concluded their services.
"My concern is that we are going to have pockets of storm debris sitting out there on people's property that's under our private property clause, and we can't do anything about it," Lawrence said. "I'm curious if there is something we can look at that gives us the ability to go clean it up."
Lawrence recalled copious amounts of rubble in Louisiana after Hurricane Katrina slammed it in 2005.
"You go to New Orleans today, and there are areas down there that have never been touched since the day of the storm," Lawrence said. "I would like for us to do the best job we can to not have that around here."
Hardee reiterated the importance of raising awareness for residents to know collection deadlines and place all of their debris on the rights-of-way before the contractors cease their extraction.
"There will be a hard media push to explain that you have time, and we will stagger that time to focus your efforts to get it to the right-of-way," Hardee said. "Inevitably, there will be stuff left or comes back after the fact. At that time, the Lee County Commission will need to decide if they wish for the highway department to make a pass themselves."
Considering the highway department's equipment is unsuitable for debris collection and, in previous instances, survivors have collected debris not associated with the disaster, the county will implement a deadline, Hardee said.
Get local news delivered to your inbox!
Subscribe to our Daily Headlines newsletter.