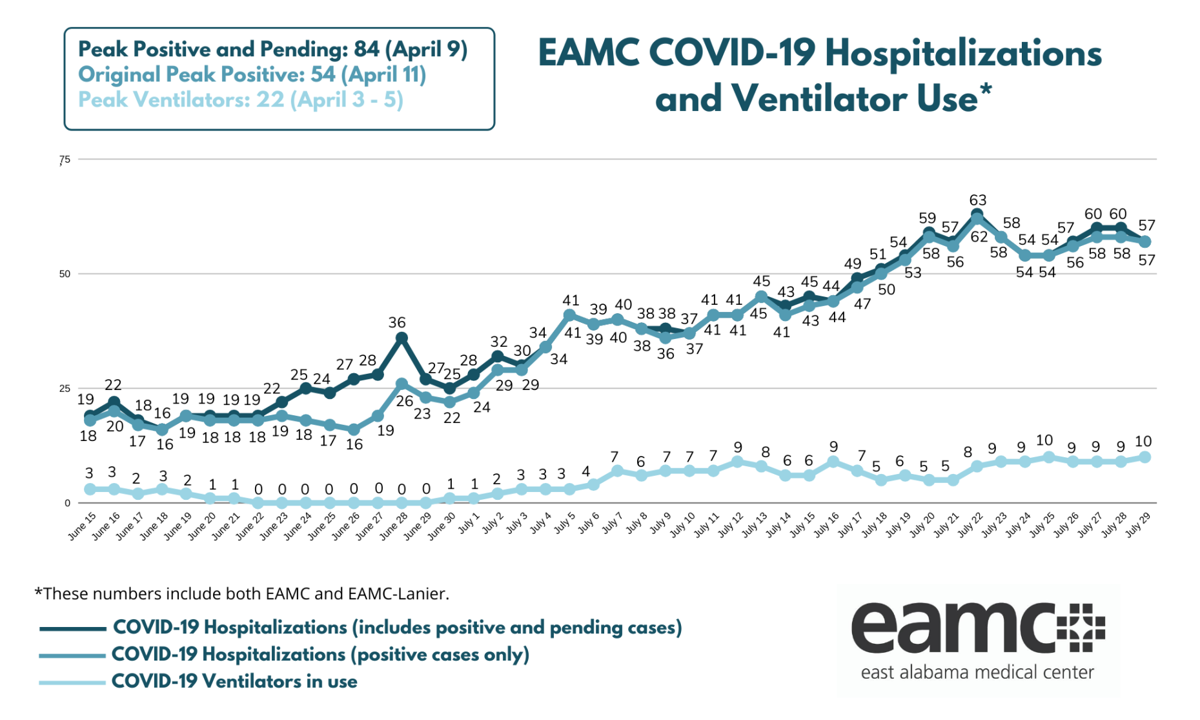 Alabamians, including those in schools and colleges, will be required to wear masks in public for at least another month.
Alabama Gov. Kay Ivey extended the state's Safer-at-Home order, which includes a statewide mask mandate, on Wednesday. The order will remain in effect until 5 p.m. on Monday, Aug. 31.
Ivey said the decision to extend the order and the mandate was not an easy one.
"There's no way in the world you're ever going to make everybody happy 100 percent of the time," she said. "But one thing is for sure: tough decisions are a lot easier to make when you're on the sidelines than when you're actually in the arena."
The mask mandate, which has been in place since mid-July, is being extended to include mandatory mask wearing in schools and colleges when possible for employees and students in second grade and above, according to the order.
"Wearing a mask can't hurt, but it sure can help," Ivey said. "And more and more people are seeing this for what it is: a way to protect yourself as well as to protect the others that you work with, come in contact with, care about and those you even love."
Alabama's previous mask mandate and Safer-at-Home order were set to expire on Friday. The extension of the mask mandate and Safer-at-Home order comes after continued community spread of COVID-19 cases throughout the state, including locally.
Despite a steady daily increase of COVID-19 cases in Alabama, Ivey decided not to force businesses to close due to the pandemic.
"The bottom line is we certainly do not need to close our businesses if at all possible," she said. "We need to keep our people being able to earn a good livelihood [and] keep the economy going."
There were 81,572 confirmed COVID-19 cases and 1,489 virus-related deaths in Alabama as of Wednesday morning, according to the Alabama Department of Public Health (ADPH).
Local update
The number of COVID-19 patients hospitalized at East Alabama Medical Center remained steady on Wednesday.
There were 57 COVID-19 patients hospitalized Wednesday, one less than was hospitalized on both Monday and Tuesday, according to hospital data. Additionally, 10 COVID-19 patients at EAMC were on ventilators.
ADPH continues to confirm new COVID-19 cases in east Alabama counties.
There were 796 confirmed cases in Chambers County, 2,356 in Lee County, 295 in Macon County, 1,121 in Russell County and 771 in Tallapoosa County as of Monday evening, according to ADPH.
Although down, Lee County still is averaging the most new COVID-19 cases in the last two weeks in east Alabama with about 36 new cases per day, according to ADPH data.
The following is the average number of new cases confirmed in east Alabama counties over the past 14 days:
Chambers County — 6
Macon County — 4
Russell County — 22
Tallapoosa County — 7
Of the 1,489 reported deaths, 38 are from Chambers County, 40 from Lee County, 12 from Macon County, one from Russell County and 78 from Tallapoosa County.
The mandate
Alabama State Health Officer Dr. Scott Harris believes it's too early to tell if the statewide mask mandate is making a difference when it comes to hospitalizations.
"Our numbers are not yet particularly encouraging," he said.
EAMC, however, feels that Ivey's mask mandate has been slowly making a difference at its hospitals.
"The governor's mask mandate went into effect on July 16, but the number of COVID-19 hospitalizations rose for several days afterward because the cases were already active in the community," John Atkinson, EAMC spokesman, said. "We have ebbed and flowed a little since then, but we have hope they will decline soon because the number of calls and tests have decreased during that time."
EAMC has also been measuring if the mandate is working by the number of calls to its 334-528-SICK hotline.
"Mondays and Tuesdays are often the busiest for the call center," a news release from EAMC read. "On Monday and Tuesday this week, EAMC received 1093 calls to the 528-SICK call center. Looking only at the Mondays and Tuesdays from earlier this month, the call center saw totals of 1829 last week, and 1731 and 1487, respectively, from the first two Monday / Tuesday combos."
Harris believes that Alabama is still seeing the fallout of Fourth of July celebrations when it comes to COVID-19 cases.
"We had a big spike in numbers after Memorial Day followed by hospital surges," he said. "I think we have seen something very similar now around the Fourth of July."
Harris, however, is a firm believer that the mask mandate is the right thing for Alabama.
"I'm very aware many people don't like the idea of having to wear a face covering, and certainly I don't either," Harris said. "I know people don't like being told what to do, and I don't either. But I do believe that it's the right thing to do."
Harris added that although messages about mask wearing were mixed at the beginning of the COVID-19 outbreak, mask wearing is the best tool to help stop the spread of the virus.
"Physicians, public health officials and medical researchers all have a consensus that this is the best tool that we have right now for preventing transmission of disease short of everyone being locked in their house, which we certainly don't intend to see," he said.
Alabama virus situation
Among the 81,572 Alabamians who have tested positive for COVID-19, more than 5,000 of them are healthcare workers. 
Hospitalizations are also at an all-time high in Alabama. There were 1,598 COVID-19 patients hospitalized in Alabama as of Wednesday, according to ADPH.
"These numbers are as high as we have ever seen," Harris said.
Harris said that ADPH is working with state hospitals about the possibility of opening alternate care sites if hospitals can't handle the surge in patients.
"We have a group that we're working with through the Alabama National Guard that's going to assess sites on that around the state on different locations," he said. "We've had some individual requests from communities about how they access federal funding to do that, so we're in the process of doing that as well."
These alternate care sites would be similar to a pop-up hospital outside the usual hospital setting, Harris added. He did not indicate when, where or if these alternate care sites will be set up.
Harris said that, for now, there is no trigger number that he is looking at in terms of when the state should start considering closing back down. He is, though, looking at a variety of factors, including how state hospitals are handling the surge in virus patients. 
"I think all those factors have to be considered. It's not just a single number but a lot of different things," he said.
Concerned about COVID-19?
Sign up now to get the most recent coronavirus headlines and other important local and national news sent to your email inbox daily.