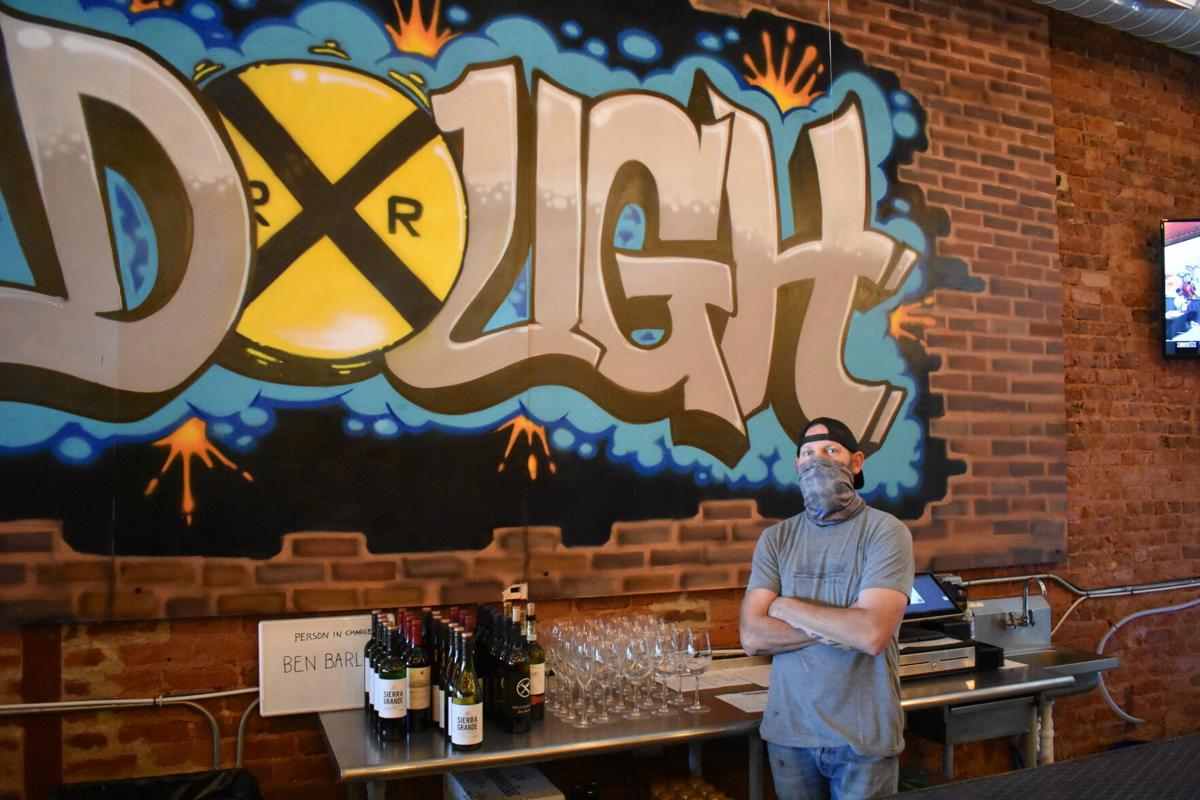 Chef and restaurateur Graham Hage opened Dough on New Year's Eve, bringing traditional Italian pizza to the railroad tracks in downtown Opelika.
Hage, known for starting the Zazu Gastropub a few doors down, said he had been looking at the property for years before finally opening.
"We've been trying to get open for a while, and we closed Zazu on St. Patrick's Day for nine weeks so I was actually able to come down to work on it every day," Hage said.
The new pizzeria's interior has a train motif inspired by its proximity to the train tracks on Railroad Avenue, and Hage said he commissioned graffiti artists from Boston, Atlanta and New Orleans to tag murals in the brick interior.
Dough's menu centers around its wood-fired oven, with thin-crust Neapolitan pizza and specialty options including the Diavlo pizza made with Calabrian chiles, Calabrese salami, garlic, olive oil and fresh veggies and cheese.
The restaurant also offers New York style pizza options named after railway lines across the U.S. like the Union Pacific made with green bell peppers, sausage, olives, mushrooms and pepperoni.
Dough is the only place in the Opelika area with a wood-fired oven for pizza, according to Hage, and the chef said the restaurant is committed to using fresh ingredients and pizza made from scratch while trying to implement locally sourced ingredients as much as they can.
"I make the dough every day and use fresh ingredients — we don't even have a freezer," Hage said. "We cook all our own toppings and don't get anything precooked. We use the same approach we use at Zazu — fresh, quality ingredients and getting skilled people to work with them."
Despite the difficulties that come with opening a new restaurant in the middle of a pandemic, Hage said Dough is ready to start pizza deliveries or pick-up just in case another lockdown is put into effect.
"If something else happens in a couple of weeks, we're open and ready to go," Hage said. "Pizza is one of the biggest things for delivery and take-out, so if restaurants get shut down again, and hopefully they won't, we'll be ready to tackle it."
Though Dough has future plans to increase the size of its menu and add items like salad and desserts, Hage said he and his cooks are focusing on perfecting their pizza for now.
"Opelika has been talking about [Dough] for three years, and if we make a good quality pizza then the business will do great," Hage said. "When people get their food and you can watch them take a bite and nod their heads and say, 'Hey, this is pretty good' — that's what drives me to do what I do."