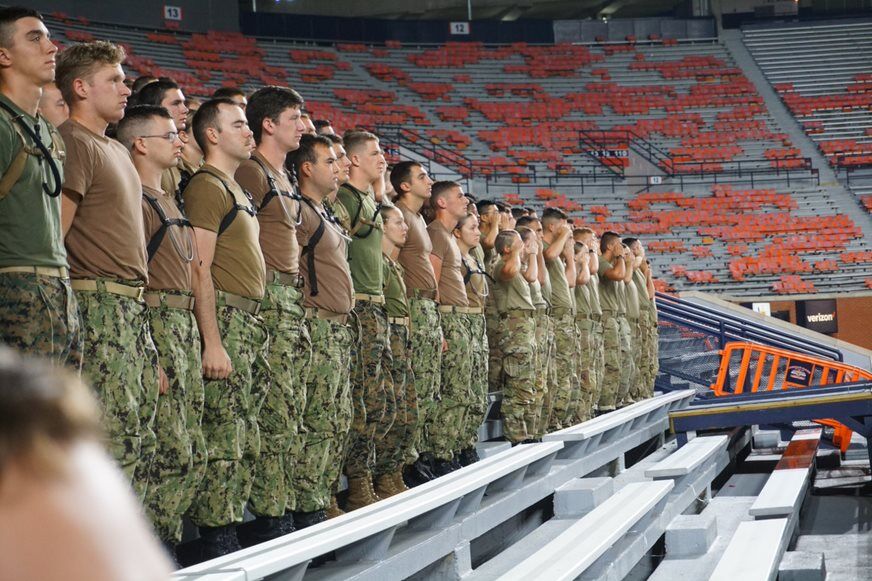 This Saturday, Auburn University's Army ROTC program will help the crowd at Jordan-Hare Stadium observe the 20-year anniversary of the Sept. 11 terrorist attacks.
Lt. Col. Nate Conkey, the War Eagle Battalion's professor of military science, said he could not be any prouder of his cadets.
"It wasn't us old folks that came up with this," said Conkey of the day of remembrance. "It was the cadets."
The events will begin at 8 a.m. with a first responder FanFest on Nichols Lawn with all branches of ROTC, including Army, Navy/Marine and Air Force. First responders will get a free, specially designed Auburn first responder coin on a first-come, first-served basis.
Military veterans and first responders can also send photos to GameDay@auburn.edu or add #AuburnHero to a social media post to be recognized on the video board during the game.
The Army ROTC cadet contracting ceremony will be held on the football field at 10 a.m., as 35 new officer cadets will be sworn in during the pre-game ceremony.
The cadets are agreeing to join the four-year leadership training program while receiving scholarships that cover tuition expenses at Auburn. Upon graduating, they will receive commissions as second lieutenants in the United States Army, where they will serve for four years or more.
"It's the same oath that we give our soldiers when they enlist or re-enlist in the Army," Conkey said. "These cadets are making that commitment to sacrifice and serve their nation. This year, in conjunction with 9/11, we're going to do it on the field with close to 80,000 fans. I think that's amazing."
The cadets wanted to do more than just a ceremony to commemorate the attacks.
On Wednesday, the ROTC branches and local fire department came together for a 4:30 a.m. joint exercise at Jordan-Hare Stadium. Cadets and first responders ran a total of 2,977 steps to represent every Sept. 11 death.
"What's really inspiring is to see the next generation of leaders rally around the same cause. If they were alive at the time of 9/11, they were really young," Conkey said. "They know that this is the reason why we need to train, be ready and work hard."
Army Cadet Heatherly Grace Shepherd, an Auburn student, stressed how crucial it is for the younger generation to remember the attacks.
"All of the Cadre members talk about how we're the younger generation and we don't remember this," she said of the active duty Army officers and non-commissioned officers who lead the War Eagle Battalion. "But I think that we are the generation, if not the last generation, that was brought up with 9/11 being a core part of our childhoods."
Shepherd will never forget the impact Sept. 11 had on her father.
"My dad was prior enlisted. When 9/11 happened, he and I were eating a sandwich together," she said. "He immediately decided to go back into the Army. That is the mentality I have been brought up on, and I think it's the same for most other people in this battalion."
Shepherd said her father led her to the military in the first place and instilled the importance of protecting the people of this country.
"He believes in this country," Shepherd said. "He believes in this Army. I think he's proud of all of us to continue with the same gusto and passion for our country that he has."
Auburn's ROTC program thinks this ceremony stands for much more than a Sept. 11 remembrance. It also stands for the future leaders and soldiers of the United States.
With uncertainty and fear overwhelming the world, Conkey wanted to ensure there is a better road ahead.
"If I could get any message to the public, it's that we're in good hands," he said. "Our armed forces, Army and future as a nation are in good hands. These cadets know what's out there. They've seen folks with wounds, and they've heard stories. They know what's at risk by them taking this pledge.