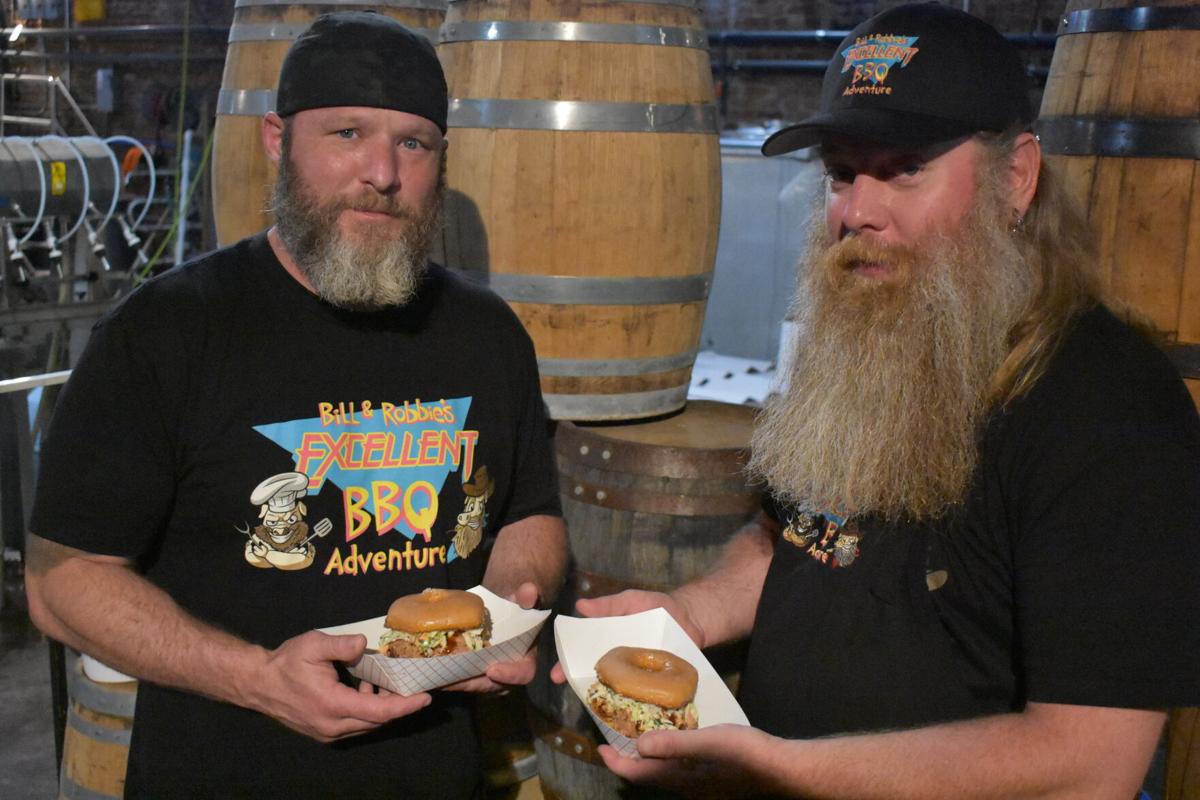 Bill Schwenk and Robbie Hughes had about $200 to put into their new business when they started Bill & Robbie's Excellent BBQ Adventure in January, and Schwenk said the business has yet to run at a loss.
The two considered themselves family since serving together as Army Rangers in the 1990s and they decided to open up their own business after Schwenk retired in October 2020.
For now, the two operate their restaurant from the back of John Emerald Distillery on weekends, serving food Schwenk describes as "barbecue with a twist."
"We have a thing called a Glazed Piggy, where we take a glazed doughnut, we cut it in half, toast it, fill it with pulled pork, put on coleslaw, barbecue sauce and bacon on it and it's just amazing," Schwenk said. "We do traditional stuff like ribs, but we're more of a comfort-food barbecue with a twist."
Schwenk said the food options come from twists the two have added to old recipes from their family as well as inventions from Robbie, the self-proclaimed "redneck chef."
"A lot of it was from [Robbie] being in his backyard in Beauregard coming up with things he thought were good and putting them together," Schwenk said. "We're fat kids at heart, so we like to eat like fat kids."
The food they cook up in the kitchen of John Emerald Distillery has explosions of taste as great as the calorie count, with dishes like pork loin sliders stuffed with cilantro coleslaw and candied jalapenos, pulled pork tacos, "redneck" nachos and more.
They have also found time to give back to the communities they feed. Last week, they donated 14 Boston butts to the Christian Care Ministries community soup kitchen to help feed families in need, and they encouraged residents to donate to the effort through their Facebook page.
"After the weekend when we have leftover food, we take it all over to the community soup kitchen, and we've been doing that probably since we started," Schwenk said. "Easter was coming up, so we went on the Facebook page and asked people if they wanted to donate … people in the community really stepped up, so we went and bought it and smoked it."
Bill & Robbie's offering was able to feed hundreds of people, and Rev. Paul Ferrell said goes a long way in helping the ministry's cause.
"With the Boston butt donation, that allows us to buy more fresh fruit and vegetables to go with the meals," said the Rev. Paul Ferrell, "and it ended up being the best barbecue I've ever had in my entire life, which I hate to say because I've cooked thousands of Boston butts."
While Bill & Robbie's is only open on weekends at the distillery in addition to providing catering for events, Schwenk said the two were saving up to expand their business by starting with a food truck and hopefully getting their own location someday.
"We're trusting the Lord to provide and saving up our money as we work," Schwenk said.