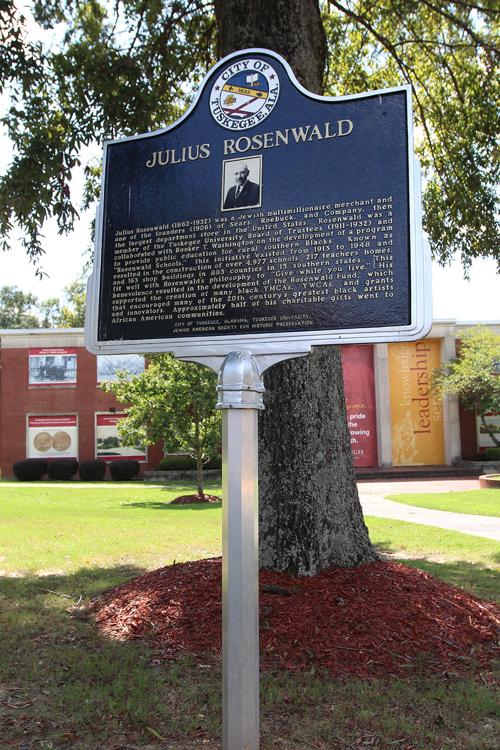 If you ask someone to name a famous person with ties to Tuskegee, chances are names like William Mitchell, Sammy Younge, Charles Gomillion or Julius Rosenwald won't top the list of replies.
That could change with a newly established civil rights and historical trail in the city of Tuskegee to be dedicated on Friday, Sept. 20, to help preserve the contributions of many storied figures whose names are in danger of being lost to history.
In all, 13 newly erected Tuskegee Civil Rights and Historical Trail markers located throughout the city and the Tuskegee University campus honor the memories of and contributions by individuals, groups and sites of notable significance during the civil rights era.
"Each of the subjects of our trail markers were chosen for their individual and unique aspects, which provide us and generations to follow the opportunity to learn and cherish the unforgettable role they — and the Tuskegee community — played in the American Civil Rights Movement of the 1950s and 1960s," said Tuskegee University Archivist Dana Chandler, who along with Archives staff and volunteers, identified the subjects of and locations for the markers.
The Sept. 20 dedication program — scheduled to begin at 10 a.m. in the Tuskegee Municipal Complex at 101 Fonville Rd. — will feature representatives of the community, university and state historical organizations.
The event will also recognize the many partners who have made the historic and civil rights trail possible. Chief among those, and funding the production of the 13 trail markers, is the Jewish American Society for Historic Preservation.
"My father, who was liberated from the Buchenwald concentration camp, said 'Silence at your neighbor's oppression will mean silence at yours,'" said Jerry Klinger, the Jewish American Society for Historic Preservation's president and founder, of the organization's motivation to support this endeavor and the need to document the struggle for civil rights recorded through the trail's markers.
Other partners include the Tuskegee University Libraries, Museums and Archives, Macon County Bicentennial Committee, the Alabama Bicentennial Commission, the National Park Service, the city of Tuskegee and the Macon County Commission.
Following the dedication ceremony, guests can take a bus tour that will visit the 13 markers comprising the Tuskegee Civil Rights and Historical Trail. A reception at the Tuskegee Municipal Complex will follow the conclusion of the bus tour.
The Tuskegee Civil Rights and Historical Marker Trail will join other local campus and community historical destinations. It also joins six other Alabama trail sites that comprise the U.S. Civil Rights Trail.
In addition to the new trail markers, existing markers celebrating the contributions of Butler Chapel AME Zion Church, the Central Alabama Veterans Administration Hospital, the city of Tuskegee, and Tuskegee attorney Fred Gray will be included as part of the Tuskegee Historical and Civil Rights Trail.