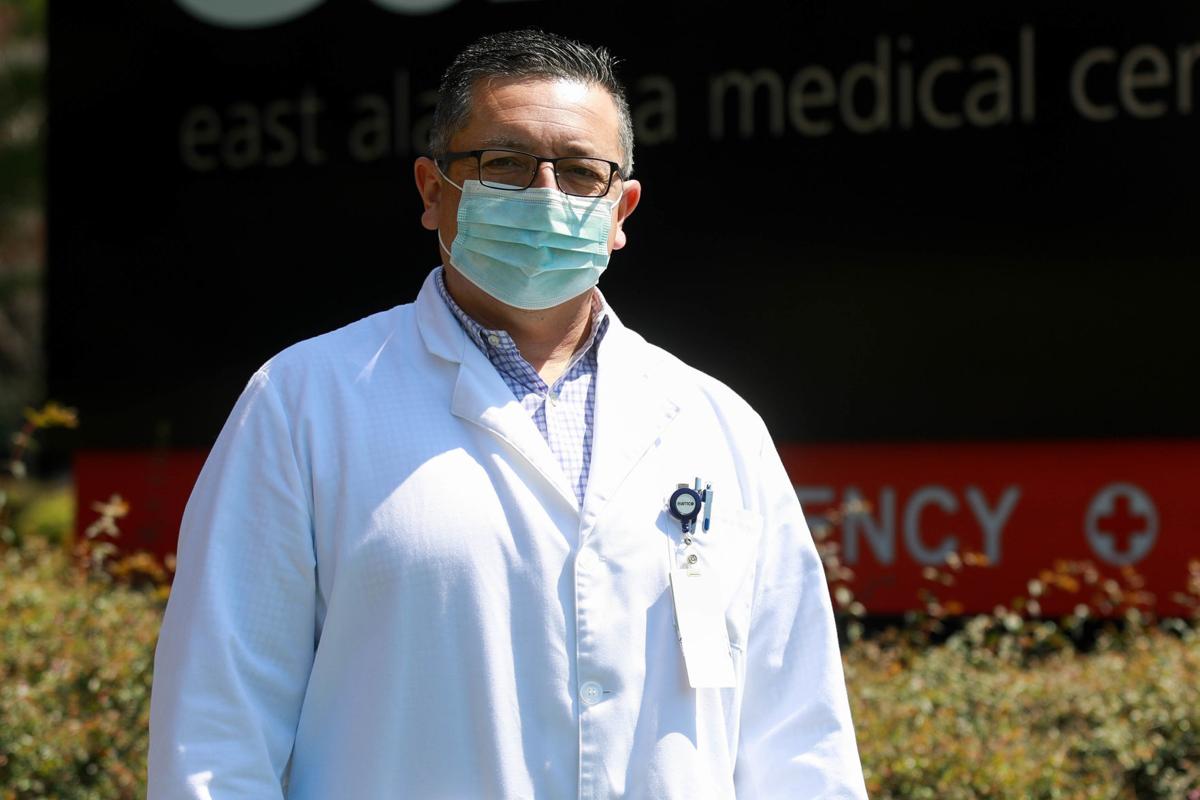 Editor's note: The following is a column submitted Saturday by Dr. Ricardo Maldonado, infectious diseases specialist at East Alabama Medical Center.
We reached 82 percent capacity in our bed usage at East Alabama Medical Center this week. That may not sound so bad, but when we have the high level of transmission in the community that we are experiencing now, a recipe for a disaster is brewing fast.
We have tripled the number of COVID-19 patients in the past nine days. We are likely to get COVID-19 cases this week stemming from the Fourth of July holiday. We could be in a much worse situation in the next couple of weeks than we were in April if we do not act immediately.
We are at a breaking point and need your help.
The second peak is here, and, like in the spring, we are asking our community to help us flatten the COVID-19 curve. Like our CEO Laura Grill said recently, we are basically "back to square one."
If we do not flatten the curve, another shelter-in-place order could be unavoidable. No one wants that and it is a nightmare scenario that can be avoided. COVID-19 is not going away anytime soon, but we need to keep the number of hospitalizations, especially in the ICU to a manageable level, so we can keep functioning for all patients in need of care. We are about to reach capacity.
Face masks, along with social distancing and hand hygiene, have proven to protect people from COVID-19. Ignoring that fact is ignoring your ability to save someone else's life.
We are much better than that. Our physicians and other healthcare workers have their hands full with COVID-19. We do not need more enemies than COVID-19 right now. We need our community to fight with us; we need all of you on our side regardless of your political views.
So far, COVID-19 has killed more than 132,000 Americans and over 550,000 people worldwide. The flu kills between 24,000 and 62,000 people annually in the U.S. and between 290,000 and 650,000 people worldwide.
It has been more than 100 years since the world has seen anything like this pandemic. Most people will survive COVID-19, but that does not make it less lethal for elderly people or people with weakened immune systems or other comorbidities.
Is it that we do not care about those patients because they are the not the majority? Those weaker patients with COVID-19 are at a very high risk of dying in our hospital. But our physicians and staff still care about those patients and will fight hard to save their lives. It would help if our whole community was on the battlefield with us.
Many things have been said about masks, and a lot of it can be contradicting and confusing. I understand your frustration. I have heard the argument that face masks will not stop smaller droplets that can be inhaled in your lungs, and therefore is useless.
However, the reality is they will stop larger droplets that can get into your airways and therefore they provide some protection.
I have also heard that N-95 masks are the only real protection against COVID-19. In reality, we only use N-95 masks in the hospital when we are in close proximity to patients who are likely to produce aerosols — droplets that are smaller than 10 micrometers. This describes very few patients with COVID-19.
For the vast majority of cases, we wear a surgical mask and it has done a great job protecting our employees. Cloth masks work with perhaps with a little less efficacy, but still protect.
No. But imperfect protection does not mean "completely useless," much as a glass that is not full need not be empty. I would gladly accept a glass of water filled to 60 percent when I am thirsty.
Absence of evidence (of protection) is not evidence of absence. But in our divided world, the message that surgical masks are "not 100 percent effective" may have sent the message that they are useless.
Properly worn masks are safe and many people wear masks all day at work with no problems. Wearing a mask will not make your immune system weaker, which is another common misconception. There are several other myths that inundate social media and mainstream media.
Children who are sick with COVID-19 are less likely to transmit the disease than adults, but that does not mean that children do not transmit the disease. We have had several patients who got sick and died from being exposed to the virus through their children or grandchildren.
It seems every scientific fact is being manipulated or taken out of context to facilitate a political agenda (either way), especially now that elections are around the corner.
This divided world is at times a bigger enemy than COVID-19. For those who think COVID-19 is just like the flu, I wish I could give you a tour in the ICU so you can see what our physicians and employees have to do daily to save lives.
I am asking my community, regardless of your faith, race, political views, etc. to help us. The same way you trust us to save your lives when you are ill in the hospital, we need you to trust us when we make recommendations about public health.
Our only responsibility — and our only agenda — is to save lives.
We cannot fight this alone and risk being on another shelter-in-place order. We want businesses to stay open and schools to come back. We all want our lives back to normal, but it's not likely to happen until we become united in our efforts to stop COVID-19.
We are risking too much by not doing the simple things that the people on the frontlines know will both save lives and keep our country open.
Get local news delivered to your inbox!
Subscribe to our Daily Headlines newsletter.