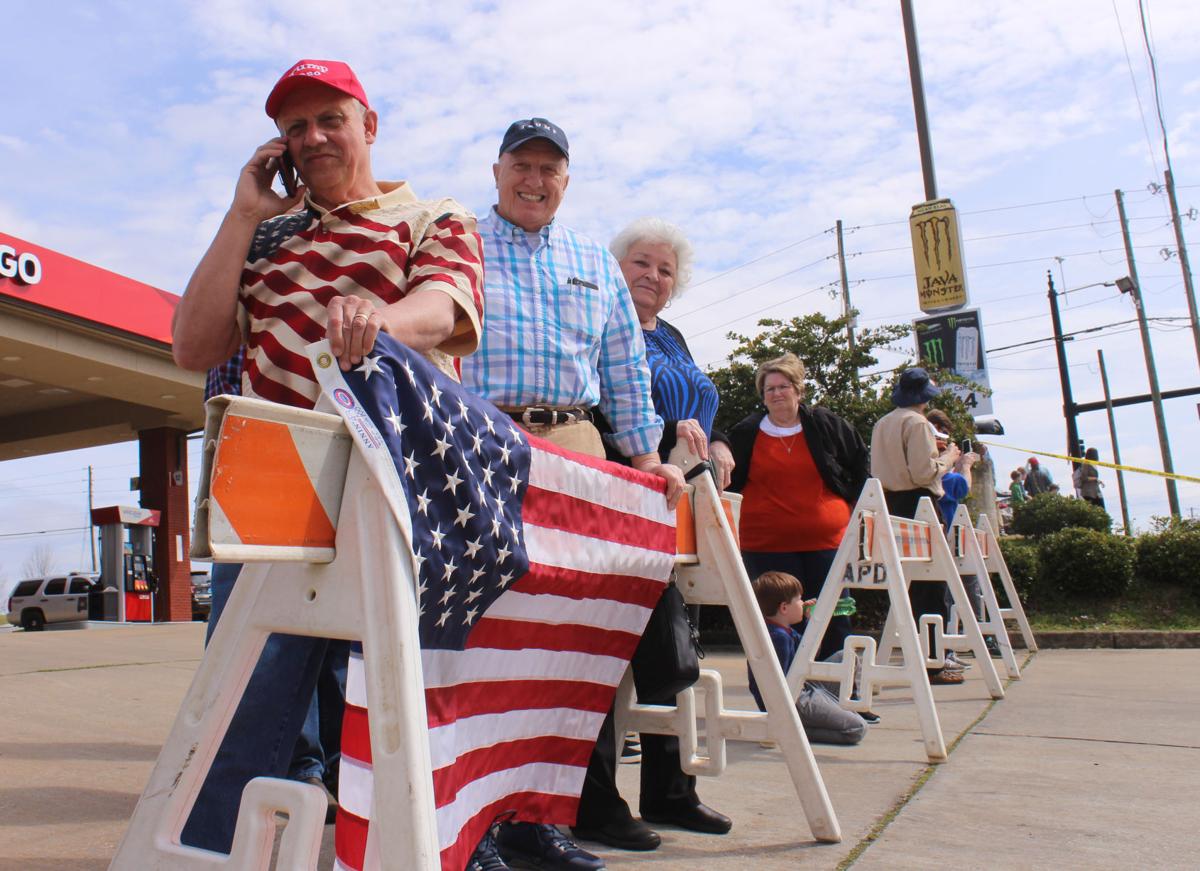 As people lined the streets of Lee County to catch a glimpse of President Donald Trump and his motorcade last week, Opelika resident Terry Fry stood proudly holding an item he almost forgot: his son's American flag.
Trump visited Lee County on Friday to tour damage from an EF-4 tornado that killed 23 people on March 3.
Fry waited more than an hour to see the presidential motorcade Friday at the Citgo near the Auburn airport, hoping to see the president, and hoping the president would see something of his — a flag that his son had flown during a military mission in Iraq.
"I'm so proud of it every day," Fry said of the flag. "I thought my son would appreciate me bringing this and just in hopes that we get a glance of President Trump and he might see this flag."
Fry's son is a former Army pilot and currently serves in the Alabama National Guard. While active in the Army, Chief Warrant Officer 3 Justin Fry served in Iraq and Afghanistan.
Fry says that he is proud of all American flags, but this one is more special because of where it comes from.
"I'm extremely proud of this flag," Fry said. "All flags are special to me but this one is a little bit more special because my son flew 12-hour shifts in the cockpit over the skies of Iraq."
While waiting for the motorcade, Terry Keefe of Lake Harding met Fry and helped him hold the flag for Trump to see.
"This flag has actually seen service, and that's just a great honor to be able to hold it," Keefe said.
While en route to try to catch a glimpse of the presidential motorcade, Fry suddenly remembered that he had forgotten the flag that hangs in his home.
"I got halfway over here and turned around and went back," Fry said. "It had just occurred to me it hangs in my house."
Despite having to turn back around, Fry was still able to find a spot at the Citgo gas station, waiting to catch a glimpse of the president, to say thank you for visiting those impacted by the storm.
"I love the fact that he's come here to support and honor these families in Beauregard," Fry said. "It's an honor to be able to wave at his motorcade if it goes by."
Get local news delivered to your inbox!
Subscribe to our Daily Headlines newsletter.