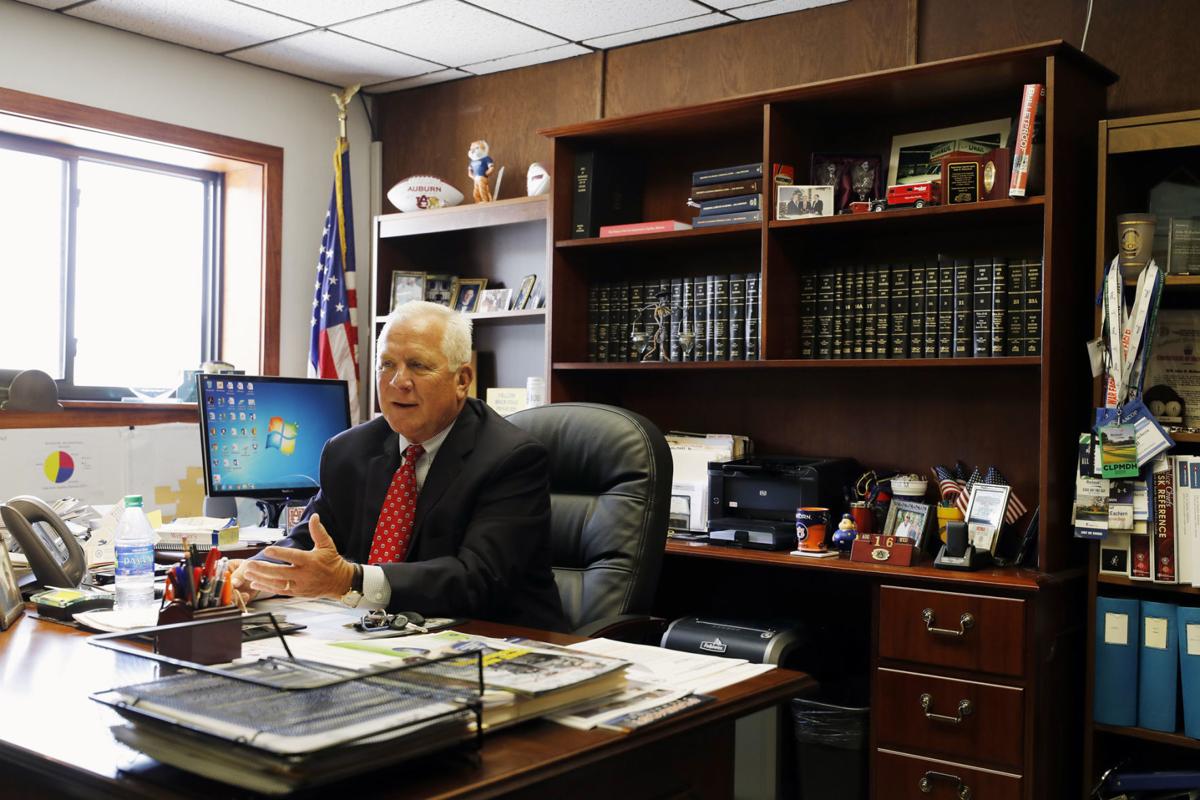 Opelika police Chief John McEachern says he believes he is on a path to recovery in a personal fight with COVID-19, and that the coronavirus still gripping the world in a pandemic "is tough; very, very tough."
"It's not something you want to play with."
Local hospital officials, meanwhile, warn of concerns that COVID-19 numbers continue to rise and could spike again after the upcoming July Fourth holiday weekend.
Sources also told the Opelika-Auburn News that various first responders at emergency agencies throughout the Lee County area are being tested for COVID- 19, and that several entities including police and sheriff's departments have placed personnel on quarantine for either treatment or as a safety precaution to help prevent spread of the virus.
Phenix City Assistant Police Chief Gail Green died Wednesday after losing her prolonged battle with the coronavirus, having been on a ventilator for several weeks, according to her husband.
Green had served on the Phenix City force for 33 years.
McEachern, 65, is treating his symptoms at home after beginning testing and medical treatment almost two weeks ago.
"I think I'm on the road to recovery," he said Saturday. "It hits you hard. It really wipes you out.
"It's certainly taught me to pay attention to things. It's serious, I don't care what anyone else says," he said. "I'll be wearing a mask out of respect for others as much as anything. It's tough. It's a tough virus."
Warnings, concerns
Laura Grill, East Alabama Medical Center's president and chief executive officer, warned that the recent worrisome climb in Alabama numbers statewide with the coronavirus indicates it is only a matter of time before hospital numbers at her facility climb again.
"We were doing OK for a while after the safe-at-home restrictions were lifted, but we're returning to high levels of transmission in the community again," she said. "Many of our hospitals in Alabama are overwhelmed right now, and I'm concerned we could soon be right back there with them."
Local, state and federal officials warned of, and then confirmed after the fact, concerns about numbers climbing after the Memorial Day holiday weekend, in which many people ignored or put aside social distancing and face-mask-wearing advice.
Now similar concerns are being expressed about the upcoming Fourth of July weekend.
"If COVID-19 hospitalizations remain manageable, they will not have much of an impact on our normal operations. We want to help build back and support a strong economy in east Alabama," Grill said in an earlier statement.
However, "working together with social distancing and wearing a mask in public allows us all to enjoy life in the community. ... These safety measures will be vitally important over the July Fourth holiday weekend."
McEachern said he certainly agrees with the need for the public to take seriously warnings about the coronavirus.
"Here we are in the end of June, and I didn't think I was going to catch it, but I did," the police chief said. "It's not something you can get over in a couple of days, by any means."
His fever comes and goes, he said, as well as a shortness of breath.
"I have heard of several people developing pneumonia and respiratory problems, and that's the last thing I wanted to do, was have to breathe on a ventilator," McEachern said. "So, I've tried to stay active as I can with this, and move around when I can."
He expressed condolences to the Phenix City Police Department for the loss of its assistant chief.
"I knew Gail. She had assisted us a number times over the years. She was a true leader," he said. "She's going to be sorely missed. Our condolences go out to Gail, her family, and the entire Phenix City department."
McEachern also expressed concern for his personnel and local first-responders.
"I appreciate the many prayers offered me," he said. "And I'm going to continue to ask people to pray for not only me, but for the entire Police Department.
"And for anyone having to deal with this."
Get local news delivered to your inbox!
Subscribe to our Daily Headlines newsletter.