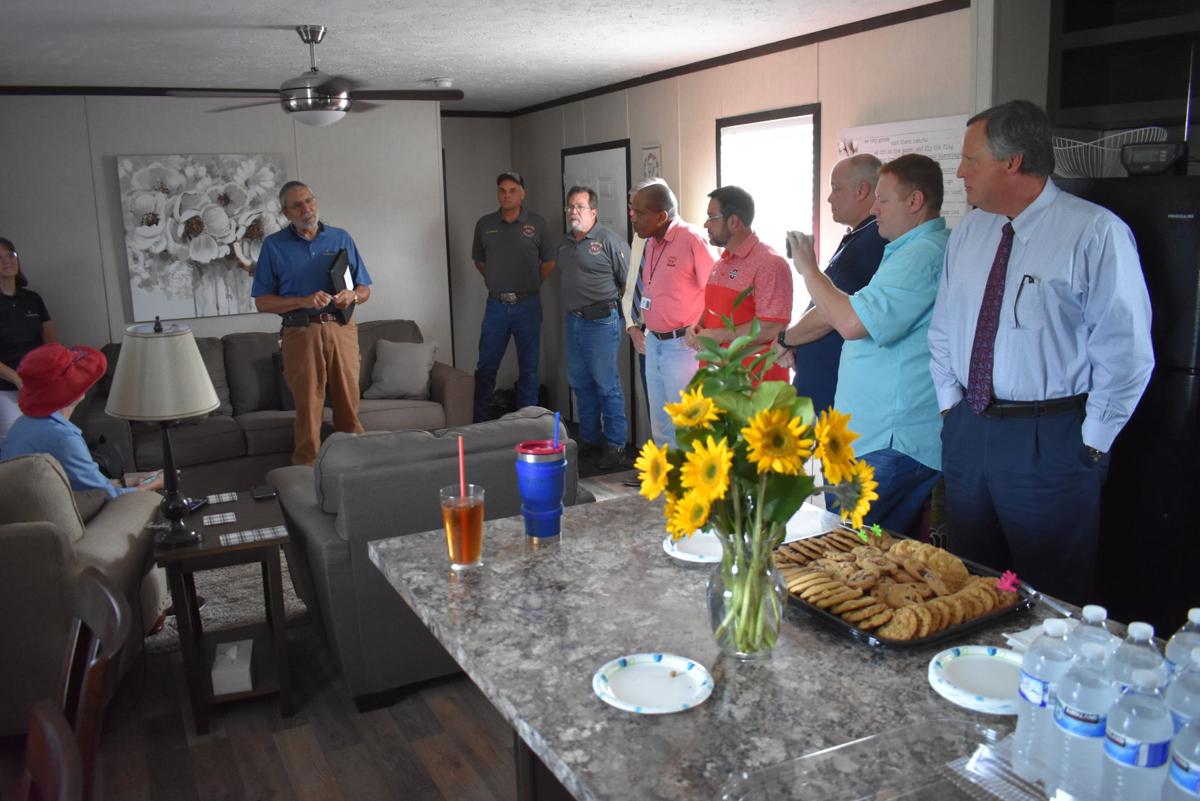 Celebrating the completion of Richard and Sondra Widger's home on Lee Road 38 in Beauregard, Samaritan's Purse held its first Lee County home dedication ceremony Tuesday and invited the community to share thoughts, tears of joy and prayers.
"We just wanted to be a part of this special day," said Tom Vannoy, Samaritan's Purse project manager for the Alabama home replacement program. "It's starting it off right and getting it started with friends, family and people who have had a part in bringing you from March 3 to June 25. It's been a long journey."
Vannoy presented a framed memento with the words "Paid in full" inscribed in red on the bill for the preparation of the home and amenities such as a washer, dryer and a storm shelter at the Tuesday dedication.
"I'm very thankful and appreciative," Richard Widger said. "Tom said it took so many to get us from where we were at to here. When this trip first started, I didn't know where we were going, and it's been a blessing that so many people have come into our lives, people we didn't know at the time."
After Vannoy handed the residents a key to their new home, Richard Widger recalled the experience of returning after the March 3 tornadoes to find his home demolished.
"You just don't know where to start," he said. "About 25 people from Church of the Highlands showed up that morning, and the Samaritan's Purse people came in the afternoon. At one time, there were 75 people on this property helping to cleanup and get things back to, as Tom says, the new normal."
East Alabama Medical Center MEND counselor Cyndia Hawkins remembered sharing words of comfort to guide the displaced Widgers when they were residing in a temporary apartment adjacent to the hospital.
"God wants to use this experience as a tool, not a noose," Hawkins said. "From us being the conduit of His love, He wants to equip you to go be there for somebody else. The answers to life? That's it. He's giving us an opportunity to be there for somebody who doesn't understand, and now you guys do."
Members from First Baptist Church of Opelika, Church of the Highlands, the Lee County Commission, Beauregard Fire Department and the Lee County Emergency Management Agency attend the ceremony as well.
"I want to thank everyone that came today to support us," Sondra Widger said. "It means a lot. Everybody has had a hand in this. Words are not enough to let you know how much we appreciate it. I'm very touched, and I want to say I appreciate everything."
First Baptist Church of Opelika brought extra groceries and Walmart gift cards for the Widgers to fulfill any remaining needs, but the mission's ministry assistant, Lorri Schoonover, said the storm survivors are welcome to ask the church for further assistance.
"On behalf of the distribution center of First Baptist Church of Opelika, I can't thank the community enough," Schoonover said. "I was overloaded with donations. If you guys come to the distribution center to pick through it, you are more than welcome to. I didn't know what to bring because I heard you guys had furniture, so I would like to present these gift cards to get whatever you need."
According to Vannoy, the ultimate goal of Samaritan's Purse in Lee County is the assembly of 40 homes for residents displaced by the storm. Seven additional homes have been ordered at this time.
"We have seven more homes on order that will be set up," Vannoy said. "There's the weather and other variables we have to deal with because you have to prepare a pad for the home, according to state requirements. I hope at least by the end of July we will have at least four more set, if not all of them."
As one last touch, Vannoy also presented the Widgers with a personalized Bible filled with the signatures of volunteers.
Get local news delivered to your inbox!
Subscribe to our Daily Headlines newsletter.