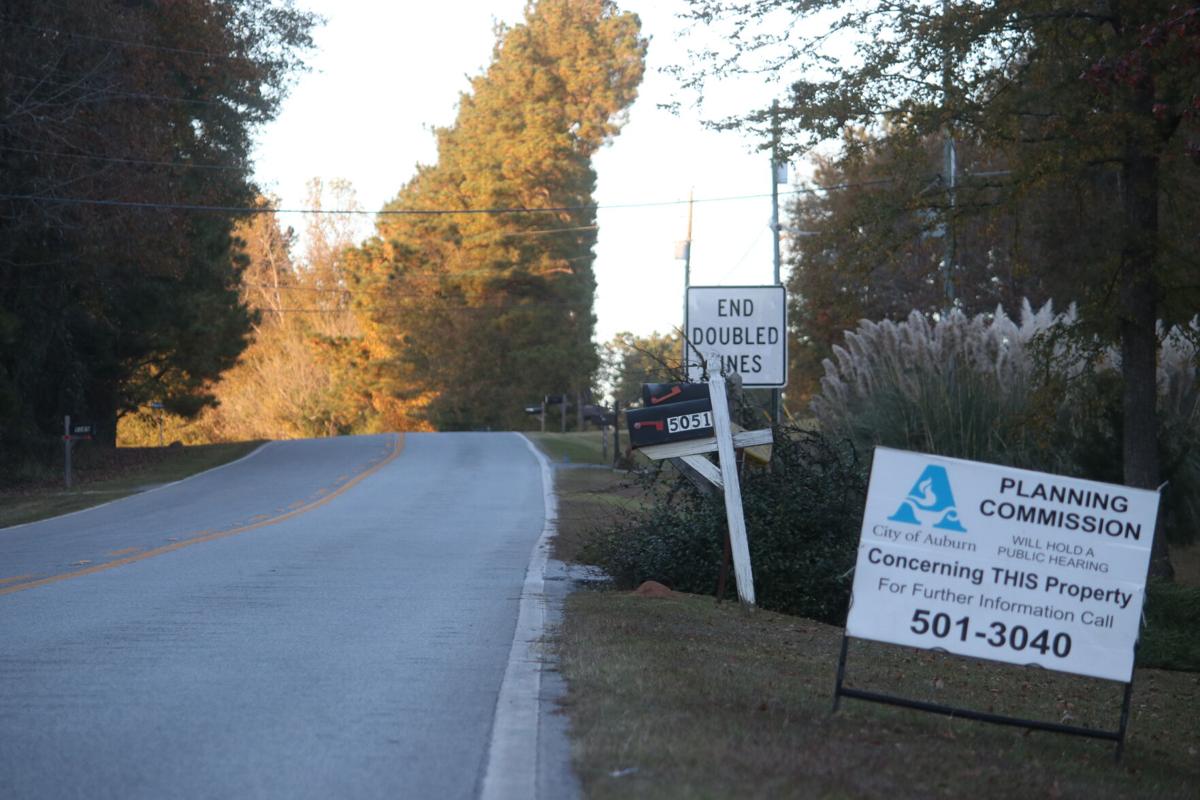 Citizens of a north Auburn neighborhood won't be seeing the one-acre residential lots they envisioned in a nearby subdivision on their road after a tied Auburn City Council vote shot down the idea during the council's Tuesday meeting.
The Council voted against a request to rezone 41.66 acres making up Water Oak Ridge subdivision on Heath Road, a road north of U.S. 280, from rural zoning to large lot residential district zoning. Rural lots are required to be a minimum three acres, but the rezoning would have meant that lots on the road could be a minimum of one acre thus opening the door for up to 40 potential new homes in the community.
The request came from Rayford Keel, who also wanted the city to annex the land if the rezoning was approved. Council members were ultimately divided on the idea after discussion of the lack of a sewer line into the area as well as talk over policy adopted in its U.S. Highway 280 Focus Area Study Plan.
In the study plan, which the Council adopted in early September, council members explicitly chose to keep the land north of U.S. 280 zoned as rural.
"This (motion) would go in direct conflict with what we just as a body agreed to do," said Ward 3 Councilperson Beth Witten in the meeting. "I do agree that one-acre lots are a category that this community needs more of; however, I don't know that this is the best place for that to happen at this point in time because of the lack of infrastructure."
Witten said she didn't feel road safety and durability were adequate for the demand 40 new homes would create. She also said backup of septic systems could pose a serious issue.
Eric Carson, water resource management director for the City of Auburn, told council members it can be challenging to install a new sewer line into one-acre lots and that a pump station would need to be constructed to provide the area with a sewer line.
"There are no plans to put a … sewer out in that area," Carson said. "There is a history of some subdivisions like Willow Creek and Timberwood down by the water plant that were put on septic tanks years ago that have problems, and some of those homeowners are really left with no options."
The Council heard comments on the rezoning from Heath Road residents, with those in support wanting to see more homes added to the neighborhood and those against citing traffic concerns.
Georgia Jones, 26, a Heath Road resident, told the Council she supported rezoning because she's been seeking residential property in Auburn between a quarter acre and three acres and has had difficulty finding affordable homes in that range.
"There's a lot of people that are grad students, young couples and married couples that have little children that can't afford three acre lots either," Jones said. "I think (rezoning) would be a great development for the north Auburn area as it's grown substantially."
Ward 2 Councilperson Kelley Griswold, who represents the Heath Road neighborhood, fielded objections he said he received from four nearby residents who couldn't make Tuesday's City Council meeting similar to those from other council members.
"(They) cited traffic issues, and the other thing that was very consistent was the lack of … sewer supportability in the area," Griswold said. "We're talking about … up to 40 (lots) that would all be on septic systems."
Griswold said he was opposed to annexing and creating a community fully reliant on septic systems.
The Council voted 4-4 on the request, which automatically made it a failed motion and as such prevented annexation. Ward 5 Councilperson Steven Dixon was absent from Tuesday's meeting which led to the tied vote. The request came as a recommendation from the Auburn Planning Commission during its Oct. 14 meeting, where commission members voted 8-1 in favor of recommendation.