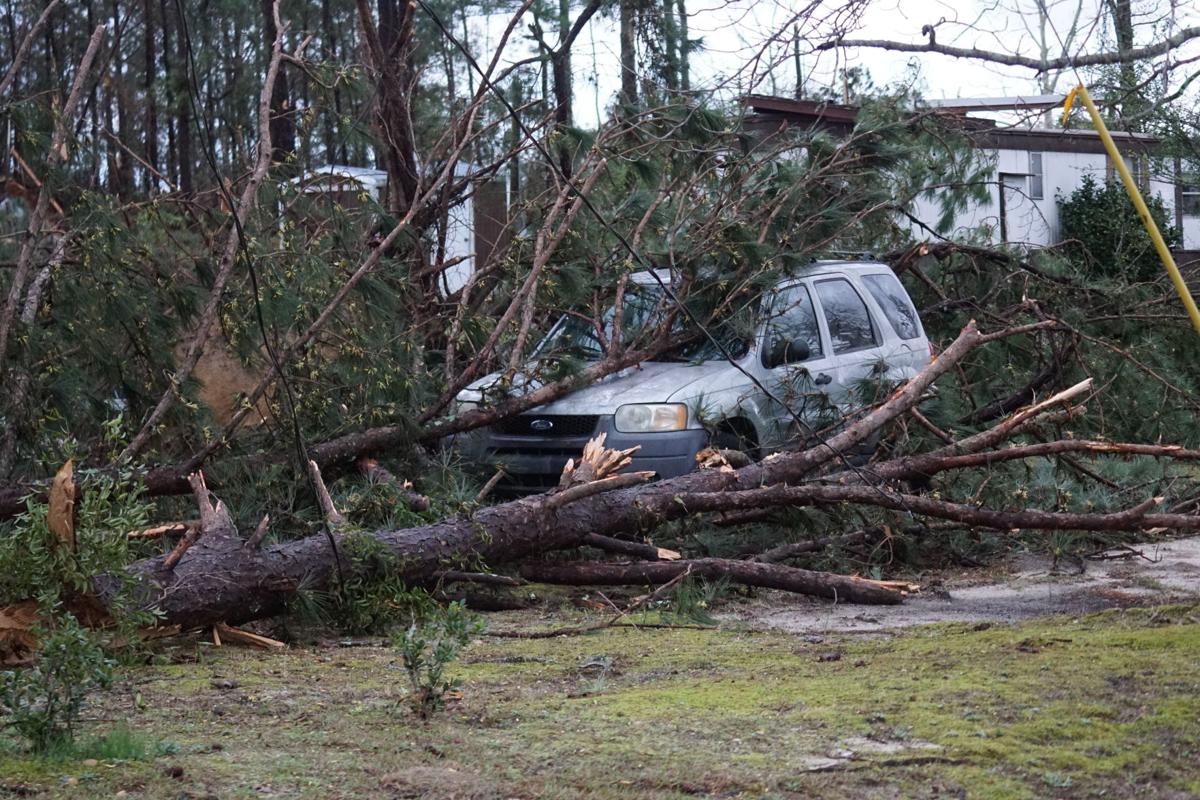 Blanche Whatley was standing in the kitchen of her Beauregard home on Lee Road 11, trying to coax her dogs in, when Sunday's storm came ripping through her neighborhood.
"The wind came up, and a window broke out," she said. "I could hear a vibration. It was kind of like a train, I guess, and I guess it went over the house."
Whatley and her granddaughter, Emily Scurnopoli, who lives with her, were unharmed by the tornado.
But sheets of tin that once put a roof over their heads were strewn about the neighborhood as friends and family members worked to place a tarp over the roof and help collect debris from the downed trees on the property.
The smell of pine sap hung in the air as a result of the trees that snapped under the force of the storm.
Multiple sheds were knocked down by the gusts, Whatley said, including one that the wind picked up and moved elsewhere in the yard.
"I just knew it was coming in the house," Whatley said. "But the house is OK. The cars are ok."
Just up the road, a Lee County Sheriff's Office patrol car was parked across Lee Road 39. As dusk approached Saturday evening, a deputy told motorists that only first responders were still being allowed on the road at that time.
Beauregard Volunteer Fire Station 3 acted as a triage, where responders brought injured residents, and a staging area was set up and Sanford Middle School, where volunteers rolled in, including disaster response teams from Church of the Highlands and the Tuskegee Lee Baptist Association.
Multiple agencies flocked to Beauregard to aid in immediate recovery Sunday afternoon, including Lee County Emergency Management Agency disaster relief, Lanett Fire and EMS, Smiths Station Fire, Beulah Fire and Rescue, Auburn Police Division, Opelika Police Department, Uchee Creek Volunteer Fire Department and Alabama state troopers.
Get local news delivered to your inbox!
Subscribe to our Daily Headlines newsletter.