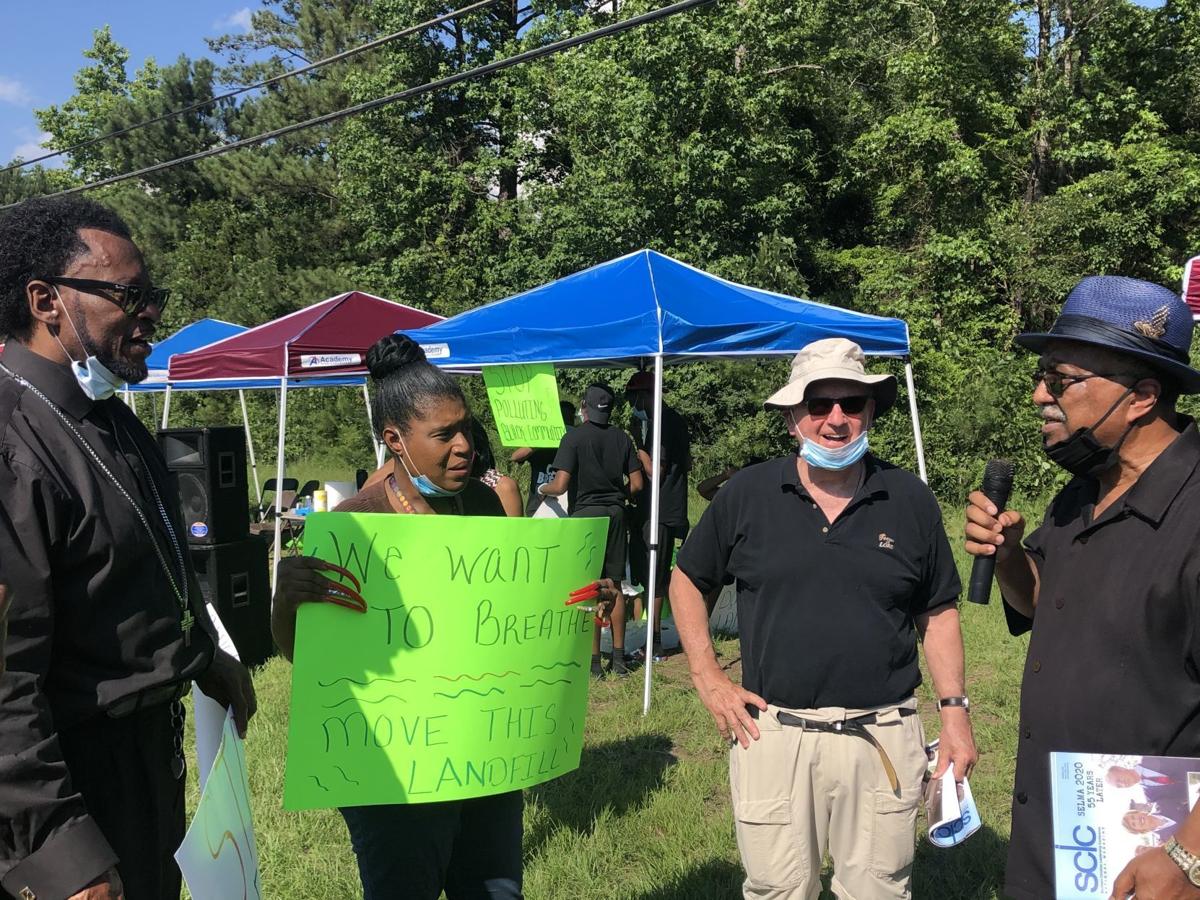 Sand Hill Recycling Center's operators have promised to do better by their neighbors, but Terry Buford is skeptical that much will come from it.
Jason Sanders, vice president of operations for Sand Hill, has given state regulators his company's Proactive Mitigation Plan and Best Management Practices, a 37-page plan to address garbage smells and dust from Sand Hill affecting Buford and his neighbors in the 4600 block of U.S. 29 South.
Buford said the company has made similar commitments, but failed to follow through.
"I don't see this working. Based on past performance, they're not going to do anything different," he said after reading over Sanders' plan.
The plan, submitted July 14, comes after site visits from Alabama Department of Environmental Management and protests by Buford and his neighbors. It includes:
More water spraying to knock down dust emissions when it grinds tree stumps and other detritus on site. Buford said his house and car are often covered with the dust because Sand Hill doesn't spray enough.
Landscaping a tall berm on the south side its property and plant trees to create a natural barrier/filter to help with the dust.
Washing the tires of the large dump trucks driving off its lot and run a street sweeper out front regularly, to keep those customers from displacing mud and dirt onto U.S. 29 South.
Lowering the height of the construction garbage pile it stores above ground at the site, and deploying industrial-strength, outdoor air deodorizers.
Sanders, however, suggested in the plan's introductory letter to ADEM that the smells Buford has complained about aren't the company's fault:
"Sand Hill Recycling does not accept household or hazardous waste. Sand Hill Recycling does accept construction and demolition, cardboard, paper, glass and vegetative debris for recycling or disposal. Less than 100 yards from Sand Hill is the Lee County citizen household trash transfer station."
The site has never been cited for environmental problems by state regulators. Routine observations are being conducted by ADEM to monitor Sand Hill Recycling Inc.'s compliance with regulations, permit conditions and mitigation efforts, according to an email from ADEM Director Lance LeFleur.
Buford has been doing regular public protests with neighbors outside Sand Hill and talking to local media for the last couple of months. He said he expects to keep up his campaign because he doesn't believe the company will carry through with the plan.
"They're going to spend all this money and do all this stuff, but they ain't done it yet," Buford said. "It's the same things with ADEM — they ain't done nothing until we got involved with the press."
Get local news delivered to your inbox!
Subscribe to our Daily Headlines newsletter.