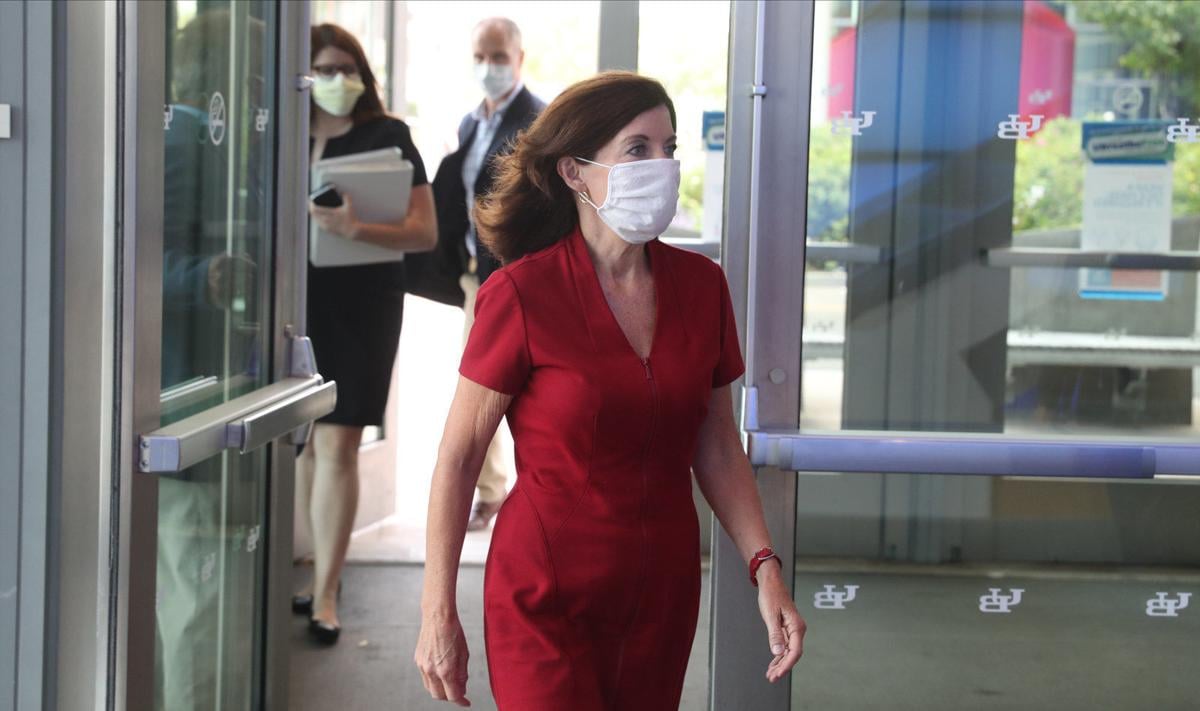 Amid a tsunami of new calls for the resignation of Gov. Andrew M. Cuomo, government insiders are speculating that transition "discussions" are already underway – though as quietly and behind the scenes as possible. 
Those conversations, they say, surround Lt. Gov. Kathy Hochul's constitutional obligation to assume the governorship should allegations of sexual harassment and misconduct lodged by six women against Cuomo end his decadelong reign in Albany. And even though Cuomo on Friday reiterated his resolve to remain in office, Albany veterans as well as those close to the lieutenant governor believe at least some degree of planning has begun – even if in informal whispers behind closed doors.
"I'm not going to resign. I was not elected by the politicians; I was elected by the people," the governor said Friday.
"I would imagine she is at least getting informed about the budget," said Peter J. Kiernan, who was counsel to former Gov. David A. Paterson after the resignation of Gov. Eliot L. Spitzer in 2008. "Unlike Gov. Paterson, she would not have such a strong relationship with the Legislature. While she would enjoy lots of goodwill, she would be at a disadvantage.
Indeed, Cuomo on Friday afternoon cited his responsibilities in crafting an approximately $200 billion budget in resisting calls to step down, even after Senate Majority Leader Charles E. Schumer, Sen. Kirsten E. Gillibrand, Rep. Brian Higgins and 13 other congressional colleagues from New York requested his resignation earlier in the day. Hochul, meanwhile, is maintaining a low profile and avoiding reporters, even as crisis envelops her boss. Those who know her say she would never let herself be caught unprepared should the need for transition arise, and is probably accepting counsel from longtime associates.
Several sources immediately point to the man they identify as her chief adviser – William J. Hochul Jr. – her husband and former U.S. attorney for Western New York who is now senior vice president and general counsel for Delaware North Cos.
"Bill probably has offered more advice than anyone," said one Hochul associate who asked not to be identified. "Having served as U.S. attorney, he gets it."
Higgins declined to elaborate Friday on his call for Cuomo to step down. Though he has never dwelled in Cuomo's inner circle, several sources described the congressman as Hochul's "extremely close" political associate and a logical source of advice. State legislators to whom she might turn, they add, include Assemblywomen Debra J. Glick of Manhattan and Amy Paulin of Westchester County.
In Buffalo, sources point to close relationships with former Assembly Majority Leader Paul A. Tokasz, former Rep. John J. LaFalce, Erie County Democratic Chairman Jeremy J. Zellner and Democratic fundraiser and attorney Kenneth A. Manning. And most assume she will continue to rely on Deputy Chief of Staff Melissa Bochenski, at her side throughout her constant statewide travels.
The situation will also almost certainly call for crisis management counsel, said Stephen W. Bell, a Buffalo crisis and reputation management consultant who said that even as Hochul remains loyal to the governor, she must "walk a fine line."
"As a woman, there will be pressure from women to have her say this kind of behavior is unacceptable," Bell said. "So do you publicly call out your boss? The trick here is not to do it too late ... not to come out later and say 'Oh yeah, I'm glad he resigned.' You need to show integrity."
Former Erie County Democratic Chairman Leonard R. Lenihan, another Hochul ally who was never close to Cuomo, said the lieutenant governor is prudently lying low even as the crisis intensifies.
"She would never advance herself at the governor's expense," he said. "She's already decided how to handle this – she's loyal and waiting for the facts to come out."
Similar transitions have occurred only twice since 1973, when Lt. Gov. Malcolm Wilson succeeded Gov. Nelson A. Rockefeller who resigned. And Paterson succeeded Spitzer 13 years ago this week when the governor resigned following a prostitution scandal. Those who have experienced them say concurring events and business of government make preparation essential.
Kiernan remembers that on the day Spitzer stepped down, Wall Street's deepening financial crisis worsened when Bear Stearns and Co.'s stock lost 90% of its value.
"So suddenly we're in a state caught in the grip of the Great Recession and the new governor is confronted with an enormous drop in state revenues," Kiernan said, recalling the transition all took place in about 24 hours. "If Mrs. Hochul were to become governor, she would have at least some period of time to make inquiries about the front burner issues. I would imagine she is at least getting informed about it."
David J. Swarts, the former Erie County clerk who was serving as Spitzer's motor vehicles commissioner at the time, calls such situations "extremely unsettling for everyone." Like Paterson, Swarts predicted Hochul would be familiar enough to direct state operations through Cuomo's commissioners and close aides, though she would probably name her own secretary to the governor (or chief of staff).
"Having someone as 'your person' as secretary to the governor is critical," said Swarts, now president of the Buffalo and Erie County Botanical Gardens. "They become the gatekeeper. You have to make sure you have someone who is well versed in the politics of New York State and who is extremely loyal to the governor."
Kiernan agreed, speculating a Gov. Hochul would replace Secretary to the Governor Melissa DeRosa.
"There's no way she would stay," he said, adding he would advise a new governor to also immediately appoint a new lieutenant governor as did Paterson with Richard Ravitch. Kiernan said selecting someone from another part of the state would bolster her political bona fides by positioning herself as someone fully intending to seek election herself in 2024.
"She would want some politically astute person who provide a political advantage," he said.