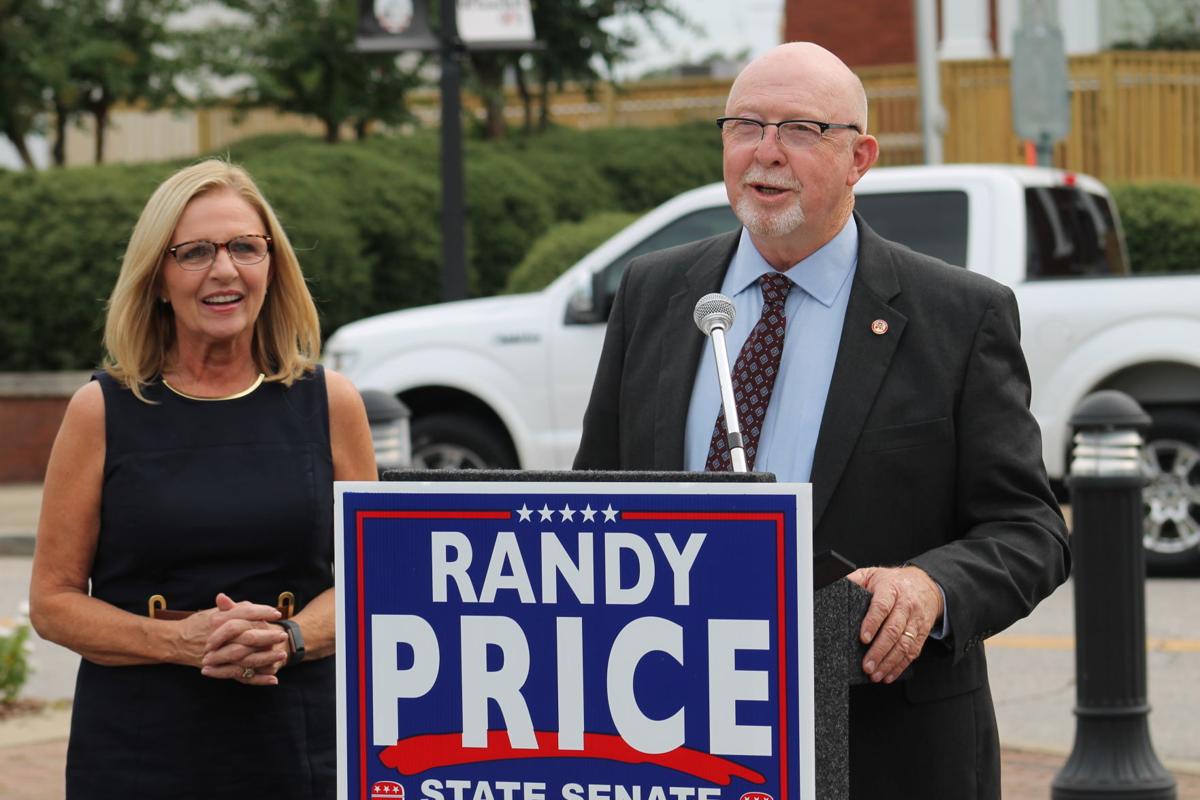 State Sen. Randy Price and Lee County Commissioner Johnny Lawrence continue a difficult fight against COVID-19. Both are hospitalized at East Alabama Medical Center and require breathing assistance.
"Randy was intubated to help him with his battle with COVID-19," his wife, Oline, said Tuesday in a Facebook post describing his worsened condition and asking for prayers. "This disease is one that I would not wish on anyone. I cannot overstate the seriousness of this virus. It has tremendous negative effects on the human body."
Oline Price, who is Lee County's revenue commissioner, is recovering from COVID-19 herself.
"I encourage everyone to maintain social distancing, use hand sanitizer and continue to plead that everyone please wear a mask," she said. "This is something no one should have to watch a loved one go through and it is truly a pandemic.
"If anyone knows Randy personally, they know what a strong stubborn soul he is and how hard he is fighting this battle. Prayers for a cure for COVID-19 and to all of those that are battling this disease is what I ask for.
"This is not a political issue," Oline Price said. "This is not a partisan issue. This is a human issue. We must do everything we can to slow the spread and work to eradicate this dangerous virus. Wearing a mask, social distancing, and employing vigorous hygiene is the only way we can be successful in protecting ourselves and others from this virus."
She thanked the community for prayers and support, as did Lawrence's wife, Maggie.
Lawrence's family members have been updating friends with regular online updates.
They report that he is on a ventilator, but is resting and maintaining his blood oxygen levels — both considered good signs of progress.
Maggie Lawrence issued an update Wednesday, thanking everyone for their support and asking them to keep the other COVID-19 patients and their health care providers at EAMC in their prayers.
"These folks are like warrior angels doing battle to heal our loved one. Keep praying. Keep your distance. Wear your masks," she wrote.
Opelika police Chief John McEachern is another public official having fought the coronavirus, returning to work two weeks ago after his prolonged fight with COVID-19.
"It's not something you want to play with," he warned.
"It hits you hard. It really wipes you out," he said. "It's certainly taught me to pay attention to things. It's serious, I don't care what anyone else says.
"I'll be wearing a mask out of respect for others as much as anything. It's tough. It's a tough virus."