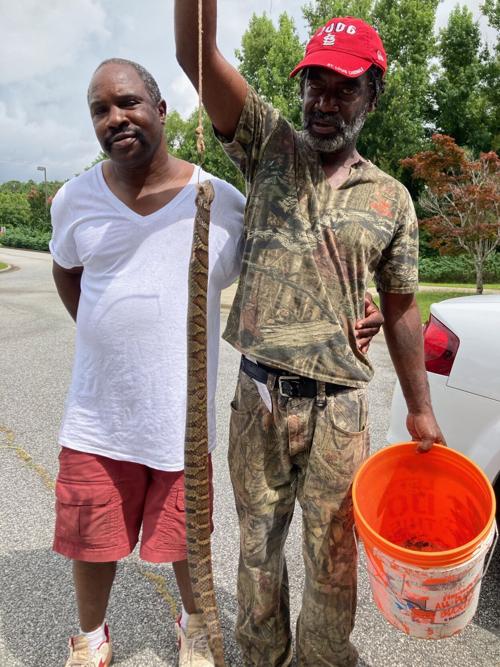 An Opelika man caught something he didn't expect when he went fishing at his regular spot Monday: a 5-foot long pregnant watersnake.
Willie Barsh, 57, said he had been going to the same fishing spot for over 25 years near Frederick Road and South Long Street in Opelika, and when he came to check on his line he found the snake on the end of his hook, and it was dead.
"I had set out some fishing line … and when I came back to check this morning, there was a big snake on there," Barsh said. "A snake can't really live underwater for more than two hours, so I just pulled him up. I saw how big she was, so I took her up to the store to see what kind of snake it was. I haven't seen one that big around here."
Barsh said he was told the snake was a cottonmouth, a semiaquaic viper native to the United States and also known as a water moccasin.
In actuality, the snake Barsh caught at the end of his fishing hook was no cottonmouth, but a type of nonvenomous watersnake which, like a cottonmouth, is also semiamphibious and native to the region.
Patrick Thompson, a curator at Auburn University's Donald E. Davis Arboretum, said the snake was "a species of Nerodia, likely a midland or banded watersnake," wasn't dangerous at all, and at 5 feet was still very large for its species. Also, it is often confused with being a cottonmouth.
While mistaking a watersnake for a cottonmouth isn't harmful, no one wants to mistake a cottonmouth for a watersnake.
Jimmy Stiles, a herpetologist with Auburn University's School of Forestry and Wildlife Sciences, said cottonmouths could be distinguished from midland watersnakes or banded water snakes by a bit of a difference in their scale pattern as well as the shapes of their heads.
Cottonmouths, according to Stiles, give live birth whereas watersnakes lay eggs. Additionally, cottonmouths have ridges above their eyes and face and are fatter-bodied, while watersnakes are longer, skinnier, don't have eye ridges and have dark bands on the scales above their jaw.
Upon being asked about water moccasins, Toni Bruner with Auburn University's Natural History Museum said adults typically grow to about 3-4 feet in length.
Bruner said the snakes are fairly common in the region and aren't endangered at all, but people who are bitten should seek medical attention right away.
"If bitten by a cottonmouth, a person should immediately seek medical attention for antivenom," Bruner said. "Their venom tends to cause a breakdown of tissue and muscle. I've never personally known of an individual dying from a cottonmouth bite; however, that being said, people react differently [to the venom] and many factors are at play."
Bruner said the snakes had a reputation of being aggressive, but added that they usually release a smelly musk or open their mouths in order to threaten those messing with it before they bite.
"Normally when someone's been bitten by a cottonmouth it's because they've either stepped on one or they're provoking it," Bruner said.
Despite not being a cottonmouth, Barsh said the snake had about 30 eggs inside of it when he cut it open, and he said he plans on skinning the it and making a belt out of it.
Editor's Note: A previous version of this article mistakenly identified the pictured snake as a cottonmouth. (Thanks, readers!).