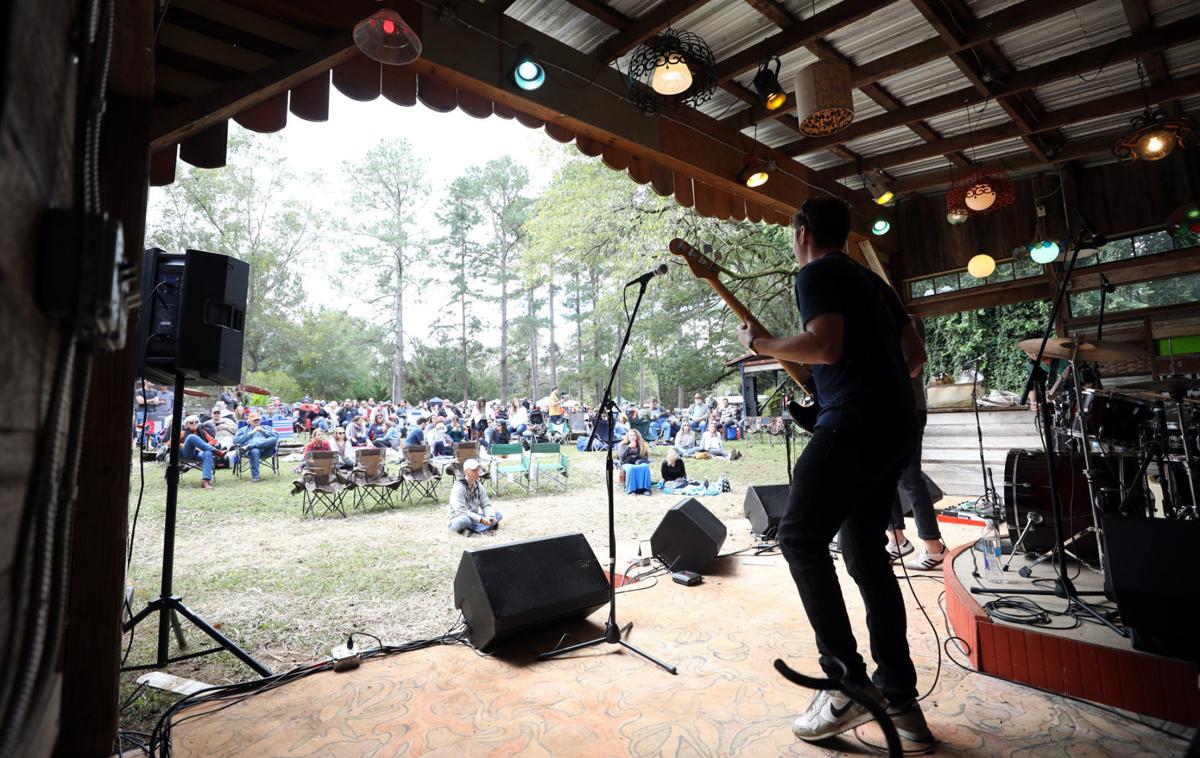 After last year's Old 280 Spring and Fall Boogie were canceled due to the COVID-19 pandemic, Scott Peek is excited to finally host the event again.
Standard Deluxe, Peek's print shop and outdoor music venue, will be celebrating its ninth Fall Boogie in Waverly on Friday through Sunday, and it will also be observing its 30th anniversary of business.
"It's pretty crazy," Peek said. "It seems odd that we've been open for 30 years, but we're still here."
Peek wanted to mark the milestone by taking the one-day music festival and extending it for three days.
In addition to a full lineup of bands, the Boogie will feature visual arts vendors and food.
"Our outdoor stage is like a mini amphitheater. We have a great, big grassy lawn that's set up for folks to come and enjoy themselves," Peek said.
This will be the first year the Boogie will be doing away with the BYOB policy and will not allow any outside alcohol on the property. Instead, alcoholic beverages will be sold at the Standard Deluxe bar.
Attendees are encouraged to bring chairs and blankets to the event and are also allowed to bring personal coolers with sealed water or soft drinks. Coolers will be checked at the gate for alcohol and glass, which are not permitted.
This weekend the gates will open at 5:30 p.m. on Friday. Food will be available and the show will start at 6:15 with performances on the outdoor stage by Seth Walker at 6:15 p.m., Joshua Ray Walker at 7:30 p.m. and Black Joe Lewis and the Honeybears, an Austin-based blues, funk and soul band, at 8:30 p.m.
The festivities will continue on Saturday starting at 11 a.m. with performances by five different bands including Early James at noon, Janet Simpson at 1:15 p.m., Lee Bains III & Gloryfires at 2:45 p.m., Blue Mountain (30th Anniversary Reunion) at 4:15 p.m. and rock and blues singer Maggie Rose at 6:15 p.m.
On the final day, Sunday Boogie Brunch, the gates will open at 10 a.m. for brunch and will be followed by s solo performance by Lee Bains III at 11 a.m. and Alvin Youngblood Hart's Muscle Theory at 12:30 p.m.
"Scott has managed to cultivate in Standard Deluxe a strong aesthetic voice, one that is clearly rooted in his own sense of place and righteousness," Baines said in a press release.
Previous performers who have played at this event throughout the years include Jason Isbell and Alabama Shakes.
Single day tickets and three-day passes are available, but tickets are non-refundable. Tickets are $30 each for Saturday and Sunday, and $60 for Saturday. The three-day pass is also $100.
Children 14 years old and under can enter for free.
Some of the vendors will be selling tintypes, which is a photograph taken on a tin plate, as well as ceramics, glass art, paintings, rocks and minerals, honey and more.
Some of the food venders will include authentic Mexian food from Taqueria Durango; fresh handmade products like empanadas, tarts and more from Sabor Provisions; coffee from Mama Mochas Coffee Roastery; and desserts and ice cream from Clever Bev Baked Goods and O Town Ice Cream.
In 1991 Peek renovated a 1930s cotton warehouse to create the design and print shop, Standard Deluxe, at 1015 Mayberry Ave. in Waverly.
Since then Peek has renovated about 10 structures and continues to refurbish materials like old business signs and billboards for the property. The Alabama State Council of the Arts awarded Peek the 2021 Design Fellowship.
Peek has salvaged unique pieces from around Auburn and incorporated them into the layout of the property. Next to the stage, there are cinder "breeze blocks" from Spur Gas Station in downtown Auburn and he was able to get 80 feet of the War Eagle Supper Club tents.
In addition to printing customer supplied art and collaborating with other artists, Peek decided to host music and other events like the Boogie at his location, adding music presenter to his titles of artist and printmaker.
"Since graduating high school, I've been into printmaking and creating t-shirts and the core of my business is printing and designing t-shirts," Peek said. "Over the years of printing for so many bands and just being a music lover myself, we started hosting music in 2001."
Peek said the origin of the Old 280 Boogie goes back to the late 90s when the four-lane 280 highway was built. This highway directed traffic to drive around the town of Waverly, which is just north of Auburn and Opelika, instead of through it.
After the highway was opened and there was less traffic in the area, Peek said the people of Waverly celebrated. Peek and other townspeople held a little festival until he made it part of his business, which eventually grew to what it is today.