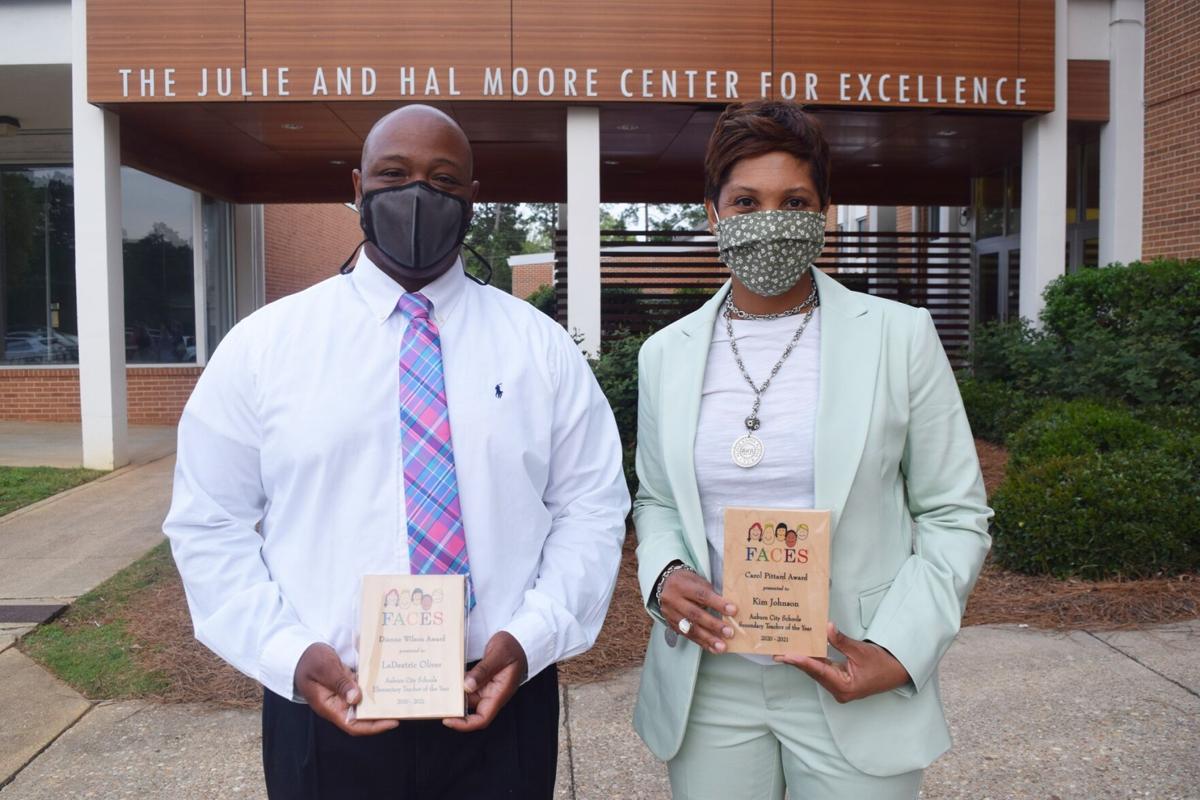 Auburn City Schools celebrated its top educators during the April 2021 Board of Education meeting, recognizing 13 Teachers of the Year.
"As teachers, they pour their heart and their soul into their students, into the families of their students and into this community," Superintendent Dr. Cristen Herring said at the meeting. "Many of them I've had the privilege of working with personally, and I can attest to their fine skill in both the art and the science of teaching. These are the best of the best."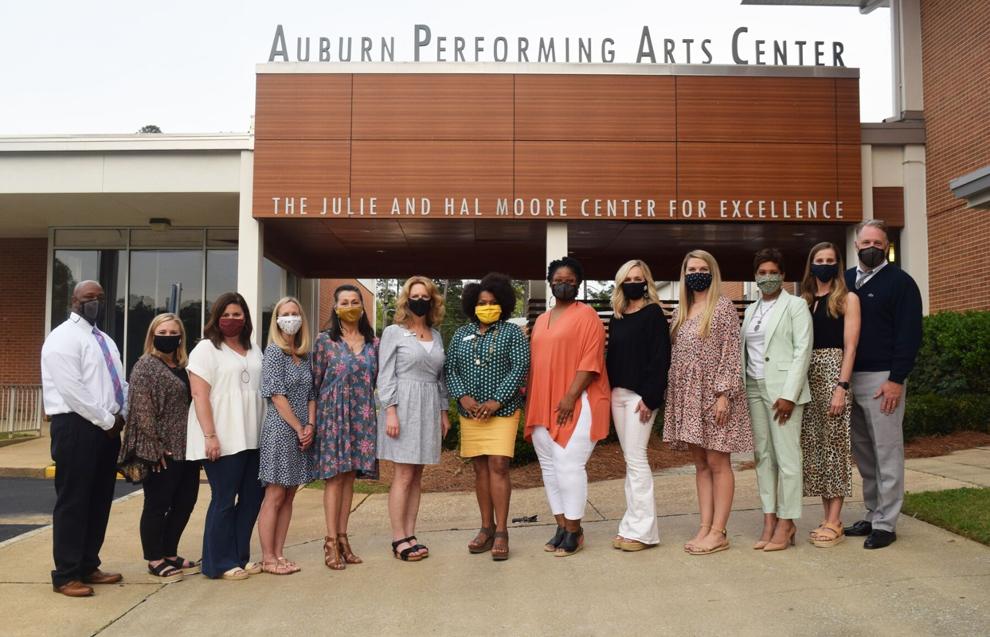 The annual Alabama State Department of Education Teacher of the Year Program honors excellence in the teaching profession by identifying outstanding Alabama classroom teachers at local, district, and state levels, according to the state department's website.
Auburn Junior High School's Kim Johnson and Wrights Mill Road Elementary School's LaDextric Oliver will represent Auburn City Schools in the statewide competition moving forward as Auburn City School's secondary and elementary teachers of the year, respectively.
Johnson and Oliver also received the Carol Pittard and Dianne Wilson Awards, respectively, through FACES (Foundation for Auburn's Continuing Enrichment in Schools), a collection of community members and business partners that promote Auburn City Schools.
Oliver is the current physical education teacher at Wrights Mill Road and head varsity boys track coach. He previously served as the varsity track and football coach. He has 12 years of teaching experience at Auburn City Schools with 10 of those years at Wrights Mill Road.
"I can't say enough about Coach Oliver. He's always there for everyone, including our parents, our teachers and our students" Wrights Mill Road Assistant Principal Tracey Streetman said at the meeting. "He's the dad that we all need at school each and every day. He's always there to lend an extra and willing hand from parents that come to school and enjoy P.E. with Coach Oliver. We didn't get to do that this year, but he is always innovative and ready to go."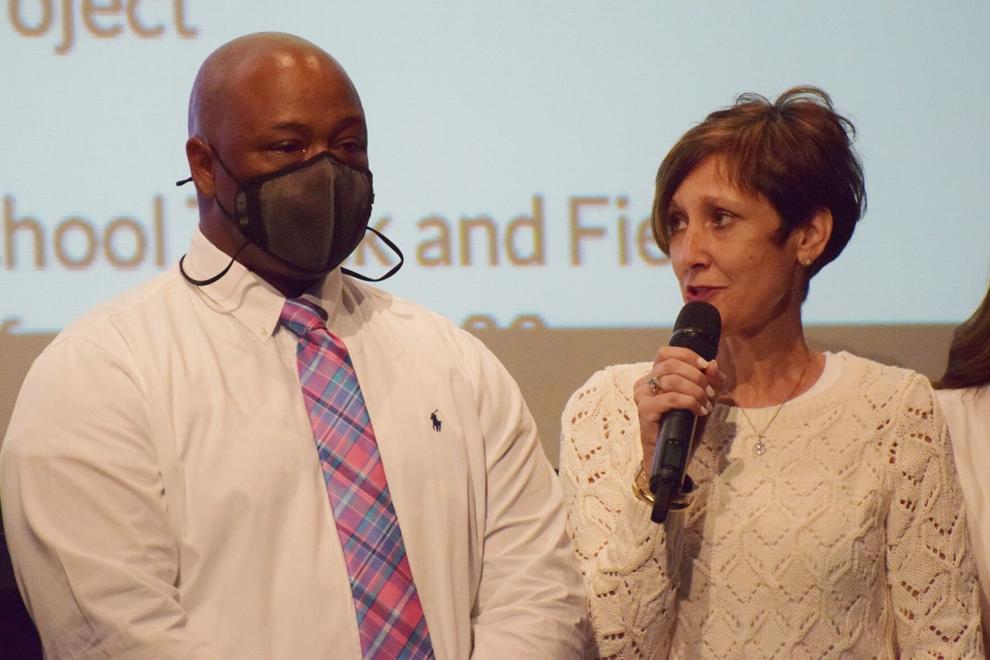 Oliver received his bachelor's and master's degrees in kinesiology from Auburn University. He is a product of Auburn City Schools.
Johnson teaches eighth and ninth grade study skills classes and serves as Auburn Junior High's Response to Intervention (RTI) Coordinator. Johnson is a Nationally Board Certified Teacher and has taught since 1998. Before teaching Study Skills, she taught eight grade English Language Arts for 18 years.
"There's two words that sum up Johnson not only for our students but for our staff: She's our school mom," Auburn Junior High School Principal David Oliver said at the meeting. "So many of our young teachers go to her for advice, and I go to her for advice. She has the pulse of the school, and she's just one of those outstanding educators that we are so fortunate to have not only at Auburn Junior High but in Auburn City Schools.
Johnson received her bachelor's degree in communication from the University of Alabama, a master's degree in education from Alabama A&M University in English Language Arts Education, and holds an education specialist's degree from Auburn University in English Language Arts Education.
Here are the 13 Teachers of the Year:
Auburn High School: Silvia Scaife
Auburn Junior High: Kim Johnson
East Samford: Timothy Meeks
Drake Middle School: Traci Curry
Auburn Early Education Center: Abby Brown
Cary Woods Elementary School: Brooke Braswell
Creekside Elementary School: Ashley Wood
Dean Road Elementary School: Whitney McBride
Ogletree Elementary School: DeAnne DeWeese
Pick Elementary School: Leigh Green
Richland Elementary School: Celeste Dorman
Wrights Mill Road: LaDextric Oliver
Yarbrough Elementary School: Tracey Oprandy
Calling teaching a "family sport," Herring thanked the teachers and their loved ones for the dedicated shown throughout the year.
"Certainly in the year of COVID-19 and all of the extraordinary circumstances that school needs right now, these teachers have risen to the challenge to provide school in-person and remotely for all of our students, all day and all-year," Herring said.