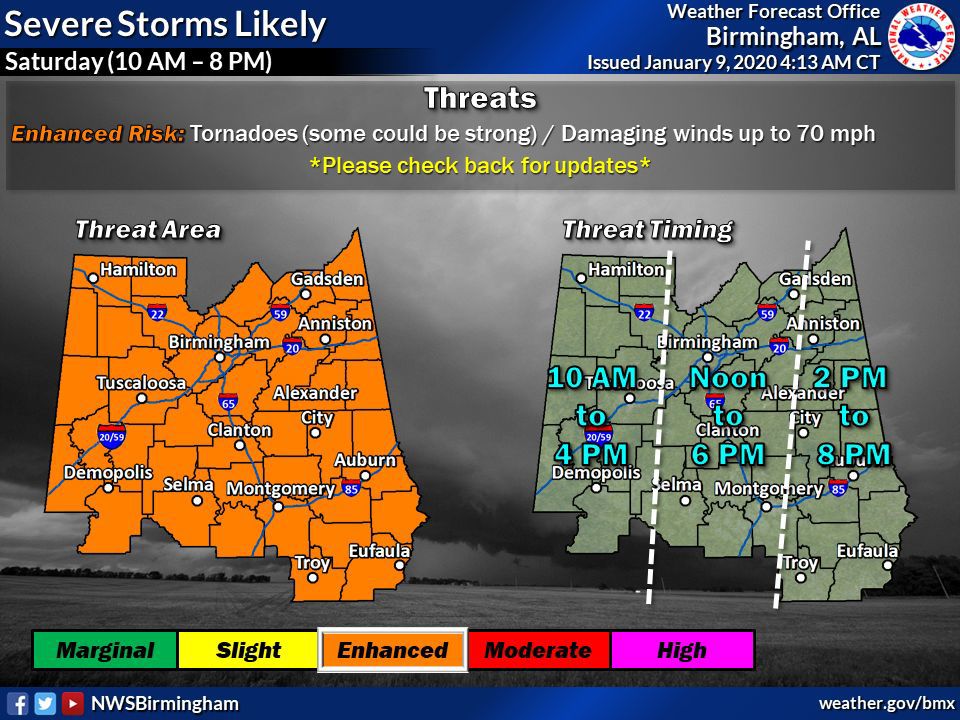 The timing and the risk of severe weather Saturday in Lee County are becoming clearer.
The National Weather Service is expecting severe weather to roll into the Auburn-Opelika area between 2 and 8 p.m. Saturday.
Lee County is currently in an "enhanced risk" area for severe weather Saturday. However, the threat risk could change before the storms arrive.
"The overall threat, it has certainly not lessened from what we saw yesterday (Wednesday)," said Gary Goggins, meteorologist with the National Weather Service Birmingham. "In fact, it may be increasing just a little bit in terms of severe-weather potential."
Severe thunderstorms, damaging straight-line winds up to 70 mph and tornadoes are all possible with Saturday's anticipated storm system, Goggins added.
The Alabama Emergency Management Agency is expecting storms to begin entering Alabama around 9 a.m. and leaving the state at about 9 p.m., according to a map posted Thursday afternoon by the agency.
Details of the storm and its timing are expected to become clearer as Saturday approaches, but it is important to begin to prepare now, according to Goggins.
"I would just stress to folks that make sure you know what's going on with the weather," he said. "Be prepared to take shelter in a substantial structure."
Auburn University men's basketball is scheduled to host Georgia on Saturday at 5 p.m., which is during the time frame of when severe storms could strike.
Although the university has severe weather plans in place, Goggins suggests that fans be prepared before they leave the house to head to Saturday's game.
"At the university, they have severe-weather plans in place for people to take shelter there, and I expect they would enact those plans if a warning is issued at that time," he said. "I would always advice make sure people know what the weather is doing before they head out and about."
The Lee County Emergency Management Agency wants residents to prepare now for Saturday's storms. The agency plans to post updates and safer-location information on its Facebook page: www.facebook.com/leecoema.
Get local news delivered to your inbox!
Subscribe to our Daily Headlines newsletter.