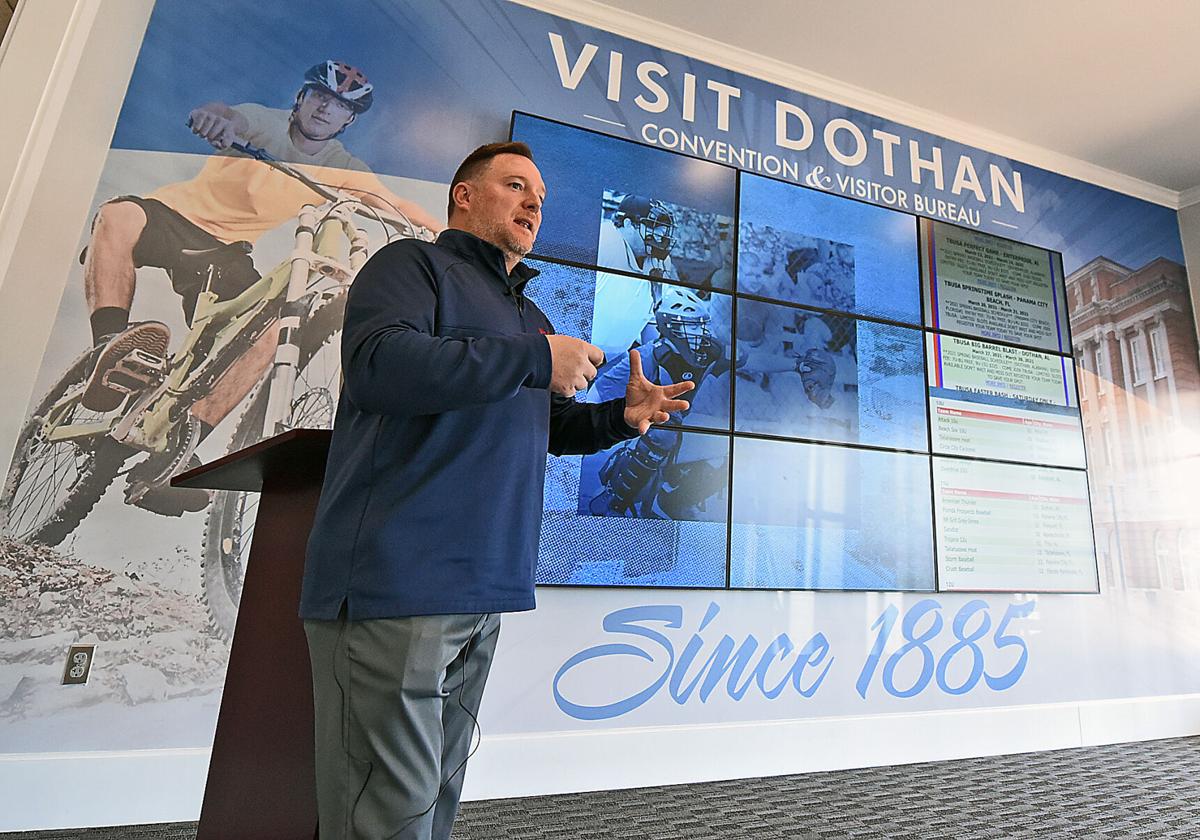 Dothan's tourism bureau is planning to make a bigger impact in the coming year.
Visit Dothan is building a new strategy to get people to visit the Circle City by homing in on team sports events, promising sources of new revenue.
Visit Dothan has played a part in bringing 59 tournaments so far to Dothan for players to compete at a vast number of diverse outdoor sports complexes for golf, tennis, soccer, BMX, baseball, swim, archery, and more.
"Sports is a huge business here and it is group business…," Visit Dothan CEO and President Aaron McCreight said during a presentation on Thursday. "We don't have a conference center or convention center, but what we do have is amazing sports facilities and with all the amenities that go along with it. We've got a great array of hotels, restaurants, retail."
Every weekend in the peak season is booked, aside from weekends with major holidays.
"We continue to grow," McCreight said. "This is by far the most tournaments we've ever had on the books in Dothan in a year, and again, with safety in mind."
While Dothan's tourism pull has gained momentum in past years, the COVID-19 pandemic slowed down efforts as it led to the cancelations of prominent events, including the Alabama State Games, which will be returning this year in June.
"We were setting records. I mean the line graph was incredible, and then it plummeted. We bottomed out in April last year and it was awful, but we've steadily grown since April," McCreight said.
Dothan's hotels booked 31,500 rooms for visitors linked to sports events in 2020 even though the total number of people visiting for other miscellaneous reasons dropped significantly. That number is 46% higher than the year before. In the coming year, Visit Dothan expects to book 45,000 rooms – a 43% increase – based on scheduled sports events.
Revenue associated with visitors coming into the city for sports events, likewise, is expected to triple 2018's figures. For example, visitor spending was $3.9 million in 2018 and visitors are expected to spend $12 million in Dothan in 2021.
"2021 is shaping up to be, all things considered, a really, really good year for us," McCreight said. "We're very cautiously optimistic that the pandemic will start to curtail, we'll get the vaccines out as fast as possible to as many people as possible, and continue the sports growth that we're seeing here."
McCreight believes stronger marketing of events will get more people to participate in the upcoming tournaments and, thus, bring in more revenue having a direct impact on area restaurants and hotels.
Thousands of people working in the struggling hospitality industry in Dothan and Houston County rely on an uptick of out-of-town visitors to keep their jobs. Additionally, bringing new tax dollars into Dothan allows local tax rates to stay low, McCreight said.
A marketing campaign that started in late summer targets individuals going to tournaments in other regions and makes it easy for them to register for Dothan-based tournaments using a QR code that directs them to a unique website.
"That's what we're trying to do with this new marketing campaign and this very specific growth idea that we have and go find these people where they are and let them know what we have here in Dothan, whether that's a baseball tournament, whether it's a restaurant, an attraction," McCreight said.
Websites include information about events, hotels where teams will stay, and links to driving directions and airplane tickets. Visit Dothan is also introducing a new feature -- Dothan Deals. During tournament weekends, some restaurants and retailers will have special discounts or offers listed on the page that tourists can save to use when they come to visit.
"We want our businesses here in Dothan to engage directly to those sports travelers; we've never been able to directly tie one to the other," McCreight said. "In the past, we just hoped they come and find something they like. This year and going forward, we will be putting our local businesses directly in front of those sports travelers."
Though Dothan's sports amenities are the subject of new advertising through Dothan's new visitor guides, newsletters, and marketing campaign, McCreight believes travel to Dothan will pick up for leisure activities and business later in the year as the COVID-19 vaccine becomes more widely available.