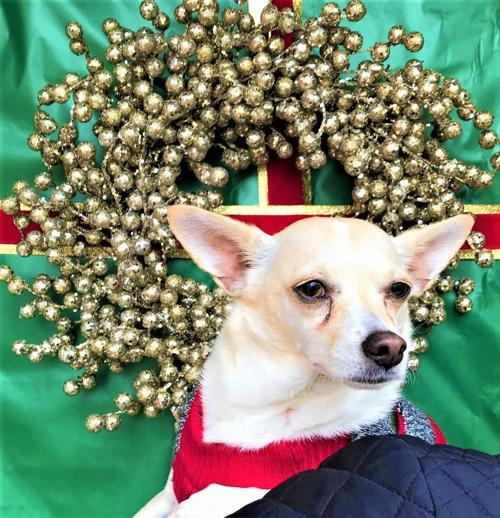 For a local family in Dothan this mess of a year, which resembled that of a low-budget apocalyptic movie, could only be redeemed by one thing — a little Chihuahua named Luca.
Luca's story begins in January of 2019 when he was abandoned by his previous family on the Northwest side of Dothan. There he began his journey to the Woodlands subdivision where he has since become somewhat of a local celebrity. It didn't take long for the residents of the neighborhood to notice Luca's plight and start a group effort to help him. Luca, however, had other plans. It seemed he was determined to figure things out on his own.
Elaine Richardson, a member of the Woodlands community, said that Luca was much more clever than they gave him credit for and could outsmart any trap they put in his path to try and catch him.
"I watched Luca eat the food leading up to the trap, hesitate at the entrance and then try to dig a hole underneath to get to the rest of the food inside," said Shelly Brady, director of Going Mutts Rescue, who also lives in the Woodlands.
As the community continued working to convince Luca to trust them, the weeks turned to months, edging into years. Luca remained homeless just taking food and water left out by those who watched over him, but still no one could get close enough to help him. Neighbors eventually began updating each other on Luca's progress through the Nextdoor app. Regina Tedin, a resident and one of the many self-proclaimed Luca guardians, began to notice in November of 2020 that his health seemed to be declining.
"I feared he wouldn't survive another harsh winter out there alone," Tedin said.
After seeing Tedin's posts on Nextdoor, Richardson stepped up her effort to help Luca. As the temperatures began dipping she started leaving her garage door open in hopes that Luca would venture inside if he got too cold. Luckily for both parties, one day in early December, Richardson was outside decorating her home for Christmas when she spotted Luca sitting just yards away from her. 
"I poured some food at the end of my driveway for him, and then went back to decorating," Richardson said. "After eating, Luca lingered close by and I decided to go for it. I sat on the grass and just started softly speaking to him. I could see his conflict as he cautiously took two steps forward, and one step back."
Patience paid off for Luca and Richardson. Within half an hour he was sitting in her lap, both of them unsure of the next step.
"After what seemed like an eternity, I slowly got up and watched him trot away. To my amazement, after calling out to him, he actually turned back, and I was able to coax him inside of my house," Richardson revealed. "The rest is history!"
It seems little Luca has joined the ranks of the Richardson household just fine, alongside Lucy the chorkie and alleged ringleader, Chewbacca, the husky. A visit to the vet revealed that Luca is heartworm positive and will begin treatment in January. If you would like to help with Luca's vet care donations can be made to Brady at the Going Mutts Rescue PayPal, http://PayPal.me/goingmuttsrescue.