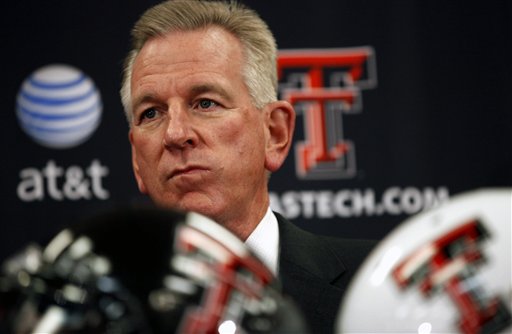 A lawsuit filed in U.S. District Court claims that former Auburn University football coach Tommy Tuberville and an Auburn resident defrauded investors out of more than $1.7 million.
The suit alleges that Tuberville and John David Stroud operated one or more hedge funds through eight entities listed as limited liability companies, limited partnerships and general partnerships. The seven plaintiffs listed in the suit claim that "Stroud, Tuberville and the Entity Defendants have defrauded Plaintiffs, all of whom invested in one or more of the Entity Defendants, and have misused the assets of Entity Defendants to further the interests of Stroud and Tuberville."
Tuberville and Stroud intentionally misled investors and "employed devices, schemes, and artifices to defraud Plaintiffs," according to the lawsuit.
Calls to Tuberville and Stroud were not returned Tuesday afternoon. Tuberville was the Tigers' head coach from 1999 to 2008, when he resigned after a 5-7 season. Tuberville is currently the head coach of the Texas Tech University football program.
The plaintiffs are seeking damages, return of their investments, interest and court costs. Two of the plaintiffs, Glen and Kristy Williams, are Auburn residents. A call to the Williams' home was not returned Tuesday afternoon.
Other plaintiffs are John Abrams of Wetumpka; Priscilla Abrams of Wetumpka; Debra Clark of Lake Village, Arkansas; and Baron and Melanie Lowe of Hendersonville, Tenn.
The seven plaintiffs invested the money with Tuberville and Stroud from 2008 to 2011, according to the lawsuit.
In April 2011, Stroud's registration with the Financial Industry Regulatory Authority was suspended after it was alleged that Stroud failed to comply with an arbitration or settlement agreement. The lawsuit claims Stroud had two arbitration awards against him, totaling about $840,000.
The plaintiffs were not made aware of the suspension of Stroud's FINRA registration or either of the arbitration awards, according to the lawsuit.
A BrokerCheck Report generated by FINRA says Stroud has in the past worked for several financial services companies, including Lehman Brothers. A LinkedIn Web page for Stroud says he was formerly a senior vice president for both Lehman Brothers and A.G. Edwards.
In October 2011, the National Futures Association announced it had taken emergency enforcement action against TS Capital Management LLC after the company "failed to cooperate with NFA in its audit and investigation of the firm by failing to produce books and records and other information requested by NFA."
NFA began investigating TS Capital after two of the investors, who were also employed by TS Capital, came forward after unsuccessfully trying to redeem their investments. During NFA's investigation, TS Capital Management and Stroud gave false and misleading information, according to the statement.
According to the NFA report, Stroud had told one of the investors that the fund had 16 investors and approximately $6.9 million in assets. Yet, Stroud then told investigators that the fund had six investors and less than $2 million in capital.