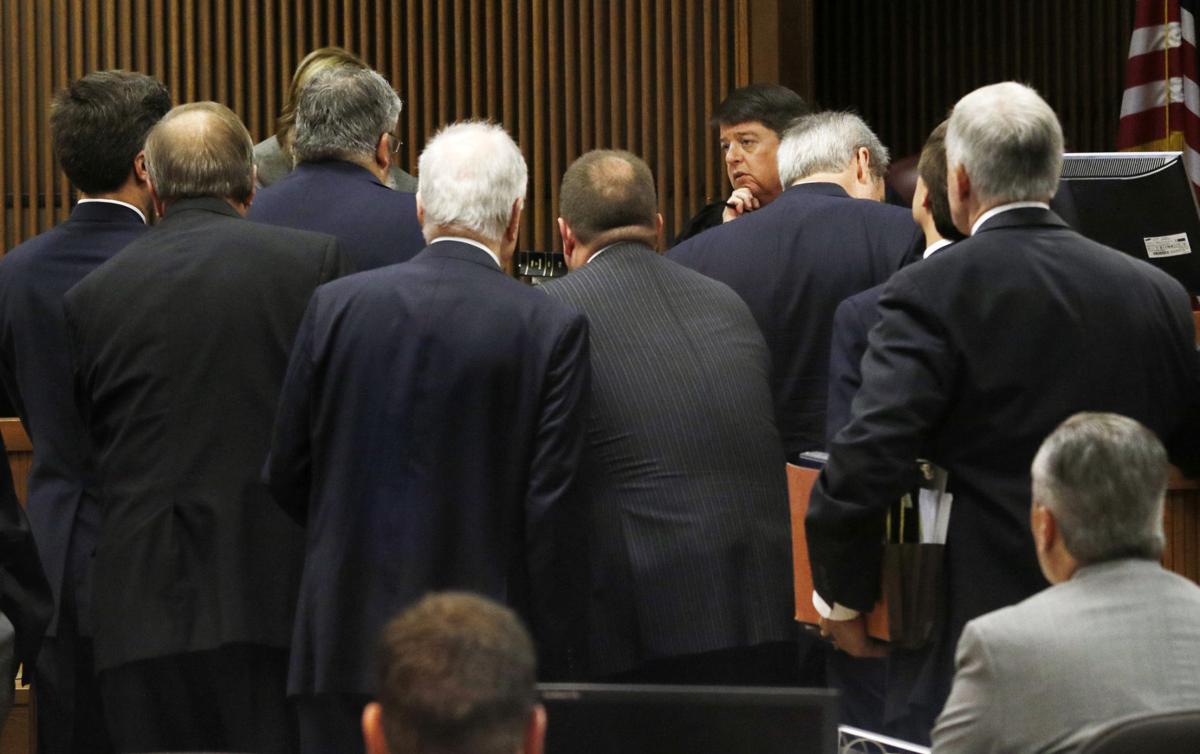 Indicted Speaker of the House Mike Hubbard never sought advice from the Alabama Ethics Commission on certain contracts and investments, according to testimony from the commission's former director.
Jim Sumner testified Tuesday afternoon that Hubbard did not notify or seek advice from the Alabama Ethics Commission regarding consulting contracts he held with the American Pharmacy Cooperative Inc., Edgenuity and Capitol Cups.
He also didn't consult the commission about his attempt to secure $150,000 investments from a handful of lobbyists and principals for Craftmaster Printers, an Auburn business in which Hubbard holds a partial interest, Sumner said.
"I did not know about those companies until I saw the indictment," said Sumner of Hubbard's contracts with Edgenuity and Capitol Cups. He later added that he only found out the investments from the indictment, as well.
Sumner said he didn't find out about Hubbard's contract with the pharmacy cooperative until a day after the language was inserted into the budget and had been voted on in the House.
"It was after the fact," Sumner said.
Sumner said he called Hubbard after hearing "rumblings" about the speaker's relationship with the APCI.
"He said, 'Is this coming from my enemies?' I said, 'No, sir. It's not coming from your enemies.' He immediately said at that point that issue is going to be taken care of in the conference committee and I think that language is going to come out," he said.
The ethics commission in 2012 gave Hubbard informal approval of his monthly $12,000 consulting contract with the Southeast Alabama Gas District. In a letter to Hubbard, the commission said Hubbard was not to use his "mantle of office" for gas district related business.  
Sumner described the speaker's mantle as an "intangible" power.  
Sumner said the commission didn't vote on or refer any alleged ethics violations related to the Hubbard to the attorney general's office because "probably half of the things in the indictment were completely unknown to us at the time."
He later realized some things he thought the ethics commission had knowledge of was only limited, he said.  
On cross examination from lead defense attorney Bill Baxley, Sumner did testify that he couldn't recall a single legislator who reached out to him more for ethics guidance than Hubbard.
Public officials barred from using office for personal benefit
Public officials cannot act in any official capacity on matters that could personally benefit themselves or a business in which they are associated.
That was the testimony Sumner delivered earlier Tuesday morning, setting the tone for the fifth day of Hubbard's felony ethics trial.
Sumner served on the ethics commission from 1997 until 2014, and has previous experience as both an attorney and a lobbyist. Prosecutors referred to him Tuesday as an expert on the Alabama Ethics Law.  
Sumner testified as to what the law is, who it applies to and how perceived ethics violations are handled by the commission, providing jurors with a lesson on ethics protocol.
The Alabama Ethics Law is applicable to public officials, including chairs and vice chairs, and lobbyists and principals, Sumner said, and is essentially intended to prevent those groups of people from using their positions for personal gain.
Those who fall under the scrutiny of the law are allowed to seek advice from members of the commission on specific matters, he said, and the commission may issue formal written guidelines outlining how a person may proceed with a certain action. Members of the commission may also provide more informal advice to the requester, sometimes orally.  
Written advice provides a certain level of coverage under the law, Sumner said, as long as the person follows the guidelines given.
But an informal opinion does not grant the same kind of immunity, Sumner said, and a person can't receive advice from the commission and then deviate from that advice.
Hubbard sought informal guidance on his consulting contract with the Southeast Alabama Gas District.
Sumner said the ethics commission employs investigators and "acts as a mini grand jury" to evaluate findings in instances of perceived ethics violations.
"The only thing it can find is probable cause that the ethics law has been violated," Sumner said.
Upon review, the commission can make three findings: insufficient facts, probable cause or it can agree to an administrative resolution with someone if the infraction falls below $250.
Special Prosecutor Matt Hart went down the list reading aloud each of the ethics violations Hubbard is accused of committing, and asked Sumner to elaborate on the meaning and language of the sections of law with which the violations pertained.
Hart, at times, offered hypothetical scenarios, and Sumner determined if the action described would have violated the ethics law.
"What it says is you cannot use your public office to benefit yourself or a business in which you're associated," Sumner said.
The language is purposefully broad, he said, and covers an umbrella of situations.
Even a mere employee or board member of a business, according to Sumner, would constitute a business in which that person is affiliated.  
"Does it matter if it's a good business?" Hart asked, referencing arguments made by the defense last week regarding counts 1-4 of Hubbard's indictment, in which Hubbard is accused of using his office as chairman of the Alabama Republican Party to benefit the Auburn Network, a consulting firm that he owns, and Craftmaster Printers, in which he holds a partial interest.
Asked if a legislator could vote on legislation that would benefit his or her business without violating the ethics law, Sumner responded, "A legislator cannot do anything in their official capacity that would benefit a business they are associated with."
Hart continued to ask Sumner questions in reference to Hubbard's charges.
Baxley stood up several times and, at one point, told Circuit Court Judge Jacob A. Walker III that he objected to all of Hart's questions.
Sumner testified that he'd had several meetings and phone calls with Hubbard over the years and that the two had become so familiar in discussing the fundamentals of the ethics law that he referred to it as "the drill" and that in every instance, "he (Hubbard) said he understood."
Edgenuity: 'Part of the reason' for Hubbard hire was his position
Edgenuity Executive Vice President Michael Humphrey testified that part of the reason his online learning company hired Hubbard as a consultant was due to his position as a legislator.
"I would say part of the reason was that he's a legislator," said Humphrey. "He was a legislator with the ability to work outside Alabama. I wanted to take advantage of his relationships."
Humphrey said the company never intended to use Hubbard's consulting services within the state.
He said he was told by lobbyist Farrell Patrick, a mutual business acquaintance of the two, that Hubbard could get the business meetings before virtually any legislator outside Alabama, and that his ability to open doors would be an asset to the company.   
"I could get the meeting, but it might take me a year. It might take him a week," Humphrey said.
In an email to Humphrey, Hubbard said the generic consulting contract he drafted for his services was "blessed" by the Alabama Ethics Commission, though Sumner testified he knew nothing of the Edgenuity contract prior to reading the indictment.
In another email between the two, Hubbard told Humphrey he was only going to list the Auburn Network -- his consulting firm -- as his employer, not Edgenuity specifically.
Deputy Attorney General Mike Duffy asked Humphrey if he knew that the ethics commission requires public officials to disclose the names of the agencies they work with. Humphrey said he did not know that at the time.
Sterne Agee check to Craftmaster
Up on the stand first Tuesday morning was Jon Sanderson, a former financial officer for investment firm Sterne Agee from 2012 until March of this year.
Sanderson testified to writing a check in November 2012 to Craftmaster on behalf of the Sterne Agee Group for $150,000.
Sanderson said he was instructed by CEO Jim Holbrook while at a meeting to write the check.
 "During the meeting, Mr. Holbrook slid a piece of paper over to me that had Craftmaster Inc. written on it and he whispered to me that he needed a check written for $150,000 right then," Sanderson said.
He then delivered the check to Holbrook, who slid the check into his coat pocket, he said.
Sanderson said the incident was "not totally out of the ordinary." He said Sterne Agee received quarterly payments, possibly dividends, from the investment and that it remained an active asset on the company's books in March when he left.
Among those expected to take the stand Wednesday are Business Council of Alabama President and CEO Billy Canary, lobbyist Dax Swatek, former Gov. Bob Riley and his daughter Minda Riley Campbell.
Gov. Robert Bentley and Department of Commerce Secretary Greg Canfield could also be called Wednesday.
Hubbard was indicted in October 2014 on 23 felony ethics charges of using his political office for personal gain.
If convicted, he faces a maximum penalty of two to 20 years imprisonment and fines of up to $30,000 for each count. He would be removed from office if convicted of any of the charges.
Hubbard has long maintained his innocence, and continued to serve as speaker of the house during the 2016 legislative session.