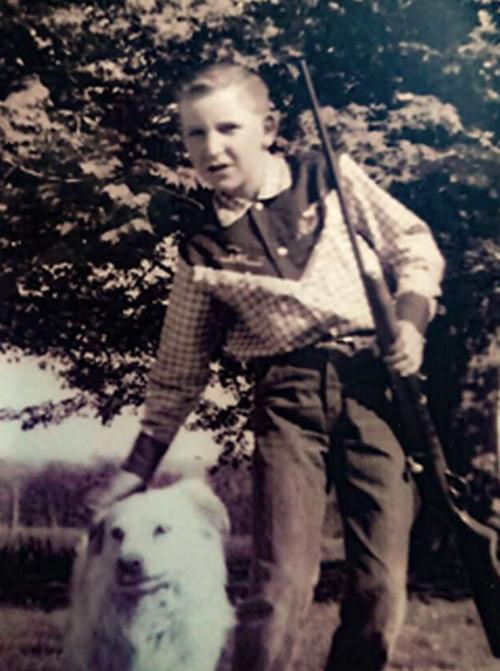 "Casper" we called him, though he never knew it. He also had the loudest, most resounding bark I've ever heard, though he never knew that, either.
Casper, you see, was deaf.
A Border Collie mix, Casper's rough coat was predominantly white like powdered sugar, having only a few little brown spots here and there, and his frosty blue eyes were very calming to look into… A good thing, as it was always nerve-racking when Casper got the itch to wander off from my boyhood home.
Calling to him was pointless. To find Casper, you were limited to two strategies: (1) Hope Casper found you; (2) Hope something stirred Casper to barking.
That dog sure was stingy with his barks. But, let me tell you, once he got fired up, you could blindfold yourself and walk right to him. And once Casper spotted you, he'd dash on over and greet you so ecstatically that you'd swear he was the one who'd been searching for you the whole time.
Maybe that's why his eyes were always so calming. They reflected his own ear-scratching serenity each time he caught sight of those he loved. He could also see that we loved him. He didn't have to hear us say it.
Now, Pawpaw Jim Sanders' boyhood dog, "Snowball," was nearly solid white, too, minus one brown ear. It's always been speculated that Snowball had some collie in him as well. But one thing was certain: Snowball understood practically every word of English that was spoken to him.
They say it just came naturally to Snowball, meaning you had to be very careful what you told him. My great-grandfather, Henry Sanders, learned this after wondering if Snowball would hop up on something. Turns out Snowball understood perfectly, jumping up on a relative's brand new car and scratching the shiny paint on the hood.
It surprised my great-grandfather. It infuriated the relative who'd been showing off his new ride.
Another time, after Pawpaw Jim's younger brother, Louis, climbed up to their tree house (or tree floor), he called down to Snowball and beckoned him on up. By this time, Snowball was very used to climbing the ladder that leaned against the tree, up to where the tree house had been established about 10 feet from the ground.
On this day, however, a young Uncle Louis had a specific job for Snowball: "Guard that nest."
His eyes locked on the spot where Uncle Louis was pointing, Snowball instantly shifted into guard dog mode, devoting his full attention to a bird's nest on a nearby branch. The mama bird was nowhere in sight, so Uncle Louis figured he'd get Snowball to look after her eggs until she returned.
Only problem was Snowball wouldn't let the mama come back, barking fiercely at her as she swooped back and forth. By this time, Uncle Louis had long since left the tree house to play elsewhere, resulting with my great-grandfather coming home from work and discovering Snowball having it out with a squawking bird up in the tree.
That dog and Uncle Louis sure could get into some shenanigans. But, make no mistake, Snowball was Pawpaw Jim's dog. The two were inseparable, a true-blue duo who roamed the wild frontier together and watched over each other's back.
A fearless cowboy with a lightning-fast draw, Pawpaw Jim guarded against villains and varmints. Snowball kept his eyes peeled for other dogs, always eager to fight, regardless of any mongrel's size. Snowball also hated wagons, instantly lunging and seizing a wheel with his immobilizing snout anytime anyone tried to pull one by him.
But that dog sure loved people, and Pawpaw Jim was his pick.
This fact may offer some perspective on something that happened months ago, before Pawpaw Jim passed away last year on Dec. 8. It was Thanksgiving, and Pawpaw Jim was happy to finally be home from the hospital, where he'd undergone cancer treatment and endured sad news about his heart.
After enjoying what would be his last big meal with family, Pawpaw Jim and his oxygen tank made their way out to the front porch, where the old man saw something peculiar in his yard. He insisted a white dog was out there -- "Right there!" -- looking at him.
No one else could see the white dog, nor did we spend time thinking about any white dog... At least until after Pawpaw Jim passed away days later. It was during this time that an old photo of him and Snowball surfaced.