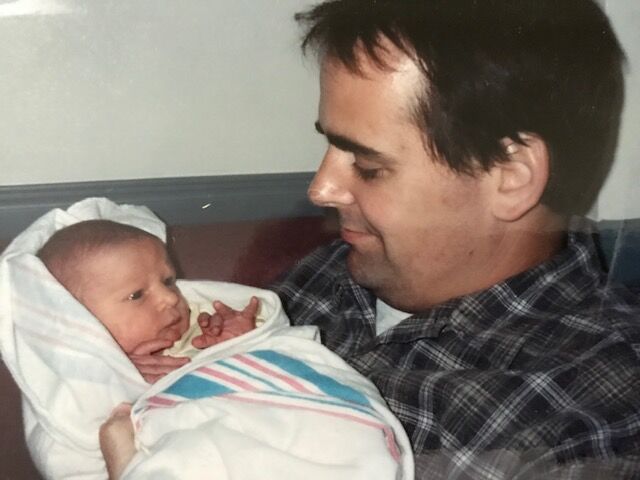 Summer starts with a couple of celebrations in our house. First, my son Joe and I celebrate our birthday on the same day, and then less than a week later my wife Bess and I celebrate our anniversary.
There are some disadvantages to sharing a birthday with one of your children. For starters, everybody's focused on showering the cute little kid with gifts and attention. I guess it's understandable why on our birthday somebody would give Joe and not me a dollar for every year he has lived – I mean, I am so old that it's cost-prohibitive – but does it have to happen on my birthday? The answer is yes, because it's also Joe's birthday.
A huge deal in our house is birthday breakfast and birthday dinner, and our children might spend months deliberating over a menu before their big day arrives.
The process becomes more complicated with two people. Joe and I are on the same page for birthday breakfast – we both favor bacon and doughnuts – but dinner sometimes poses a problem.
Our most successful birthday dinner came several years ago, when we were both on a Cuban sandwich kick, which we made ourselves after smoking a Boston butt for 18 hours. If you spend three-quarters of a day making a sandwich, it had better taste delicious, and this one did.
This year's birthday was fine, though not as memorable. I won't tell you how old we are, but I will say that our combined age is now 72 years old, and Joe just finished his freshman year of college.
For our birthday dinner, we picked fried chicken and each of us chose a side to make ourselves. Joe went with mac & cheese, and being a mac & cheese man in addition to a supportive father, I made no restrictions on the shape of pasta or the types or ages of the cheeses he put into his pot.
But when I announced my side, a skillet dish with okra, tomatoes, corn and Conecuh sausage, Joe asked if I might leave out the tomatoes. You know, because it was his birthday.
Because it was his birthday?
Nineteen years ago, on my birthday, Bess perhaps foresaw this problem when she started having contractions in the early morning hours. Unbeknownst to me, she rose and packed a suitcase for the hospital, went into the kitchen and made a big birthday breakfast and big birthday lunch, and then made a few phone calls and did some straightening up around the house.
It was Sunday, so she woke our three children, who were ages 2, 3 and 6, and helped them get dressed. Then we all ate breakfast and went to church. That morning, outside the sanctuary, I saw Bess having an animated discussion with her doctor.
When we got home, this is what happened in the next 90 minutes:
Bess commanded everybody to put on their swimsuits. She did not put on hers. Then we wolfed down my birthday lunch. Then we piled into the van and went to the pool, where we swam for a few minutes and then huddled around a picnic table for cake and ice cream and presents. Then we piled back into the van and went home.
When we pulled into the driveway, my parents were there. Bess looked at me and said, "Happy Birthday." She did not say the party was over, but she could have.
The kids sprinted into the house to be pumped full of sugar and whipped into a frenzy by their grandparents, and Bess and I went to the hospital, where she gave birth to Joseph Dimon Kendrick-Holmes.
I didn't realize it at the time, but Bess had given me a great gift, the opportunity to enjoy a final birthday with the spotlight fixed solely on me.
I think about this story every year on my birthday and on our anniversary, and I still marvel that such a clueless dude could be so lucky and so blessed to spend that day – a perfect microcosm of our whole life together – with such a squared-away, wonderful and prescient woman.
Things haven't been the same since, and that's a good thing.