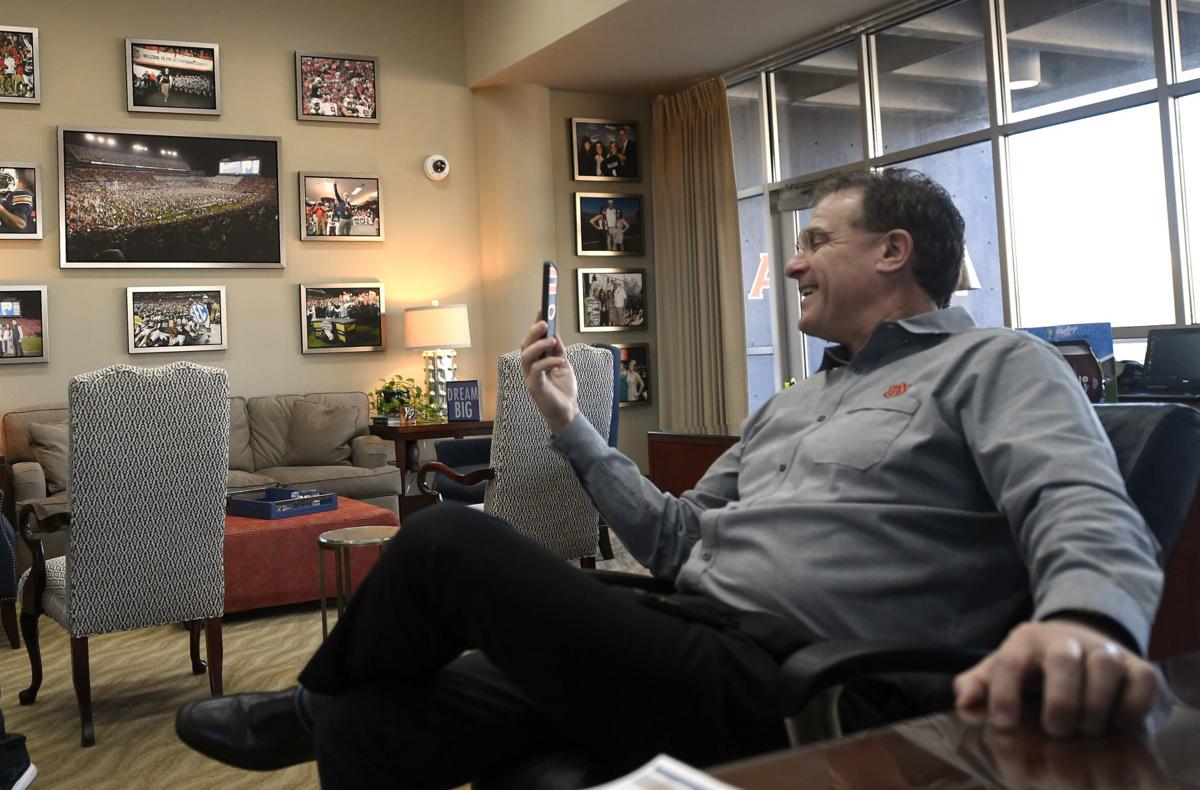 The radio voice was as loud as thunder and clear as the late-autumn blue sky.
"Pat Sullivan drops back to pass. He winds up, and he's going deep!
"Touchdown, Auburn!! On an 80-yard bomb down the sideline to his All-American receiver, Troy Turner!"
Wait … Terry Beasley you mean; an 80-yard-strike to trusty sidekick Terry Beasley.
No, to Troy Turner is EXACTLY how it played out in almost every Iron Bowl hosted in my boyhood back yard.
Pat Sullivan and Terry Beasley were heroes, and, since I couldn't throw the ball to anyone else while playing all 11 positions myself, naturally I had to also be Pat's favorite target.
Since I also played linebacker on defense for Auburn in those games, I had a heck of a time trying to stop the burly, bulldozer Musso. Thus, I usually could only stop Bama by making an interception.
You could even say … I was the pick-six before pick-six was cool; long before the 2019 Pick Six game.
Ah, the innocence of boyhood and grid iron heroes like Pat Sullivan, who did much more for so many off the field than he ever did in the glaring spotlights of a Heisman Trophy collegiate career.
Rest in peace, Pat, and War Eagle to you on your new playing field, where I imagine you playing forevermore as the handsome young man in the mesh jersey you were in my boyhood.
Amazing, isn't it, what winning an Iron Bowl in exciting fashion can do for a coach?
Only a few weeks ago, I penned a column before the Auburn-Samford game with the headline, "Should Auburn cancel today's game?"
It in some ways called out the Auburn fan base on its wishy-washy reaction aimed mostly at head coach Gus Malzahn after the disappointing loss to Georgia, and whether anyone would show up to that day's low-profile follow-up game with a big underdog on a very messy, rainy day.
It acknowledged that Gus would have to beat his biggest rivals to keep his job, but that Gus also should be seen for being an established winner in providing Auburn a clean program that genuinely represents the university in fine fashion and makes parents feel good about letting their sons play here.
The column ended by saying the day would be a success if at least 50,000 fans showed up, and perhaps more importanty, it would send a positive message to Gus and the team.
As opposed, say, to 20,000 fans and a smattering of boos.
Clearly, Gus and the team, including current-generation heroes Derrick Brown, Marlon Davidson and mates, had to have noticed that yes, well more than 50,000 did indeed show up and sit there in the pouring rain to watch the host Tigers demolish the brave but outmanned visiting Bulldogs.
The only story not to unfold that I wanted to write that day was Gus telling the water boy to suit up.
Otherwise, a message of support was delivered, and received.
The next week, Auburn beat Alabama 48-45 in one of the all-time thrillers in Iron Bowl lore.
And guess who just turned in another Top 10 recruiting class because of sudden stability back in the friendliest village on the plain?
Also, please note: In every interview I've seen Gus give about his signing class, he mentions its high grade point average — in academics, not field performance.
It should mean something to the Auburn Family to see winners who also have the discipline to excel in the classroom. That usually translates well into many other positive character traits, as opposed to whining on Twitter because a school didn't pander to your antics.
Auburn University President Jay Gogue seems pretty content with things — things being, specifically, Malzahn as his head coach.
It was a content smile on his face when he leaned back after I asked about it during a sit-down conversation Wednesday.
"You know, when you win the Iron Bowl, parking on campus suddenly seems a little bit better, the hot dogs seem to taste better, and everything else just seems a whole lot better," Gogue said with a grin. "It's just all better. It's all good."
And yes, on a more serious note, he does indeed support Malzahn as Auburn's head coach.
"We have calm waters with Gus now, and I'm not getting as many letters," Gogue said. "Of the last 20 or so letters I did get, at least 10 of them said that no matter what, 'Don't let Gus get away.' 'No matter what you do, keep Gus.' "
I failed to ask what the other 10 or so letters might have said, but clearly Gogue, who has a passion deep in his heart for Auburn and was willing to visit my office to talk about it, feels good about the state of the athletics program.
He also gave athletic director Allen Greene a thumbs-up; and of course, we shared brags about the success of the baseball team going to the World Series last season, and the amazing job and community service that has the Auburn Family in love with basketball coach Bruce Pearl.
"Bruce is a salesman," and when he's selling Auburn University as the wonderful place it is, people want to know more about it, Gogue suggested. Developing talent and coaching a team to the Final Four ain't bad, either.
Pat Sullivan is finally at peace again.
Auburn is the reigning Iron Bowl champ again.
Gus on recruiting day celebrated a hearty 22 booms.
Bruce is being Bruce — winning.
After the tough year we've had around Auburn throughout 2019 on much more serious issues of life and death, it's comforting to see a happy ending.
War Eagle, Auburn Family.
Troy Turner is editor of the Opelika-Auburn News and can be contacted at tturner@oanow.com and followed on Twitter @troyturnernews.
Catch the latest in Opinion
Get opinion pieces, letters and editorials sent directly to your inbox weekly!