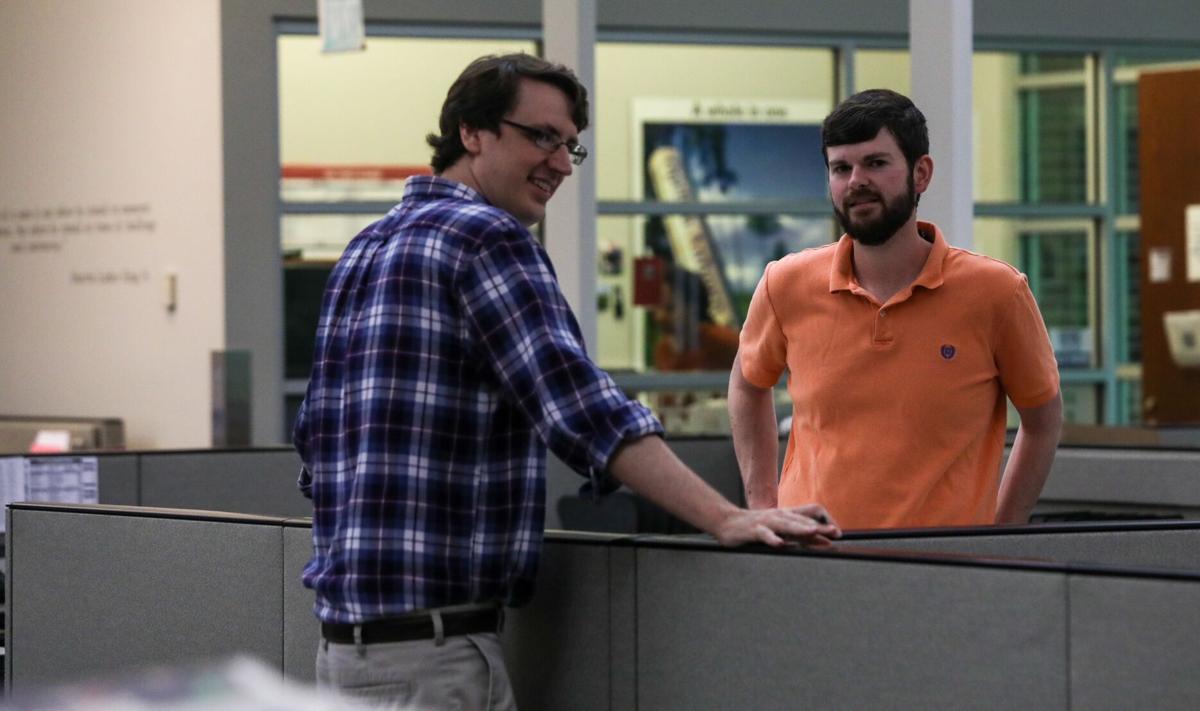 Editor's note: We asked the journalists at the Opelika-Auburn News, who were between the ages of 1 and 33 on 9/11, for their memories of that day.
On Sept. 11, 2001, I wasn't even 2 years old. My mom worked at the Redstone Arsenal in Huntsville, Alabama, and she just dropped my brother off at school. It was just an average day. Every morning, my mom would leave the TV on and have the news playing in the background. As soon as she dropped my brother off for fourth grade, she saw the plane hit the tower. Luckily, she wasn't working on base at the time and was doing things remotely.
After 9/11, the arsenal immediately beefed up its security. Search dogs and two-hour car lines were the new norm. While I don't remember Sept. 11, I know the impact it had not only on the United States, but also Huntsville, Ala. Not long after, my mom found out someone from her graduating class was actually a passenger on the second plane to hit the towers.
Growing up in a post-9/11 world, terrorism and fear felt like the new norm. It's one of the main reasons why I and many people in my generation are so desensitized to tragedies today. I wasn't even fully aware of the impact of the terrorist attacks until I was in middle school. I will never forget watching the planes hit the buildings and bodies falling out of the towers in history class. Everyone was silent, like we were all experiencing this event for the first time. The only thing I knew before seeing that clip was that my family and nation were scared.
On Sept. 11, 2001, I was a second grader at Jasper Elementary School in Jasper, Ga. I walked into Mrs. Arrendale's class, and as I remember it the TV was already on the news; it might have happened a little later in the class, but that's what I see in my mind's eye.
I don't really remember Mrs. Arrendale or any other teachers or counselors explaining to us what had happened – just that the TV was on as we learned what was happening. I think the school staff was trying to figure out what was going on themselves, and, truth be told, what could a group of second graders have really comprehended about the situation?
I remember hearing several students get checked out early that day as parents feared other attacks were possible, but other than that the school day seemed to go on as somewhat normal.
I'm not sure if my parents ever explained what was going on, but I know there was still talk about it for weeks and months to come. Because my parents both worked for the United States Postal Service, I can remember them talking about the threat of anthrax being sent in the mail, though I don't think they ever encountered that.
My age group seems to be sort of in the sweet spot of those who remember 9/11 and those who don't. My younger sister Alexis, who is two-and-a-half years younger than me, was in pre-school and doesn't recall a thing about it.
My family was living with my parents, and my folks had more than one television. The kids were pretty young. I remember walking back and forth from the living room, where the kids were watching "Sesame Street," to the back bedroom, where I had the news on. That's the memory I have from that day.
I was a kid, but I vividly remember being in Ms. Barrett's fifth-grade class in Wetumpka, and I remember her getting a three-legged stool and sitting down in the front of the class and telling us, "Something has happened to America."
I'll never forget her saying those words: "Something has happened to America."
I remember our school counselor coming through our class that day too. She must have gone around and visited every class and answered questions. I should write to them sometime and tell them that they made such a strong impression — and surely made us all aware of the gravity of the moment, seeing as how I remember them speaking all these years later.
I also vividly remember going home from school early, and when I got there, my dad was already home from work — which never, ever happened. And we sat and watched the news together.
I don't remember what airports were like before TSA, and I don't remember what TV news was like before the scrolling ticker, but I do remember the day and I feel that even then I knew the gravity of it, and I think that's a credit to my teachers, my school and my parents.
I've written about this before, but on Sept. 11, 2001, I was at the beach with my wife and our three small children. I was sleeping – it was vacation, after all – and Bess, who is usually an early riser, was reading in bed. Suddenly, we heard the TV in our room and saw our 1-year-old son standing there holding the remote control.
On the screen, smoke was pouring from a tall building. I thought it was a scene from the movie "Die Hard," which was of course inappropriate for young children and so we jumped up and turned it off.
Only later in the morning, when we were building a sandcastle on the beach and somebody walked by and asked us if we could believe what had happened, did we go back inside and realize what was going on.
Like everybody, we could feel the weight of the moment, and we wanted to explain at least some of this to our children, but we didn't want them to feel the panic or despair that we did.
As much as we felt drawn to spend the rest of the week sitting on the couch watching the awful images and listening to commentary and speculation, we still had three small children and we were at the beach.
So we went back out there. We swam and we played and we built things with sand. At night, we watched movies suitable for the whole family. It was September and all those families with older children were at home and work and school.
We were at the beach. Looking back, that was probably the quietest week our family ever had.
I was only 20 months old when 9/11 happened, so I don't exactly remember where I was on that day. I've heard the story from my parents about how we were watching the Today Show when the tragedy struck and that my father was going to fly to Columbus, Ohio, later that same day. Other than hearing it from them, that's my only real memory from that day.
While I might not have any memories from the exact day, it's something that my teachers and family have made sure that my generation has never forgotten. During my senior year of high school, we took a class trip to New York and visited the 9/11 memorial and museum. Growing up in Texas, my family and I went to the George W. Bush library, which had a significant portion about 9/11.
And I think that's important to do as more and more generations of people grow up who weren't alive for 9/11. Teaching them about what happened and making sure they understand the importance and significance is something that will need to be passed down from generation to generation.
I was only seven years old on Sept. 11, 2001, so I don't remember much about that day except for this memory-picture of a bunch of my classmates and me in the library at Dean Road Elementary School with the news playing on one of those boxy televisions that sits on a high metal stand with wheels. I could've come up with that memory in my head after the fact, but I can't be sure.
There are a few things that happened after the fact that I do remember, though. A couple of years after 9/11, I remember seeing that the Dixie Chicks were under fire for opposing the war, and I didn't really understand what was going on. I remember watching one of those bad specials on VH1 after school with a bunch of comedians you only kind of recognize, and one of them said something to the effect of, "Toby Keith was so patriotic after 9/11 that he immediately cancelled his tour and volunteered in the Army. No, wait, he actually just wrote an obnoxious song about it and profited over a national tragedy."
I remember, years later when I was in college, finding an assignment I had turned into my third grade teacher about 9/11, about how I would kill terrorists if I ever saw them. There were childlike illustrations of me with people I had never met, drawn by an 8-year-old version of myself. I remember feeling ashamed when I saw it, and I wondered what my third grade teacher thought of me when I turned it in.