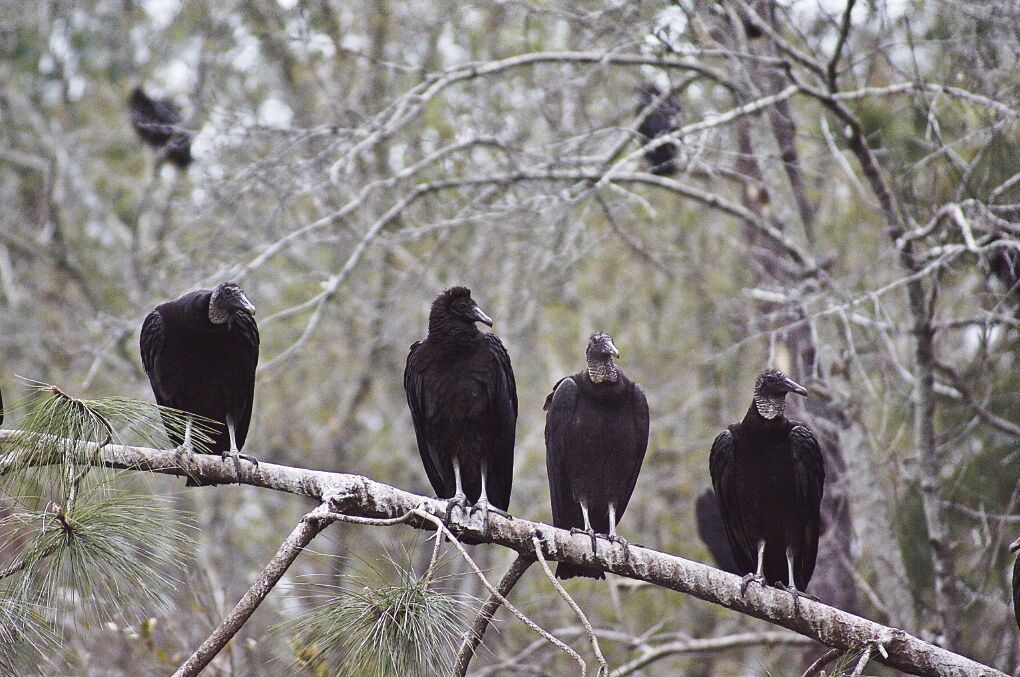 Vulture vacation
Now that the Opelika City Council has wisely decided to spare the lives of the city's noxious vultures, a new home must be found. Something suitable, environmentally appropriate, where they can live in harmony with their surroundings.
Mar-a-Lago, Florida, seems the perfect place. Just picture it: the large black birds roosting in those lofty palm trees above a velvet—though at times, a speckled—lawn. Vultures light playfully upon the golf carts. What a display!
These birds will out-peacock the peacocks of lesser estates.
Best of all, the Opelika vultures would be offered free, in crates of southern heartwood pine, and ideally in a ceremony presided over by Senator Tuberville, who would jump at the chance.
Attached is an opinion you will most likely ignore, but one I had to submit. Many Americans, even us 80+ year olds, say it's time to quit this nonsense, and go on with life. This "pandemic" has exposed three bad developments in this country: (1) It has turned us into lab rats who think we will never die or suffer; (2) we should always trust government; (3) those massive borrowed stimulus dollars will not have to be paid in the future by our children, our grandchildren and our great grandchildren.
The apocryphal story alleges that Emperor Nero, a tyrant who embodied savagery and sadism, fiddled, by playing one. Even as fire ravaged Rome for six days, destroying 70 percent of the city, and leaving 50 percent of the citizens homeless.
Meanwhile, a historic Texas winter disaster left millions without electric power, multitudes scrounged to find clean, drinking water, and the storm caused at least 22 deaths. Five from exposure, others from weather related car accidents due to ice glazed roads. The Feb. 19 Washington Post reported that power was restored to two million homes in Texas, but nearly 13 million Texans or about 50 percent, remained under boil water mandates.
Amid this catastrophe and calamity, Sen.Ted Cruz (R-TX) bolted. He forsook his suffering constituents and the cold. While and his family luxuriated in balmy Cancun, Quintana Roo, Mexico, where the average February high is 83 degrees and the average low is 67 degrees.
Cruz's presidential aspirations compelled him to aid and abet former President Donald Trump's stolen election lie. Nevertheless, Reuter's.com reported that over 50 courts have dismissed Trump's election outcome lawsuits. However, Cruz chose to be to be a Trump toady, ingratiating himself to Trump's, in exchange for Trump endorsing for a 2024 presidential run. Good luck with that.
In December 1963, Elijah Muhammad ostensibly suspended Malcolm X for declaring that President John Kennedy's assassination resulted from America's pervasive violence, thus the chickens coming home to roost. Incensed reporters grilled Malcolm but he remained steadfast about his assertion. By contrast, Cruz, the self-proclaimed Texas tough politician, proved softer than Charmin. No surprise.
However, he descended into the abyss when he blamed his 12- and 10-year old daughters for his wretched decision.
That's a lowdown, dirty shame.
Tuesday March 16th our City Council will have another chance to protect Auburn neighborhoods from the onslaught of short term rentals. Although I have nothing against these rentals per se, I do believe that in time they change the character of a given neighborhood.
Ironically neighborhoods which permit STR, I believe, morph and become undesirable, the very quality that makes them attractive as rentals.
Yet STR's have their place in a community.
After two years of discussion and serious planning the City Council had before it a proposal that was fair and which preserved the character of various districts, especially the character of Neighborhood Conservation Districts; it was a plan to deal with STR's.
Why the Council ignored this considered and well-conceived ordinance is mystifying. I can only hope they will right the course onto which they veered and once again accept that studied ordinance, and without amendment.
Thank you for publishing the First Amendment to the United States Constitution, to which I would add two clarifying amendments: #1 your freedom stops where my nose begins; and #2 you are not allowed to use "FIRE!" at a movie theater when none exists.
Our neighborhood is zoned "Neighborhood Conservation" (NC). There are short-term rental properties within a block of my home. These are hotel businesses. Such commercial activity in NC, family use zoned neighborhoods is in conflict with Sections 102.10 and 102.11 of the City of Auburn Zoning Ordinance. These businesses increase traffic and enable unwanted activity near my home. They operate because the City does not enforce its own zoning regulations.
Imagine living on a street with low traffic, no parking problems and where neighbors know one another. Now imagine watching your quiet street change to a busy street where strangers add traffic, create noise and clog residential streets that were not intended for commercial use. Are these neighborhood hotels as safe as other hotels in town, with fire suppression and other safety features? Where would you prefer to live and raise your children?
Allowing these hotels in NC zoned neighborhoods puts us on a slippery slope towards the disappearance of the family-oriented character of our city. Will the City of Auburn enforce the terms of neighborhood hotel operation or does that burden fall on aggrieved neighbors? More properties will be sold to remote owners. Fewer homes will be available for families who want to live and work in Auburn, reducing the 1% income tax revenue. Eventually these businesses will push for other commercial uses nearby to serve their tenants, such as convenience or other retail stores, coffee shops, fast food restaurants or gas stations.
Our Mayor did well to appoint a Task Force to consider regulation of short-term and rental properties in Auburn. After 3 years of research and discussion the group released an excellent proposal for regulating these hotels. Now the Council suddenly proposes a complicated amendment that ignores Task Force recommendations and permits short-term rentals citywide. Beth Witten, the amendment's sponsor, lives in a neighborhood protected from hotel use by a private homeowners association. How easy it must be for Ms. Witten to support hotels in city neighborhoods other than her own. Ward 5 council member, Steven Dixon, has refused to vote because he himself would like to provide short-term rentals in his own property. As a result, every voter in Ward 5 is disenfranchised in this matter.
Our neighborhood never was intended for hotel use. Auburn City Council must not ignore 3 years of research and public discussion that created the Task Force's recommendation. There are hundreds of constituents who support that work. Our elected officials should support residents rather than remote owners. Please help protect our Neighborhood Conservation districts. Write to City Council at coagbemail@auburnalabama.org in support of the Task Force recommendation, or sign the petition posted on change.org today.