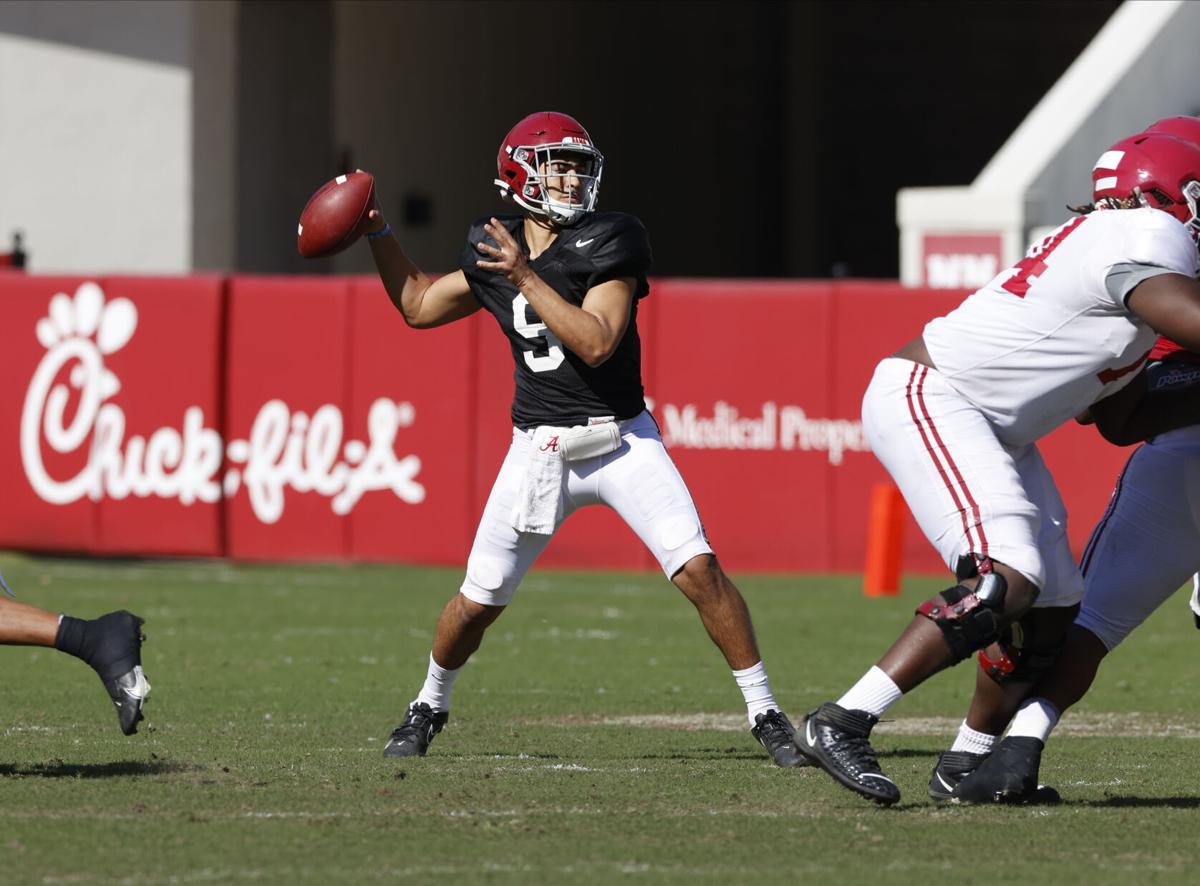 TUSCALOOSA — All eyes are on the offense for Alabama football this spring.
After the first scrimmage Friday, Alabama coach Nick Saban said he was pleased with the intensity shown at Bryant-Denny Stadium.
"There was a lot of good hitting and a lot of good things to teach from," Saban said. "We have a lot of young guys playing a lot of positions."
The youth on the offense is glaring, especially with offensive lineman Emil Ekiyor Jr. and receiver John Metchie III out with injuries.
At quarterback, Saban singled out the play of sophomore quarterback Bryce Young.
"I thought Bryce did a good job of managing the game and was accurate with the ball," Saban said. "He made a few explosive plays. I thought he really did a good job of managing the whole situation on offense when he was in there."
When asked about the receivers, Saban said he wasn't ready to single out a player out of the group.
"Without John Metchie out there, other than Slade (Bolton), there's not a lot of experience," Saban said. "I saw good things and I saw some things we definitely need to improve on."
The offensive line continued the theme of the spring offensively.
Evan Neal is the only returning starter participating in spring practice up front.
"We have a long way to go," Saban said. "We have a lot of young guys who have a lot of ability. I think their head is spinning probably a little bit right now with all the things that they have to learn on offense, but you're also seeing a lot more things than you're used to seeing out of the defense."
Building up confidence is what Saban is wanting to do for the offensive line so they are able to do their job on a consistent basis.
"We're not there yet," he said. "We are making progress and I think every one of those guys will see what they need to improve on and we'll go to work on it Monday."
The Terminator: Will Anderson Jr. picked up the nickname "Terminator" last season and he had no idea if that was a good thing or not.
"I'm kind of ashamed because I never even watched the movie, 'The Terminator,'" Anderson said, laughing. "I like the nickname. It's a good name. I guess once I looked it up and they told me the meaning of it, I said, 'OK. It can stay.'"
Anderson had no choice but to grow quick in 2020.
The 6-foot-4, 235-pound linebacker found himself standing on the field at the jack linebacker position in the season opener against Missouri as a true freshman.
By the eighth game against Auburn, Anderson made his way into the backfield for a sack – the first of his career. That started a four-game streak of getting to the quarterback through the SEC Championship game against Florida.
"My confidence clicked for me," Anderson said. "Me being confident in myself. I always did my job, but I was trying to play it safe a little bit. When I took the game for what it was and grew into myself, I said, 'OK, this is your job. Now let's play football and be Will Anderson.'"
He finished the season with 52 tackles with 10 1/2 being for a loss. He totaled seven sacks, hurried the quarterback eight times, forced one fumble and blocked a field goal against Notre Dame in the College Football Playoffs semifinal.
Anderson is now going through his first spring practices as last year's was canceled because of COVID-19. He feels it's been beneficial.
"I'm getting to slow things down this year," he said. "Understand why I'm doing this and what is my job. Why certain things happen. And I'm actually learning the whole defense. Not just my job, but other people's job. Where people rolling down to. Where I have to fit."