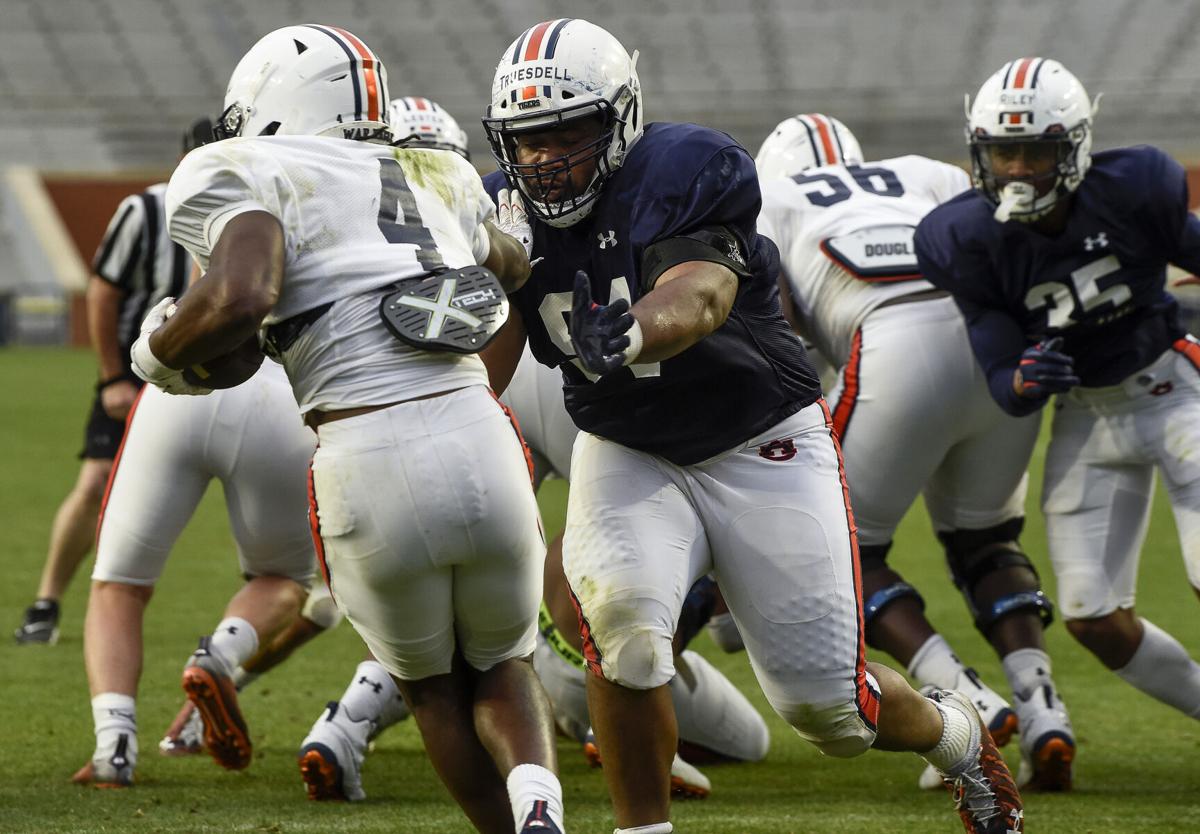 Auburn football's de facto spring break is about to come to a close.
The Tigers return to the practice field Monday after having the last week off to let the players heal up and to let the coaches evaluate the first six practices of the spring session. Now, the Tigers have nine practices left this spring, including the highly-anticipated A-Day scrimmage on April 17 in Jordan-Hare Stadium.
There's been a few important questions answered through the first two weeks of spring practice such as who's in line to start on the offensive line and what Derek Mason's first defense at Auburn will look like.
There are still many lingering questions about Bryan Harsin's first team, but some of them can be taken care of before the Tigers break for the summer. Here are five of the more pressing questions Harsin and his team could answer by the time the final seconds of A-Day have ticked away.
1. Has Auburn quarterback Bo Nix made tangible progress?
Nix faced several true challenges leading up to his sophomore season in 2020, namely learning how to play under a new offensive coordinator despite a limited offseason due to the coronavirus pandemic. While those were unfavorable situations, they ultimately don't absolve Nix of having some of the same issues as a sophomore that he had as a freshman.
The good news for Nix is he has two coaches in Harsin and offensive coordinator Mike Bobo who have built their reputations on developing effective quarterbacks. Bobo mentioned on March 22 that Nix is keying in on his footwork and his progressions, and during the Tigers' open practice on March 20 Harsin repeatedly took Nix aside and discussed several plays after the fact.
Nix's talent is undeniable, but harnessing his ability and doing so consistently has yet to happen. The A-Day scrimmage should offer an early glimpse at Harsin and Bobo's early influence on Nix.
2. How different will this year's offensive line look?
Last year's offensive line had almost nothing break its way.
The group had to break in four new starters, dealt with a wild pandemic-affected preseason and then went through a fall camp during which it didn't have the same five starters together for any given week. The Tigers played seven different linemen in the first two games and had settled on a starting five until right guard Brandon Council suffered a season-ending knee injury on Oct. 24, which put the lineup in flux once again.
Injury issues for offensive tackles Alec Jackson and Brodarious Hamm down the stretch of the season only made the situation worse.
While the Tigers' line struggled at times last fall, they return all their scholarship players for the 2021 season and promise to be much more experienced. During the early part of camp the Tigers have used the same first-string as last year — Jackson at left tackle, Tashawn Manning at left guard, Nick Brahms at center, Keiondre Jones at right guard and Hamm at right tackle — but the next few weeks should show us if someone like tackles Austin Troxell or Brenden Coffey can get in the mix.
3. Who is the leader in the receiving corps?
Auburn lost its three leading receivers from 2020 to the NFL draft, and it's start to spring hasn't made the issue of identifying their replacements any easier. Sophomore Ze'Vian Capers is still recovering from offseason foot surgery, senior Shedrick Jackson has been banged up to start the spring and sophomore JJ Evans suffered an apparent hamstring injury during the open practice on March 20.
All three of those players could factor into the mix in due time, but they aren't Auburn's only options. Sophomore Kobe Hudson stands as the Tigers' most-experienced receiver who happens to still be healthy, and fellow sophomore Elijah Canion enters the spring after making several big plays in the Vrbo Citrus Bowl last January. Then there's another sophomore in Ja'Varrius Johnson, who has already made an impression on the new staff and seems in good position to be the Tigers' go-to slot receiver.
Auburn's receiving corps over the last few years was stellar, but now the depth chart is practically hitting the reset button as players jockey for their chance at playing time. The next few practices might not determine everything, but it could open the door for someone to prove they're ready to follow in the footsteps of Seth Williams, Anthony Schwartz and Eli Stove.
4. Who emerges as the Tigers' most reliable players on the defensive line?
The Tigers had their share of struggles up front defensively in 2020, and while there were plenty of promising signs from players like redshirt freshman Colby Wooden the defense still finished eighth in the SEC in rushing defense — thanks in part to a putrid showing against Texas A&M in which the Aggies rushed for 313 yards — and struggled to get any kind of pressure against Auburn's toughest opponents.
A new year brings a new defensive coordinator in Derek Mason and a new philosophy, and the shift appears significant. Mason has implemented three-man and four-man fronts off and on during the early part of spring practice, and the former Vanderbilt head coach has explained his main focus is making the most of the players he has.
There seems to be many options among the players who can break out along the front. Wooden appears poised to take another step forward at defensive end, senior nose tackle Tyrone Truesdell has a chance to finish off a productive career on an even higher note, sophomore Zykeivous Walker and senior Marquis Burks are vying for the other tackle position and EDGE players Derick Hall, TD Moultry and Jaren Handy are all fighting to prove themselves.
Auburn faced a tall task last year in replacing the production of Derrick Brown and Marlon Davidson, and while some players stepped up the growing pains were evident. The plus side is the Tigers return a group with even more experience in 2021, and there's reason to believe better results are within reach.
5. How does Derek Mason configure this year's secondary?
The secondary was one of Auburn's true strengths on defense in 2020, and while there were two significant losses from that group this offseason there's plenty of reason to be excited. The biggest question is which player fits what role best.
Auburn has to replace safety Jamien Sherwood and nickelback Christian Tutt but returns a number of players who have at the very least proven they can play SEC football. Senior cornerback Roger McCreary is chief among them but is also joined by safety Smoke Monday, cornerbacks Jaylin Simpson and Nehemiah Pritchett and nickelback Ladarius Tennison as Tigers who played considerable snaps last season.
Mason is already tinkering with the positions among the secondary, as Tennison is filling Sherwood's role at safety, Pritchett is coming in as the nickelback and Simpson is stepping up as the second cornerback alongside McCreary. Factor in nickelback Zion Puckett and cornerback Marco Domio, who have both been limited this spring due to injury, and Mason has no shortage of different combinations he can tinker with in an effort to make the most of the group as a whole.