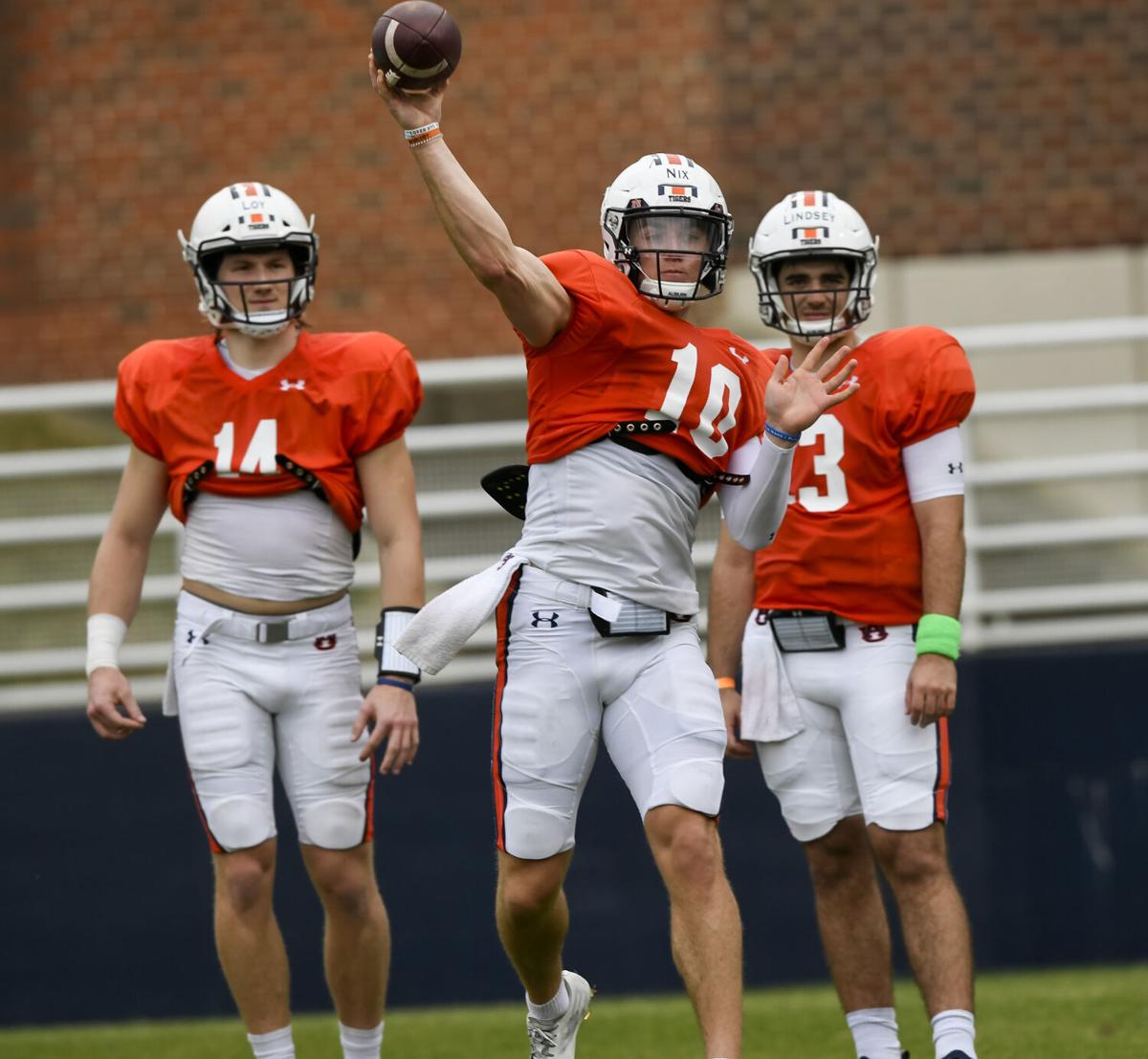 After a four-month wait, football is finally back in Jordan-Hare Stadium.
The Tigers return to the field at 1 p.m. Saturday for their A-Day intrasquad scrimmage, which is effectively the final act of spring practice for the Tigers. Saturday's scrimmage will have a little more meaning this year given it will be the first A-Day for Auburn head coach Bryan Harsin and his staff.
Auburn's open spring practices and interviews with players and coaches have given us a glimpse at what the team might look like this fall, but Saturday's scrimmage will provide a chance to evaluate the Tigers a little more thoroughly.
While some aspects of the team — such as special teams — may not be featured much in the controlled scrimmage, there will still be plenty of areas of interest worth keeping an eye on. Here are five storylines to pay attention to when the Blue team and Orange team square off on Saturday afternoon.
How do Bo Nix and the other Auburn quarterbacks look?
It's no secret that the development of rising junior quarterback Bo Nix has been the center of attention this offseason, and Saturday's scrimmage will be an early test of what Nix has picked up from Harsin and offensive coordinator Mike Bobo.
While it's important to remember Nix and the other quarterbacks won't be considered "live" — meaning they won't be sacked by the defense and will likely have fewer opportunities to scramble — A-Day gives Nix a chance to show off improvements he's made in his game, specifically with his footwork and feel in the pocket.
As intriguing as Nix's play will be as Auburn's presumptive starter, the scrimmage offers an opportunity for fellow quarterbacks like true freshman Dematrius Davis or walk-ons Sawyer Pate and Trey Lindsey to show what they have to offer. The only other scholarship quarterback on Auburn's roster is senior Grant Loy, who will likely be running the second-team offense Saturday.
Who rises to the occasion at wide receiver?
The biggest question on the Auburn offense entering the spring was wide receiver, a position that lost Seth Williams, Anthony Schwartz and Eli Stove after last season. There have been a few receivers who stood out early on — namely rising sophomore Ja'Varrius Johnson — but Saturday will be their best chance to prove they can pick up where Williams and company left off.
Auburn will likely be without senior Shedrick Jackson and sophomore Ze'Vian Capers, but the Tigers could see one of Johnson, rising sophomores Kobe Hudson, Elijah Canion and Malcolm Johnson Jr. or someone else shine at A-Day.
Johnson spoke on Monday about building a connection with Nix, and those connections among the receivers may go a long way in determining who Nix's go-to target is by the time the season opener against Akron on Sept. 4 arrives.
Will the offensive line hold its own in the scrimmage?
There's no denying the Tigers' 2020 line had its issues, though part of the problem stemmed from injuries that forced the lineup to be altered from the fifth game on. The good news is a group that was on the whole inexperienced entering last fall are all back this spring, and while right guard Brandon Council won't play Saturday everyone else should be set to participate.
Auburn has spent the spring with the same lineup that played for most of the time after Council suffered a knee injury on Oct. 24: left tackle Alec Jackson, left guard Tashawn Manning, center Nick Brahms, right guard Keiondre Jones and right tackle Brodarious Hamm. But the Tigers have two other tackles in Austin Troxell and Brenden Coffey who received playing time near the end of the year, and other linemen such as tackle Kilian Zierer or guards Tate Johnson and Kameron Stutts could get in the mix.
Saturday's initial lineup may tell us a lot about where things stand at the different positions, and the way they hold their own against a promising defensive line will be meaningful, too.
What does the alignment of the defensive line look like?
Speaking of the defensive line, Saturday could provide a nice look at what that group is bringing to the table in 2021. The Tigers are expected to have more looks at a three-man front than they did in year's past, but who those three men are remains to be seen.
While new defensive line coach Nick Eason pointed out the Tigers have mixed in different players among the first-teamers to get different looks and to make sure no one gets complacent, the frontrunners appear to be Colby Wooden and Tyrone Truesdell at the two defensive end spots and Marquis Burks in the middle at defensive tackle. But JJ Pegues' move from tight end to defensive tackle adds more competition, and the team also has players such as Zykeivous Walker and Dre Butler already in the mix.
Throw in the EDGE positions — which takes the place of the Buck linebacker used in Kevin Steele's scheme — with Derick Hall, TD Moultry, Jaren Handy and Caleb Johnson, and there's no shortage of different combinations we could see along the defensive front Saturday.
Who plays where in the Tigers' secondary?
The Tigers have a good problem on their hands when it comes to the back side of their defense, as the team returns several players who played at least some meaningful snaps in 2020. The prevailing question — and the one new defensive coordinator Derek Mason and the rest of the staff are in the process of deciphering — is which players fit best at each position.
The team has no shortage of standouts in cornerbacks Roger McCreary, Jaylin Simpson and Nehemiah Pritchett; nickelback Ladarius Tennison; and safety Smoke Monday, and Mason has already tried to maximize the talent on the field by moving Tennison to the other safety position and tasking Pritchett with nickel duties.
Those five players are just part of the Tigers' arsenal among a defensive back group that also includes former junior college corner Kamal Hadden — who Simpson praised on Wednesday — senior cornerbacks Marco Domio and Trey Elston, and safeties Chris Thompson Jr., Kamal Hadden and Devin Guice.
Mason's willingness to move people around to determine the Tigers' most formidable combination will likely continue well into the summer and early fall, but Saturday will provide a look at where things stand right now.