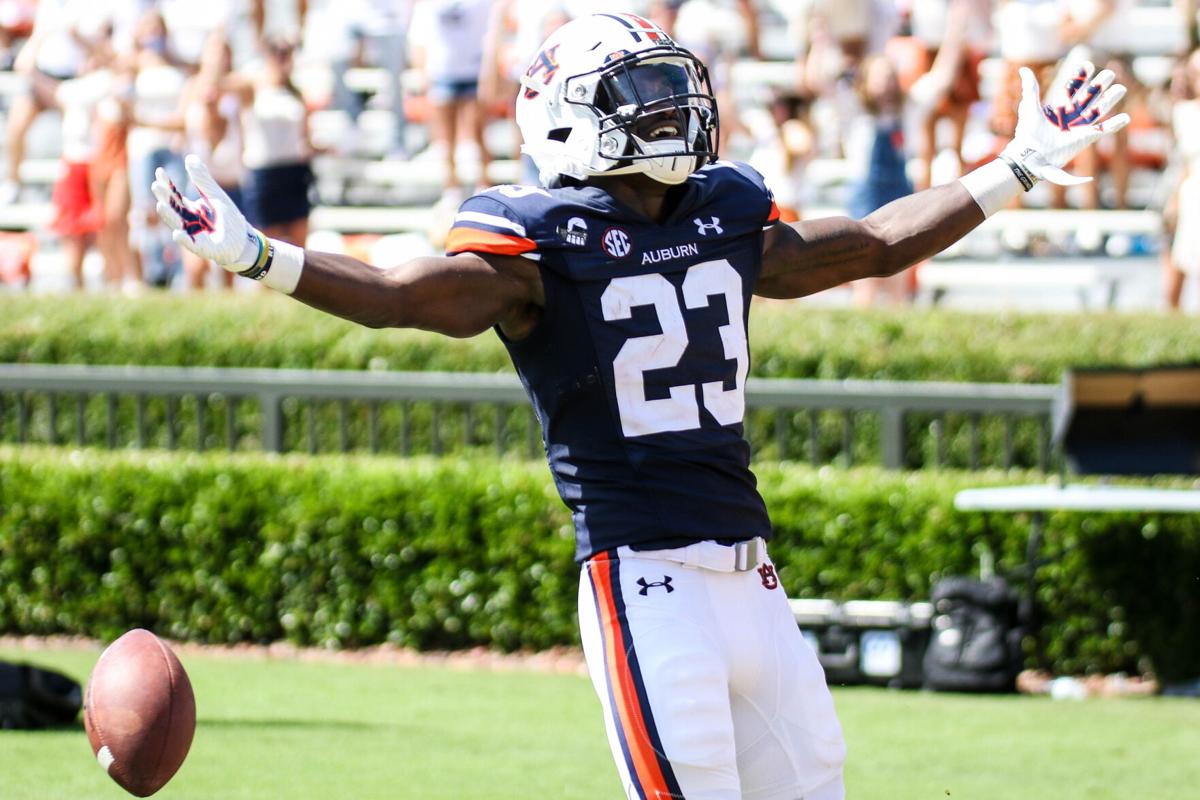 The last three days were life-changing for a handful of Auburn Tigers.
Four Auburn players were selected in the 2021 NFL Draft, while a few others are in the mix of joining teams as undrafted free agents. The close of the draft on Saturday afternoon allows everyone to look ahead to next year and the upcoming group of players.
It's very early to be projecting what the 2022 draft class will look like, but Auburn will likely send several players to the league once again.
So, who might be selected when the draft rolls around this time next year? Here are seven Auburn players that could very well hear their names called in 2022, starting with the rising seniors and working our way down.
Roger McCreary, senior cornerback: McCreary might have been selected in this year's draft, but he decided to return to Auburn as a key part of a secondary that will feature a handful of proven pieces.
McCreary impressed the Auburn coaching staff back in 2019 with his emergence among the defensive backs. He followed that up with a strong 2020 campaign in which he was the team's top cornerback and recorded 45 tackles, nine passes defended and three interceptions.
The 6-foot, 190-pound McCreary locked down some of the SEC's best receivers this past fall, and he'll be looked at as one of Auburn's most important defenders in 2021. He'll also have a chance to prove himself as a draft prospect and continue the Tigers' recent tradition of sending defensive backs to the pros.
Smoke Monday, senior safety: Monday was another key piece on the back side of the Tigers' defense that decided to return for another season as a Tiger.
Monday excelled in his first season as a starting safety for the Tigers, and he proved himself capable of making plays in the passing game while also being willing to lay the lumber against the run. His 2020 season came to a close with 73 tackles, five passes defended and two interceptions, including a game-defining 100-yard pick six against Tennessee on Nov. 21.
Monday has been productive in his time at Auburn and is now looked at as a veteran presence on a 2021 defense with a ton of potential. The 6-foot-3, 199-pound Monday's ability to make plays on runs and passes will not only be crucial for Auburn this fall, but it should lead to a chance to play at the next level.
Zakoby McClain, senior linebacker: McClain got a chance to prove himself in 2020, and he made the most of it.
McClain stepped up in KJ Britt's absence and promptly racked up 113 tackles, the most among SEC players. He was a force in the middle of the Tigers' defense beside Owen Pappoe, and together the two led the Tigers' linebacker corps and were crucial in helping the Tigers stay in several games.
McClain isn't the biggest linebacker on the field – he entered the spring at 6-foot, 219 pounds – but his tenacity and ability to make plays are hard to ignore. It has McClain on the trajectory of being an All-SEC linebacker this fall and proving he'll deserve a look from the NFL.
Nick Brahms, senior center: Brahms has been a stalwart in the middle of the Tigers' offensive line for quite some time now.
Brahms split time with Kaleb Kim at Auburn's starting center in 2018, started five games in 2019 then started all 11 games for the Tigers last fall. He was Auburn's only returning starter up front in 2020 and used experience to his advantage, as he was the one consistent piece the Tigers could count on while the other four positions were at times in flux.
Brahms' ability allowed him to start as a sophomore, and since then he's only gotten better. The 6-foot-4, 302-pound Brahms will no doubt be looked at as a leader for an Auburn team breaking in a new offense this year, and his play up front could help him keep playing once his days as a Tiger are done.
Anders Carlson, senior kicker: Although they aren't often high draft choices, the nation's top kickers and punters often come off the board in the final rounds of the NFL Draft. Carlson is well on his way to proving he's among the best of the best.
Carlson rode a strong close to the 2019 season into an impressive 2020 during which he hit 20 of his 22 field-goal attempts and 24 of 25 point-after attempts and had 37 touchbacks on 60 kickoffs. The younger brother of Las Vegas Raiders kicker Daniel Carlson, Anders Carlson has picked up where big brother left off and has established himself as a trusted part of Auburn's special teams.
Carlson spoke this preseason about being so close to standing out as the nation's top kicker last fall, and he made it evident the goal is to earn that moniker as a senior. His work on Saturdays this season can also help him join Daniel as an NFL player.
Owen Pappoe, junior linebacker: Pappoe was a five-star recruit coming out of Grayson High School in Loganville, Georgia, and he's lived up to the hype since he arrived at Auburn.
Pappoe took another step forward for Auburn in 2020 and worked alongside McClain as the Tigers' two-headed monster at linebacker. Pappoe and McClain regularly traded games in which they were the team's top tackler, and when the season was said and done Pappoe had 93 tackles, six tackles for loss, four sacks and two pass break-ups.
The 6-foot-1, 226-pound Pappoe has been a force defensively going back to his true freshman days, and he's been vitally important for the last two Auburn defenses. That will be the case again this fall, and if he shows out once again the window could be open for Pappoe to leave for the next level.
Colby Wooden, redshirt sophomore defensive lineman: Every year there are plenty of college football players who burst on the scene and ride that new attention to a chance to play in the pros. Wooden could very well be in that category after this season.
Wooden only appeared in three games as a freshman in 2019 and was able to redshirt, but he showed his true ability the following year. He earned freshman All-SEC honors last fall after racking up 42 tackles along with 9.5 tackles for loss, the latter of which placed him third in the conference.
The 6-foot-5, 278-pound Wooden is seen as an important piece in the Tigers' new three-man front on defense, and defensive coordinator Derek Mason's scheme could allow Wooden to shine. He showed plenty of versatility in his first full season with the Tigers, and a productive 2021 may mean a chance to move on.