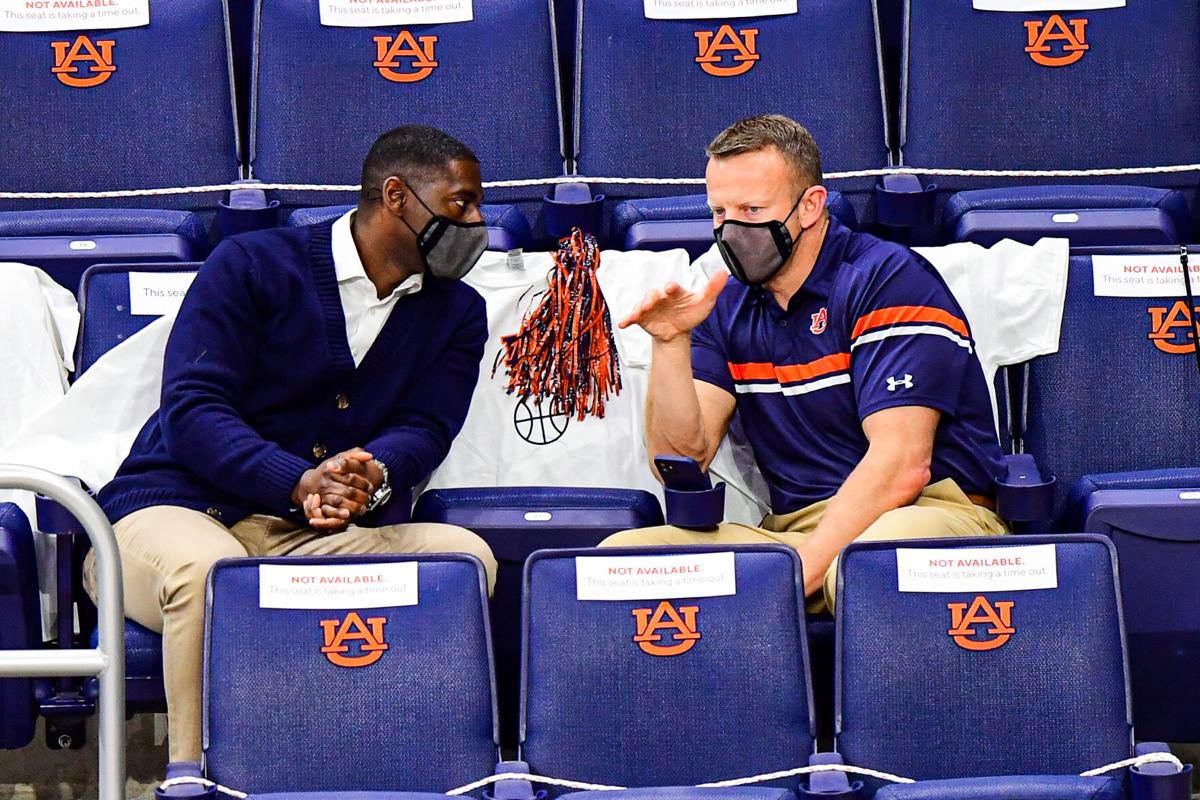 Wednesday's hiring of defensive line coach Nick Eason officially finalized Bryan Harsin's first coaching staff at Auburn.
Harsin has hired several familiar faces to the longtime Boise State head coach as well as a number of coaches with Auburn and SEC ties. The staff will work together as they look to put the Tigers back on the map within the conference and strive toward making the Tigers a perennial national title contender.
Below is a comprehensive look at Auburn's new coaching staff and a quick look at each coach's background as they settle in for the 2021 season.
Head Coach: Bryan Harsin, Boise State Previous Stops: Boise State head coach (69-19) 2014-20; Arkansas State head coach (7-5 record) 2013; Texas co-offensive coordinator/QB coach 2011-12; Boise State graduate assistant/TE coach/QB coach/offensive coordinator 2001-10; Eastern Oregon RB/WR coach 2000
Offensive Coordinator: Mike Bobo, South Carolina Previous Stops: South Carolina offensive coordinator/interim head coach (0-3 record) 2020; Colorado State head coach (28-35 record) 2015-19; Georgia QB coach/offensive coordinator 2001-14; Jacksonville State QB coach 2000; Georgia graduate assistant 1999
Running Backs Coach: Carnell "Cadillac" Williams, Auburn Previous Stops: Auburn RB coach 2019-present; IMG Academy RB coach 2017-18; West Alabama RB coach 2016; Henderson State RB coach 2015
Wide Receivers Coach: Cornelius Williams, Troy Previous Stops: Troy WRs coach 2015-20; UAB WRs coach 2014; Jacksonville State WRs coach 2013; North Alabama WRs coach 2012; Murray State WRs coach 2011; South Alabama offensive graduate assistant 2010
Tight Ends Coach: Brad Bedell, Boise State Previous Stops: Boise State OL coach 2017-20; Baylor offensive quality control assistant 2016; Texas State OL coach 2014-15; Arkansas State OL coach 2013; New Mexico State OL coach 2012; UC Davis OL coach/run-game coordinator 2011; Northern Colorado OL coach 2010; Colorado offensive intern 2007-09
Offensive Line Coach: Will Friend, South Carolina Previous Stops: South Carolina OL coach 2021; Tennessee OL coach 2018-20; Colorado State offensive coordinator/OL coach 2015-17; Georgia OL coach 2011-13; UAB OL coach 2007-10; Gardner-Webb OL coach 2005-06; Georgia graduate assistant 2003-04; Tuscaloosa Central HS assistant coach 2002; West Alabama OL coach 2001
Defensive Coordinator/Safeties Coach: Derek Mason, Vanderbilt Previous Stops: Vanderbilt head coach (27-55 record) 2014-20; Stanford DB coach/associate head coach/defensive coordinator 2010-13; Minnesota Vikings assistant DB coach 2007-09; Ohio WR coach 2005-06; New Mexico State WR coach 2004; St. Mary's associate head coach/co-defensive coordinator 2003; Utah WR coach/special teams coach 2002; Bucknell DB coach 1999-2001; Idaho State RB coach 1997-98; Weber State 1995-96 WR coach; Mesa Community College WR coach 1994
Defensive Line Coach: Nick Eason, Cincinnati Bengals Previous Stops: Cincinnati Bengals DL coach, 2019-20; Austin Peay defensive assistant coach, 2018; Tennessee Titans assistant DL coach/DL coach 2014-17; Cleveland Browns intern coach 2013
Inside Linebackers Coach/Defensive Run Game Coordinator: Jeff Schmedding, Boise State Previous Stops: Boise State defensive coordinator/ILB coach 2018-20; Eastern Washington graduate assistant/safeties coach/LBs coach/special teams coach/defensive coordinator/rovers coach 2004-17
Outside Linebackers Coach: Bert Watts, Memphis Previous Stops: Memphis LBs coach 2020; Fresno State LBs coach/defensive coordinator 2017-19; UC-Davis defensive coordinator 2013-16; Denver Broncos staff assistant 2012; Colorado defensive technical intern 2010-11; Bishop Kenny HS (Fla.) defensive coordinator 2009; Bartram Trial HS (Fla.) DBs coach 2008; Raiffeisen Vikings (Austria) defensive coordinator 2007; California graduate assistant 2004-05
Corners Coach: Zac Etheridge, Houston Previous Stops: Houston DB coach 2019-20; UL-LaFayette CB coach 2018; Western Carolina CB coach/OLB coach 2016-17; Georgia Tech graduate assistant 2014-15
Strength Coach: Jeff Pitman, Boise State Previous Stops: Boise State strength coach 2014-20; Arkansas State strength coach 2013; Western Carolina strength coach 2011-12; Colorado speed, strength and conditioning director 2007-10; Boise State strength coach 1999-06; San Jose State varsity sports training supervisor 1997-99; Montana State football/women's skiing/women's track and field strength coach 1995-97