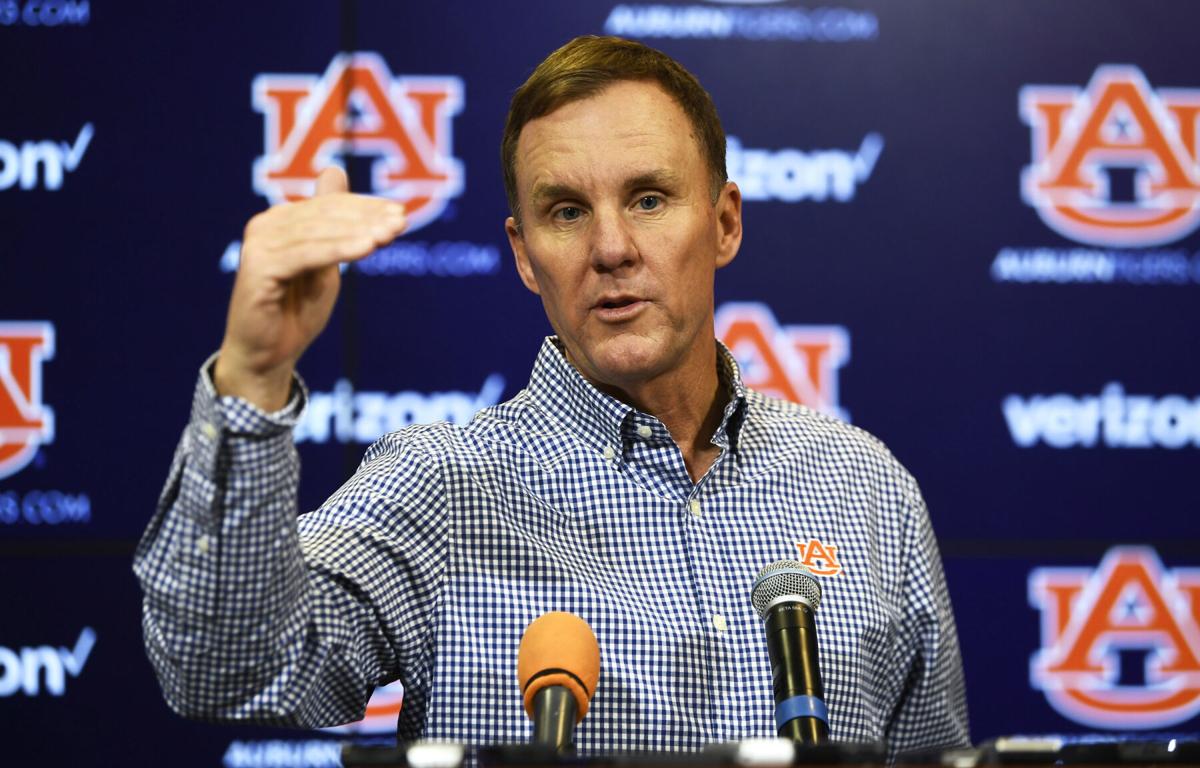 Owen Pappoe had to tip his cap to Chad Morris.
He said the linebackers are left impressed almost every day.
Maybe it's a new drag over the middle. Maybe it's a running back sneaking out of the backfield. Maybe it's a tight end splitting the seam.
In so many ways, Morris is bringing new wrinkles to attack the Auburn defense at practice this fall, leaving defenders in awe — and getting the entire team excited about what Auburn's offense could be like under his direction this season.
"Salute to Chad Morris," Pappoe said simply Thursday, of Auburn's new offensive coordinator and the mind working with Gus Malzahn to bring innovation to the Tigers' attack. "We talk about it almost every day in the linebacker room. I can't really say too much about it, but y'all are going to see it this season.
"It's going to look like a whole new Auburn offense, man," Pappoe added. "All the stuff they've brought in, it's ridiculous."
Pappoe isn't the only player raving about what Morris has brought to the team, now in its second week of fall practice. There's been plenty of buzz coming out of the practice bubble about how Morris utilizes his tight ends in the passing game more than Auburn has in recent history, and about how he uses the running backs in different ways.
The receivers themselves are fired up as well, over the coach who was once considered one of the most innovative offensive coordinators in college football, now back to those roots as a coordinator again.
"We're very excited," senior receiver Eli Stove said. "We have a lot of explosive plays. Coach Morris is bringing in a lot of good plays and deep balls and intermediate plays to get everybody open. We're really excited in the receiver room right now."
The Tigers are working this week toward their second scrimmage of the fall set for Saturday. Last Saturday, at the team's first scrimmage, Malzahn reported that tight ends caught four or five passes in 92 plays — which, either way, is more than the three catches tight end John Samuel Shenker caught all of last season.
"He likes to throw to the tight end, utilize '11' personnel, utilize '12' personnel, which has two tight ends," Malzahn explained last Saturday. "He's done that some throughout this first week. He's changing things out. I think it's a good change. We've got some guys that are competing for those positions."
Malzahn and Morris are best friends in the business — two halves of a dream team-up of innovative coaches who were both at one time among the most coveted and highest paid offensive coordinators in college football. Their careers have run parallel and intertwined, but the differences in the way they attack are apparent.
Finally, after the longest offseason anyone can remember, the Morris has been able to get hands-on with the Auburn offense in the practice bubble, and players have been fired up about what they've seen.
"Basically: Get your playmakers the football, and it's explosive plays," speedster Auburn running back Shaun Shivers said Wednesday. "That's what Auburn does. We're here for explosive plays and to get the playmakers the football."
Auburn is now less than a month away from the first game on its newly overhauled scheduled, set for Sept. 26 at home with Kentucky.
Then, the Tigers hope, the world can finally see what Morris has cooked up for the Auburn offense this year.
"He's a good coach," Stove said of Morris. "He's always going to be interacting with us. He's going to let us know if we mess up. He's not going to bash us or nothing. He's going to say what he has to say and you're going to go to the next play.
"He always says, 'Don't make the same mistake twice,'" Stove explained. "I think that's what everybody has to really focus on because you can't make the same mistake twice. In a game you're only going to get that one play."
Be the first to know
Get local news delivered to your inbox!