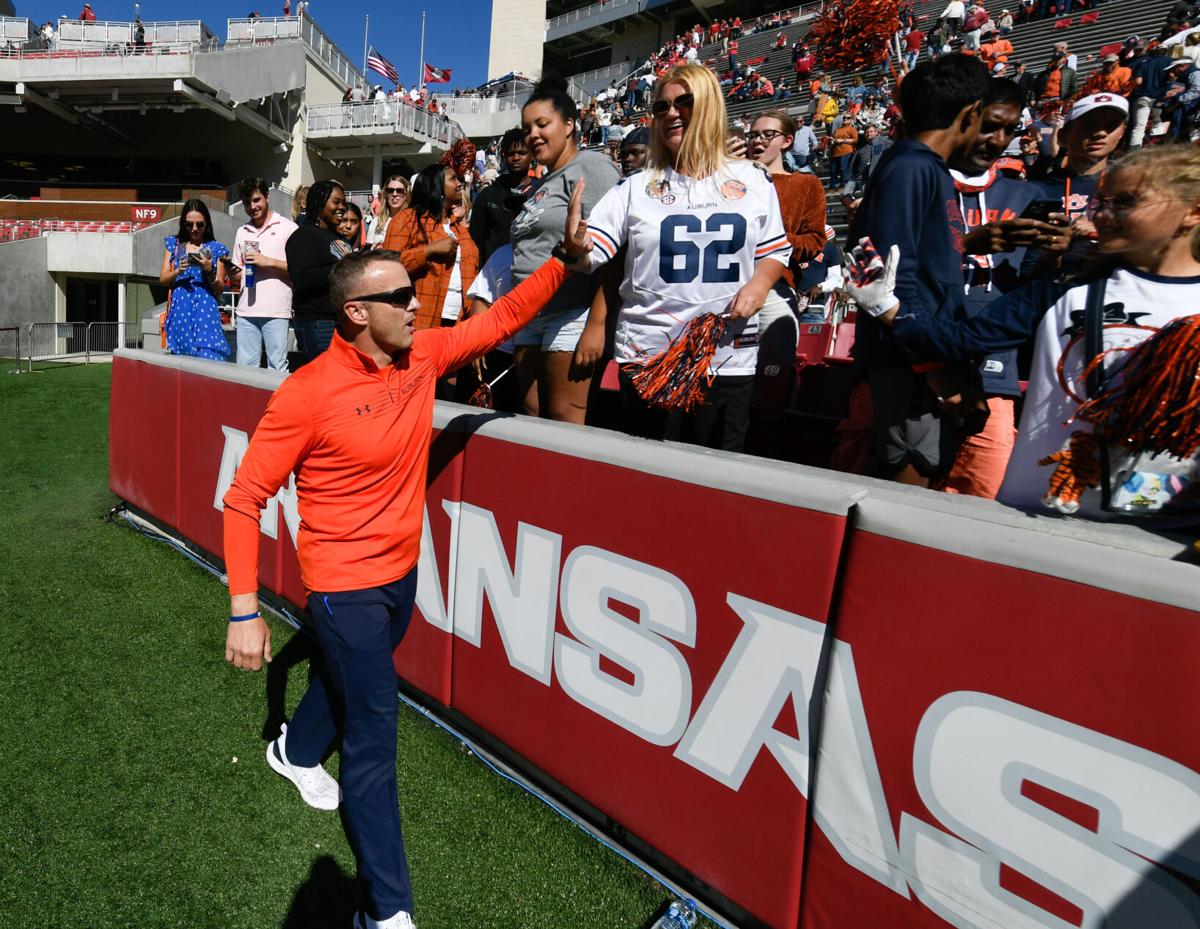 Bryan Harsin charged into the locker room and the players erupted.
Smoke Monday howled. Bo Nix threw his arms up. The head coach jumped between his players and the team threw water in the air in a celebration shower on Saturday in Fayetteville, raining over the visitors' locker room until the ceiling was soaked.
No — It's never as good as it seems. You always have to remember that. But it's never as bad as it seems, either. That video of the locker room celebration, posted to Twitter by athletics director Allen Greene under Reynolds Razorback Stadium, served as a reminder of that as Auburn took made another move through its roller coaster season.
The outlook has gone up and down all year.
Think back to two weeks ago: Auburn won at LSU. Arkansas, who was in the top 10, had just crashed back down to Earth after a convincing loss to Georgia and Texas A&M had just lost its second game. Suddenly more games looked winnable.
Then, last week: Arkansas found an offense in a shootout against Ole Miss and Texas A&M revived its season with a win over Alabama — while Auburn suffered an embarrassing loss to rival Georgia. Suddenly less games looked winnable.
Back and forth we go. Everybody thought the season was over a few weeks ago and now everyone's talking about a "wide open" SEC West.
This is where I give Bryan Harsin credit for being the steadiest voice through all of it.
He could've thrown Bo Nix under the bus after the Georgia State game, but he didn't. He could've given up on his current players and went all in on replacing them, but he didn't. That's happened here before. Brian VanGorder trashed his players in a press conference here once after a tough loss and talked about recruiting new ones instead.
Harsin has been on the same drumbeat all season — and his "1-0 mentality" just might be the perfect message for Auburn football this season as the rest of the conference tumbles into chaos.
Last week after the game, in this column, I wrote about how Auburn's top two rivals were the top teams in the country, then Alabama went on to lose unpredictably later that night to Texas A&M. As I'm writing this, Kentucky might come back and beat Georgia. Who knows? I'll leave this part in either way just to prove the point.
That point is: While the conference outlook has jumped around all season this year, Harsin has been the same voice, talking about consistency and having a fourth-down mentality and going "1-0" every day.
A lot of it sounds cliché. Some of the phrases are just clichés. But they worked for him in Boise — and they might be just what Auburn needs to hear right now as the Tigers go to the bye week, needing to regroup and keep from getting sidetracked by the big picture.
Is the West really "wide open"? All Auburn can do is go one game at a time.
Can this team really go from being one improbable pass away from a loss to Georgia State to hosting Alabama with the division on the line?
I doubt it, but my doubts and a dollar will get you a Junior Roast Beef at Arby's.
You feel good about beating Arkansas, but if you think you've got Ole Miss beat now just because Arkansas and Ole Miss played a dead heat and you just beat Arkansas, that's how Lane Kiffin catches you. You can't get too low, but you can't get too high.
It's never as good as it seems, and it's never as bad as it seems, either.
Right now, all Auburn can do is go one game at a time.
Right now, Bryan Harsin is right.