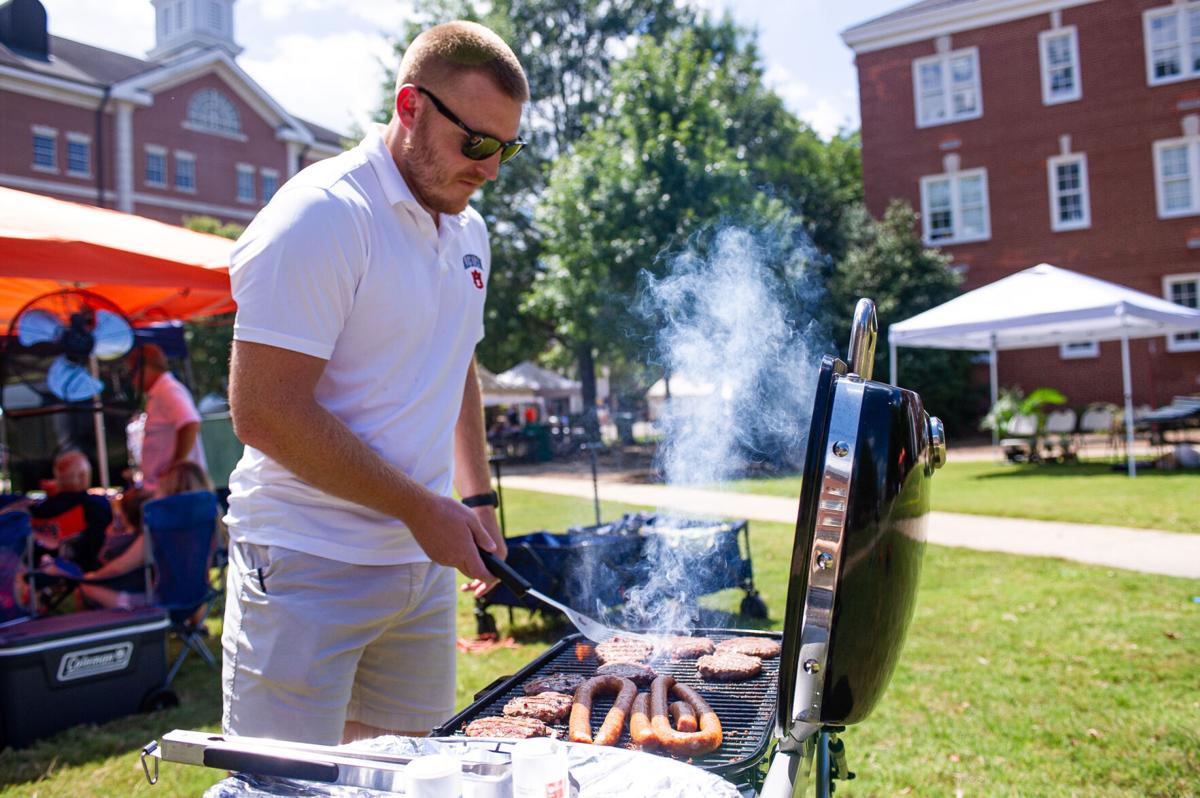 Wait, does Saturday's game against Alabama State at Jordan-Hare Stadium really start at 11 a.m.?
That's why we're focusing on breakfast, in addition to other game day tips you may or may not want to know.
Where can I get a good breakfast before the game?
Did we mention the game starts at 11 a.m.? And Tiger Walk is at 9 a.m.? While lots of great restaurants serve brunch, we'll mention those in the future as an option for an afternoon or evening game. In the meantime, here are just a few places to grab a good breakfast before the game:
• Chappy's Deli, 754 Glenn Ave., Auburn: Opens at 6 a.m.
• Another Broken Egg Café, 2311 Bent Creek Road Suite 200, Auburn: Opens at 7 a.m.
• Big Blue Bagel, 120 N. College St., Auburn: Opens at 7 a.m.
• The Bean Coffee Shop, 140A North Dean Road, Auburn: Opens 8 a.m.
• Ariccia Cucina Italiana, 241 S. College St., Auburn: They call it brunch, but they start serving at 6:30 a.m., so call it whatever you like.
• Waffle House, 2346 Bent Creek Road or 1738 Opelika Road or 2167 S. College St. or 110 W. Glenn Ave. (Auburn), or 907 Fox Run Parkway or 204 Interstate Drive (Opelika): Open 24 hours.
• Cracker Barrel, 1051 Fox Run, Opelika: Opens at 6 a.m.
• Susie K's, 1801 Second Ave., Opelika: Opens at 6 a.m.
• Brick & Spoon, 2836 Pepperell Parkway, Opelika: Opens 7 a.m. One word: Beignets.
What about serving breakfast at my tailgate?
Great idea! Instead of trying to cook eggs on your grill, why don't you make a breakfast casserole in advance. It's an easy way to serve a large crowd a delicious, filling breakfast. You could go with pancake casserole, sausage-egg casserole, sausage-hashbrown casserole, cinnamon roll casserole or shrimp and grits casserole or our personal favorite, the tater tot bake. Just go online and Google "breakfast casserole" or check out these ideas from Southern Living.
Or pick up some ham or sausage biscuits, muffins, sweet rolls or doughnuts.
How will the university be observing 9/11?
At FanFest starting at 8 a.m. on Nichols Lawn, first responders will receive a free commemorative Auburn/First Responders Challenge Coin, while supplies last.
All first responders including military members are invited to submite photos to GameDay@auburn.edu or post a photo to social media using #AuburnHero to recognize a first responder on the video board at the game.
Also, local police, fire, EMT, frontline workers and other heroes will be recognized on the field before the game.
First responders and military veterans will be recognized in the stadium during the first and second quarter break.
The Auburn Marching Band will conduct a patriotic halftime show in remembrance of 9/11.
What if I have some time to kill and want to read something interesting on my phone?
Glad you asked. Jordan Hill, our Auburn football reporter, wrote this great story about what happened 20 years ago when the Tigers traveled to Syracuse after 9/11 to play the Orangemen. He talks to Tommy Tuberville, Jason Campbell, Daniel Cobb, David Housel and Junior Rosegreen. Remember Junior Rosegreen? 
What's the deal with digital tickets?
Auburn is shifting to digital-only ticketing, which will be new for many fans in 2021.
Tickets for Auburn football games are to be bought and sold digitally. Fans will enter Jordan-Hare Stadium by scanning a code on the face of their smartphone.
Physical tickets don't exist outside few exceptions, and even fans trying to buy tickets on game day will have to do it online.
See a full guide for Auburn's digital ticketing here.
Auburn football shifted to digital tickets in 2020, but many more fans will be using digital tickets for the first time this season as Jordan-Hare Stadium opens back up to full capacity.
Where can I watch or listen to the game?
Saturday's game between Auburn and Alabama State airs at 11 a.m. on the SEC Network. Like, the real SEC Network in your cable package and not the one you have to figure out how to stream like you did last week.
Andy Burcham and Stan White will have the radio call with Ronnie Brown on the Auburn Sports Network. The broadcast can be heard locally on 93.9 FM.
Here is a list of Auburn Sports Network radio affiliates.
Please tell me there's a Tiger Walk.
Yes, mos def. Tiger Walk is back for the first time since 2019.
Tiger Walk will take place two hours before kickoff — or 9 a.m. Saturday.
It won't quite be Tiger Walk as remembered just yet. The barricades will be spaced wider than normal creating a safer space between fans and the coaches and athletes. The marching band won't be performing its spirit march at the corner near the stadium.
However, Tiger Walk is back on Donahue, after players pushed to get it back closer to tradition.
The team will be dropped off partway down Donahue by the baseball field, but Tiger Walk will be back on Donahue.
Read more about the players' push here.
And the eagle flight is back?
Roger that. The tradition that is uniquely Auburn — the pregame eagle flight — is back again for 2021.
As usual, the eagle flight is about 17 minutes before kickoff.
The eagle flight was not possible last season after the SEC barred non-football personnel from the field due to COVID-19 precautions.
This year, the golden eagle Aurea returns, still War Eagle VIII, while young bald eagle Independence enters the fold. Bald eagle Spirit is set to retire with her final flight later this season.
And the band is marching again?
The Auburn band marched on the field last week for the first time since 2019, and will be back at it again this week.
The band is also back at full force after splitting in half last season, and every first-year member and second-year member is set to suit up in the marching uniform for the first time.
Read more on how the band is adjusting with words from band director Corey Spurlin right here.
What are the best games to watch at your tailgate?
OK, we're going to assume you mean at your tailgate after the game, because Auburn's is the first of the day, along with a bunch of other 11 a.m. games. But for your morning viewing pleasure, might we suggest watching ESPN Game Day, which begins at 8 a.m.? This week the gang's in Ames, Iowa, home of Iowa State, for the Cyclone's big rivalry against Iowa. Read the signs and judge for yourself whether the folks from Iowa have a sense of humor. Anyway, here are some mid-afternoon matchups after the game, and we had to dig deep to come up with these:
1. Texas A&M at Colorado, 2:30 p.m. on FOX: This is one of the closest games of the day involving SEC teams not named Vanderbilt as the No. 5 Aggies head to Boulder, Colo., as a 17-point favorite over the Buffaloes.
2. UAB at Georgia, 2:30 p.m. on ESPN2: Watch the Bulldogs actually score an offensive touchdown!
3. Ball State at Penn State, 2:30 p.m. on FS1: Familiarize yourself with the Nittany Lions, Auburn's opponent next week in Happy Valley.
4. Air Force at Navy, 2:30 p.m. on CBS: It's a good day to watch two military service academies collide, and this is also one of the most evenly matched games of the day.
5. Mercer at Alabama, 3 p.m. on SEC Network: In case you want to see Bama's third-string long snapper in action.
6. Iowa at Iowa State, 3:30 p.m. on ABC: Other than the Ohio State-Oregon matchup at 11 a.m., this is the only game between ranked opponents today.
7. Texas at Arkansas, 6 p.m. on ESPN: If you haven't broken camp yet, this one should be competitive, at least more competitive than the Crimson Tide versus the Mercer Bears.
And just because you went to the trouble of figuring out how to stream the game last week, you might want to get crazy and stream the game between No. 7 Cincinnati and Murray State at 2:30 on ESPN+. You know, just because you can. For a full guide to streaming through ESPN, click here.
What do I wear in the stadium?
Sunscreen! The forecast is 86 degrees and sunny. That sounds nice, but it won't feel nice after a couple of hours if you didn't protect your exposed skin.
What should I take into the stadium?
• A charging cord for your phone. There are nine charging stations in the stadium.
• Your credit card. None of the concessions or merchandise vendors in the stadium take cash.
• An empty water bottle or cup to fill up at the complimentary water refill stations.
• One clear, factory-sealed bottle of water. No other outside drink and no food is permitted.
• A clear bag. No non-clear bags, including purses, camera bags and backpacks, are permitted.
What are things to know when I get inside the stadium?
• Don't forget those charging stations for your electronic devices. There are nine of them.
• Don't forget those water refill stations.
• Wi-Fi is available in Jordan-Hare when you select "AU_Guest"
• Need assistance or have an issue to report? Text your issue and your location to the stadium's command and control center at 334-591-HELP.
• If you leave the stadium, you cannot return without a new ticket. You can receive an emergency or medical need pass at the First Aid Station at Section 46.
• Designate a location both inside and outside the stadium to meet friends and family if you get separated.
• At the concession stand, you'll pay $5 for a hot dog, $4.25 for a 24-oz. fountain soda or 20-oz. bottled soda, and $2 for a bottled water. Other popular items include Conecuh sausage for $7, nachos for $5 and roasted peanuts for $4.
• Concession-stand specialty items include Zoner's Pizza ($10), Philly Connection ($10), Dippin' Dots ($5/$8), and sandwiches from Full Moon BBQ ($8), Momma Goldberg's ($8) and Chick-fil-A ($7).
The CDC recommends wearing masks at large gatherings, and an Auburn football game at full capacity is definitely a large gathering, but while the university is officially "encouraging" mask-wearing, it is not requiring masks outdoors or in open-air venues.
You are required to wear a mask inside all AU campus buildings and on Tiger Transit shuttles, so even if you don't plan to wear a mask in the stadium, you should bring one in case you need to go indoors or ride the shuttle.
What are things I can do with my family this weekend on the Plains?
You can tour the Tigers' locker room – ready for game day – on Friday afternoon. Just enter Jordan-Hare Stadium Gate 10 between 4-6 p.m.
Or check out a raptor show at the Southeastern Raptor Center's amphitheater, at 1350 Pratt-Carden Drive off Shug Jordan Parkway, at 4 p.m. Friday. Watch hawks, falcons - and of course, eagles - perform incredible feats. Tickets are $8 per person and can be purchased in advance online. Gates open at 3 p.m.
If you're still in town on Sunday afternoon, check out either the volleyball team against Santa Clara at 1:30 p.m. in Auburn Arena or the women's soccer team against No. 1 Florida State at the Auburn Soccer Complex. Both events are free.
When does what happen on Saturday?
7 a.m.: Tiger Transit and ADA shuttles begin service
8 a.m.: Parking lots open; FanFest on Nichols Lawn; Auburn Sports Network begins with the Tiger Tailgate Show
9 a.m.: Tiger Walk; gates open to Jordan-Hare Stadium
10:40 a.m.: Pre-game festivities begin on the field
11:03 a.m.: Kickoff vs. the Hornets
Just decided to tailgate?
Here's a few things to know:
• You can start at 4 p.m. on Friday everywhere except for Mell Street Corridor, which begins at 6 p.m. You cannot reserve your spot before that time.
• It is legal to use university utilities.
• You must have a tent permit if your tent exceeds 399 square feet.
• Grills and generators are not permitted within 50 feet of campus buildings or on parking decks.
• Never operate a generator in wet conditions.
Can I park off-campus and take a shuttle to the game?
Yes! Save yourself the headache of parking on campus or downtown by taking Tiger Transit from one of these locations:
• Duck Samford Park, Airport Road, Auburn (100 yards on left after entering park)
• City of Auburn Softball Complex, 2560 South College Street, Auburn (large parking lot near top of complex)
• Auburn Mall, 1627-53 Opelika Road, Auburn (off Mall Boulevard near Belk's parking lot)
• TigerTown, 2199 TigerTown Parkway, Opelika near Dick's Sporting Goods and Bed, Bath & Beyond parking lots)
OK, I'm going to sleep through breakfast. Where can I go for a good meal this weekend?
Restaurants around the area are bracing for, and hoping for, a big-business gameday weekend.
That includes local favorite Niffer's, which is celebrating 30 years as a staple in the area. Read more here.
Looking for a restaurant while you're in town? Here are some that come highly recommended. But we've missed some gems, so stop somebody on the street and ask them. And don't forget Opelika.
Acre, Auburn: A-O Tourism's Best Bites, TripAdvisor Top 10 for Auburn, Yelp Top 10 for Auburn
Amsterdam Café, Auburn: A-O Tourism's Best Bites, TripAdvisor Top 10 for Auburn, Yelp Top 10 for Auburn
Ariccia Cucina Italiana, Auburn: A-O Tourism's Best Bites, TripAdvisor Top 10 for Auburn
Bow & Arrow, Auburn: A-O Tourism's Best Bites
The Breeze Way, Opelika: Yelp Top 10 for Opelika
Brick Oven Pizza Company, Opelika: TripAdvisor Top 10 for Opelika
Burger Fi, Auburn: Yelp Top 10 for Auburn
Butcher Paper BBQ, Opelika: Yelp Top 10 for Opelika
Byron's Smokehouse, Auburn: A-O Tourism's Best Bites, Yelp Top 10 for Auburn
Café 123, Opelika: A-O Tourism's Best Bites, TripAdvisor Top 10 for Opelika, Yelp Top 10 for Opelika
Chickchickporkpork, Opelika: Yelp Top 10 for Opelika
Cracker Barrel, Opelika: TripAdvisor Top 10 for Opelika
The Depot, Auburn: A-O Tourism's Best Bites, TripAdvisor Top 10 for Auburn, Yelp Top 10 for Auburn
Durango Mexican Restaurant, Opelika: TripAdvisor Top 10 for Opelika
El Patron Mexican Grill, Opelika: TripAdvisor Top 10 for Opelika, Yelp Top 10 for Opelika
Hamilton's, Auburn: A-O Tourism's Best Bites, TripAdvisor Top 10 for Auburn
Irish Bred Pub, Opelika: TripAdvisor Top 10 for Opelika, Yelp Top 10 for Opelika
Jim Bob's Chicken Fingers, Opelika: TripAdvisor Top 10 for Opelika
LongHorn Steakhouse, Opelika: TripAdvisor Top 10 for Opelika
Lucy's, Auburn: TripAdvisor Top 10 for Auburn
Mama Mocha's, Auburn: Yelp Top 10 for Auburn
MK's Asian Kitchen, Opelika: Yelp Top 10 for Opelika
Niffer's Place, Opelika and Auburn locations: A-O Tourism's Best Bites, TripAdvisor Top 10 for Opelika, TripAdvisor Top 10 for Auburn
Pannie-George's Kitchen, Auburn: A-O Tourism's Best Bites, TripAdvisor Top 10 for Auburn, Yelp Top 10 for Auburn
Pho Lee, Auburn: Yelp Top 10 for Auburn
Shelia C's Burger Barn, Auburn: Yelp Top 10 for Auburn
Side Track Coffee, Opelika: Yelp Top 10 for Opelika
Tacorita, Auburn: A-O Tourism's Best Bites
The Hound Bar & Restaurant, Auburn: A-O Tourism's Best Bites, TripAdvisor Top 10 for Auburn, Yelp Top 10 for Auburn
Toomer's Drugstore, Auburn: A-O Tourism's Best Bites, TripAdvisor Top 10 for Auburn
Wasabi, Opelika: Yelp Top 10 for Opelika
Zazu Gastropub, Opelika: A-O Tourism's Best Bites, TripAdvisor Top 10 for Opelika, Yelp Top 10 for Opelika