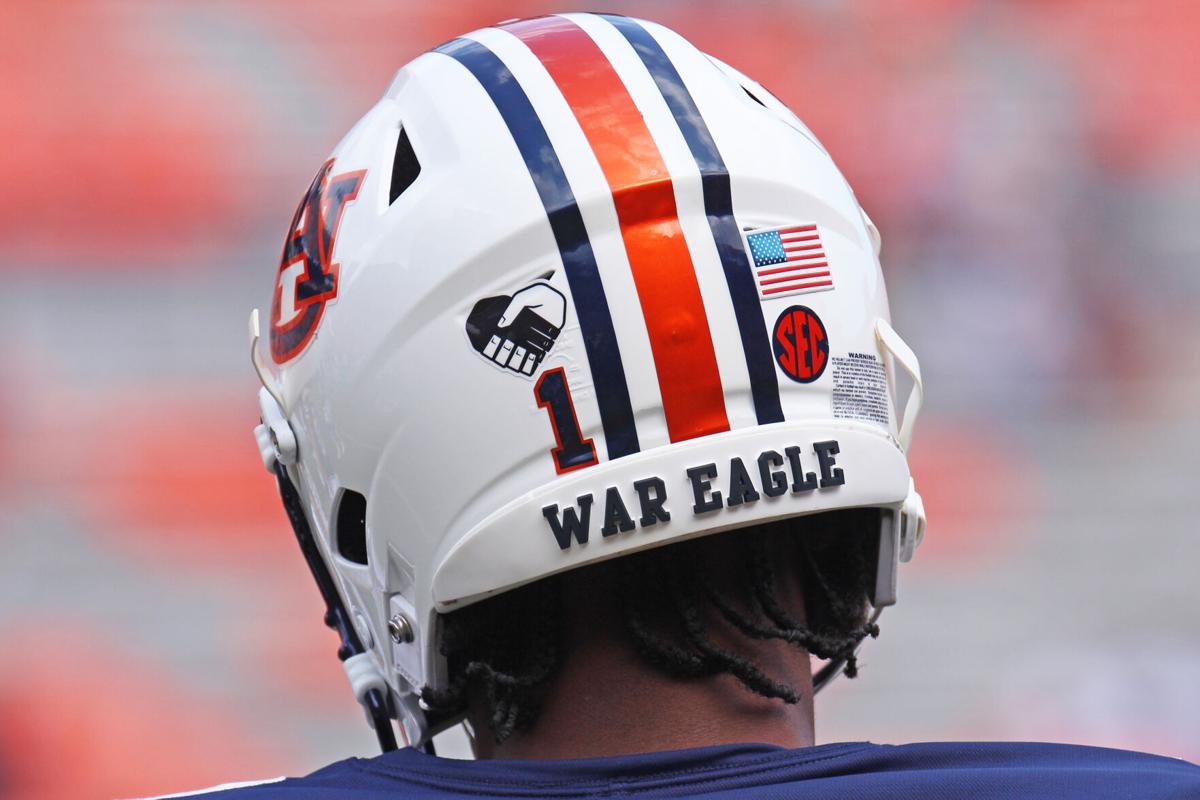 The Auburn football team is locking arms again.
The Tigers are walking arm-in-arm on the way out of the tunnel before games now, senior T.D. Moultry pointed out this week, bringing back an old symbol of brotherhood from Auburn football's past — because this team's been through a lot, he said.
They've been through a coaching change. The team marched on social injustice last year. They've had a season thrown into doubt over COVID-19, and they've seen so much of their precious little time on campus turned upside down over the virus.
But they've faced those challenges off the field together. And so they walk on the field in arms together.
Saturday was a sobering reminder of how football can be so much bigger than a game.
At Auburn, and in college football stadiums across the country, the victims of 9/11 were memorialized on the 20th anniversary of the attack. The first responders who acted above themselves in the minutes after were honored — and so were the soldiers who acted in the days, months and years that followed.
Auburn played video tributes on the big screen. American flags were seen waving in the stands and on the field. New Army ROTC cadets took their oath of service on the field an hour before kickoff, and a piece of steel from the World Trade Center was on display.
Moultry and teammates said this week they embraced the chance to be a small part of the memorials in the stadium, and embraced the opportunity to send a message much bigger than sports.
After all, it's in their Creed.
"We definitely try to embrace it and remember those that were in that," offensive lineman Brodarious Hamm said. "It's bigger than football.
"We try to not forget those that were lost in 9/11," he added.
For Moultry, this is part of why he loves Auburn.
"They let us be who we are," he said during a press conference this week, pointing to how the team is made up mostly of young Black men. "So, just being with us and holding us side-by-side — that's why on gameday, we lock arms now. Back in the day — I don't know how long ago it was when they were doing that — but we're back on that right there, because this team went through a lot; a lot that people ain't see."
It was back during Tommy Tuberville's time as Auburn's head coach that Auburn players last locked arms on the way out of the tunnel — making for striking images in 2004 when the team sang Hard Fightin' Soldier and won the SEC Championship. On3's Justin Hokanson recalls it started at the 2003 Iron Bowl, after JetGate. Current Auburn running backs coach Carnell 'Cadillac' Williams was on those teams.
The symbol of solidarity is back now after tumultuous times.
Before Saturday's 9/11 memorial, Auburn marked off 13 seats in Jordan-Hare Stadium for the Akron game, in memory of the 13 Marines killed in Afghanistan in August.
It was about something that's so much bigger than football.
It's bigger than football, too, for Bo Nix, Owen Pappoe and Anders Carlson, who have signed up for PSAs with the ADPH, promoting the safety of the COVID-19 vaccines and encouraging vaccinations. Ten people died from COVID-19 at the East Alabama Medical Center near Auburn this past week alone.
And it's bigger than football when Auburn wears its Unity emblems on its helmets, designed during the movement against social injustice stretching across the country last summer. "Last year we did something with the patch — something very special," Hamm said of it, after a reporter brought it up to him.
These messages can't be lumped together or compared, but they're all messages bigger than sports.
And Auburn men and women will never "stick to sports."
That's another thing we heard last summer. In the weeks after George Floyd was murdered in Minnesota, athletes across the country and at Auburn spoke up, feeling unsafe, unloved and unheard. They used their platform on the playing field. Plenty of people tried to shout them down. Even now, they try to tell athletes to "shut up and play."
Auburn's first game against Akron was its white-out game, giving Auburn the chance to advertise its Unity shirt on Facebook in a post Sept. 2. The shirt features a simple design, depicting a white hand holding hands with a black hand. It is Auburn's original, unique design. In weeks of unrest last year when agitators conflated the fact that black lives do matter with the organization Black Lives Matter, Auburn created its own original message that could not be confused with any other messaging.
Allen Greene does not get enough credit for how gracefully Auburn handled those weeks under his watch as the SEC's only Black male athletics director.
Yet, there are the messages on Facebook: "Please don't push this agenda all football season again," a poster said, about a simple hand holding a hand. "Just play the sport," he said. "We don't need your political joe opinions." It got nearly two dozen likes.
"Why are you still pushing this false media narrative?" another posted.
"Go woke — go broke," another said. "Auburn people are not going to support ideas like this."
That last one's funny to me.
If she's really an Auburn supporter, she should touch up on the Auburn Creed.
"I believe in the human touch, which cultivates sympathy with my fellow men and mutual helpfulness and brings happiness for all," it reads.
Auburn men and women have sympathy for their fellow man. Auburn men and women help their fellow man.
Auburn men and women believe in cultivating happiness for all.
And it doesn't say anything about putting the Creed on pause on gameday.
Auburn will never "stick to sports." Auburn will never "shut up and dribble." Auburn will loudly send messages that are bigger than sports, because being an Auburn man or woman is bigger than being an athlete.
If you don't like it: Tough. If you can't stand it: Go get you a new university, and a new creed.
"And because Auburn men and women believe in these things, I believe in Auburn and love it."